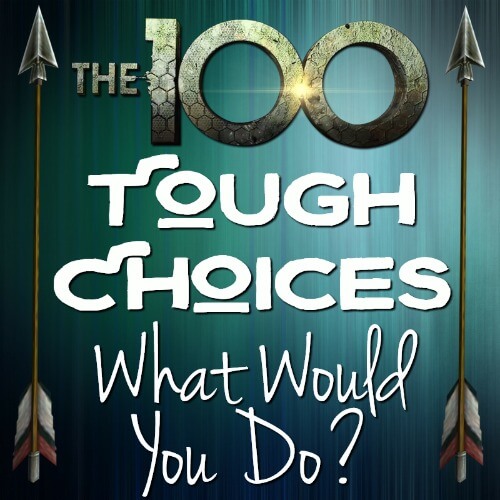 Hello, hello! Welcome back to another monthly edition of "Shannon Hates Hiatus". Seriously, this is evil and I am not amused. Ah hem. Anyway, I was having trouble coming up with ideas, because this hiatus is like, 2,199 days long or something 😛  Thankfully, Greg @ Book Haven helped me come up with this topic of "Tough Choices of The 100".  And of course, there are many. I mean, if we played a drinking game every time Clarke said "It was the only choice"… well, none of us would be coherent enough to type.
Of course, I always ask myself "what would I do in this situation?" when I watch the episodes. I don't know for sure of course, but it's fun to play that game! And what is more fun than me playing that game? Why, you playing with me of course! So, after every nightmarishly awful scenario, you can tell me what you think you would do in these circumstances! BONUS: You don't even have to have watched the show to play!  Ready? Let's do it! (OH! And at the end, I'll share any news I have stalked stumbled upon in the last month!)
*There will be all the spoilers for the first 4 seasons!*

The Short Version: Episide 1×01 Pilot (Flashbacks in 1×06 His Sister's Keeper) Shumway offers Bellamy a chance to join his sister Octavia on the dropship to Earth if he shoots Chancellor Jaha. Bellamy does, so that he can go protect his sister from what they assume to be a radiation soaked planet.
Loading ...
My Decision: I'm probably not going to shoot him, honestly. Don't get me wrong, I am stoked that Bellamy did (what would we have even done sans Bellamy, anyway?) but me? I don't think I could murder someone just to maybe see a sibling.

The Short Version: Episode 1×05 Twilight's Last Gleaming Everyone on the Ark is running out of air. No one knows if The 100 have survived. Abby has faith, but no actual proof. To extend their oxygen (and therefore, time left), Kane proposes a culling of the population in order to gain 6 months of oxygen.
Loading ...
My Decision: You know shit is messed up when we have goddamn numbered cullings. I digress. Look, if we don't cull these people, every last person dies. These guys think they're the last of the human race. So yeah, I do it. But Jake Griffin style, with choices and shit.
The Short Version: Episode 1×13 We Are Grounders Part 2 The adults on the Ark have exhausted all possibilities to get to Earth after Diana steals (and then crashes) the Exodus Ship. They're all pretty sure they're all dead, when Jaha comes up with the idea of taking the whole damn Ark to the ground. Sinclair says it's possible, but it will result in explosions, and many deaths. So basically, damned if they do, damned if they don't.
Loading ...
My Decision: Hell yes I take it to the ground! Look, isn't a chance of living better than nothing? And sure, 2/3 of them died in fiery crashes, but 3/3 of them would have suffocated sitting in space, so.
The Short Version: Episode 2×08 Spacewalker Finn is wanted by the Grounders for shooting 18 of their people for basically shits and giggles. He has turned himself in, and Lincoln has told Clarke how he'd be killed, and it isn't pretty. Clarke tried to stop it, but it isn't going great, so she mercy kills him so he isn't tortured.
Loading ...
My Decision: Yeah, I'd do it. You don't want to watch the poor bastard suffer for 12 hours, and there is literally no other way to give the Grounders what they want. Clarke was outgunned, outmanned, outnumbered, outplanned. She did the most merciful thing.
The Short Version: Episode 2×15 Blood Must Have Blood Part 1 Dante approaches Lexa with a deal that will free her people, but in return she must turn her back on the alliance with Skaikru, leaving them army-less at Mount Weather with their people still stuck inside.
Loading ...
My Decision: Fuck no, and I won't lie, I am still kind of mad at Lexa for this. Idk how Clarke ever trusted her again, but I assume it was only because she had no better options. Look, if you screw over your alliances, no one will trust your dumb ass again! Plus, the joke was on all those assholes because BYE Mount Weather.

The Short Version: Episode 2×16 Blood Must Have Blood Part 2 After the Grounder army ditched them, and Cage started draining Skaikru for bone marrow, there was no way to rescue the Skaikru people while keeping all the innocent Mt Weatherians alive. Monty was able to isolate level 5, and Clarke, Bellamy, and Monty knew that if they pulled the lever, all the Mt Weather citizens would be irradiated.
Loading ...
My Decision: YEP. Doing it. I don't WANT to do it, but neither did they. They tried every other option ever, and Cage wouldn't budge an inch. So, in the end? Yeah, I'd save my people at the expense of theirs. Not like Skaikru started it.
The Short Version: Episode 3×16 Perverse Instantiation Part 2 As Clarke goes to pull ALIE's kill switch, ALIE tells her that they have no more than 6 months of time on Earth before a second Praimfaya hits. ALIE claims that the only way to save the human race is if they stay in the City of Light. Clarke has mere seconds to decide whether to pull the kill switch, or let ALIE live.
Loading ...
My Decision: Bye, bitch. I don't even think I'd have trusted that ALIE was telling the truth, even though Clarke did. Either way, I wouldn't doom humanity to live in a faux-life, brain controlled til the end of time. Apocalypse would be better than that, tbh.
The Short Version: Episode 4×08 God Complex Abby and Jackson need to test someone to see if Nightblood works against radiation. This person may quite well die. Emori tells Clarke a sad story about "Baylis", the thief they caught, and Clarke presents this "abuser" to Abby and Jackson to test.
Loading ...
My Decision: Yeah, I'd test him. Even though Emori was lying, this guy DID still try to kill her. Plus, to do nothing is death for everyone, including Fake Baylis. So yeah, it's shitty, but so is Praimfaya.
The Short Version: Episode 4×10 Die All, Die Merrily In the midst of the Conclave, Clarke and Jaha decide not to leave their (and Skaikru's) fate to chance, and steal the bunker while everyone else watches the fight.
Loading ...
My Decision: Ohh this is going to be unpopular! I'd steal the shit out of it. I know people were mad at Clarke and Jaha- and I do agree that they should have opened it after Octavia won- but with Luna trying to kill all of humanity, and the fact that Jaha found the damn bunker to begin with? Oh hell yes I am taking it.
The Short Version: Episode 4×10 Die All, Die Merrily Octavia wins the Conclave and must decide who will take the bunker. Everyone assumes she'll choose Skaikru, but she opts instead to have 100 members of each clan share the bunker, as was Lincoln's vision.
Loading ...
My Decision: Yeah, #TeamOctavia on this one. Sharing is nice, especially at the end of the world. And honestly, I wouldn't want to lose all the history and memories and traditions of any of the clans- it's important for the restarting of the human race after Praimfaya.
The Short Version: Episode 4×09 DNR- Episode 4×11 The Other Side Jasper has made it clear that he was not vying for a spot in the bunker, didn't care if he made "The List". He didn't want to live trapped in a bunker, or die burning to death. So, he and the others had one last, massive party, and in the end decided to drink enough Jobi Tea to peacefully end their lives rather than die in Praimfaya.
Loading ...
My Decision: Nopeity nope nope. I would need to fight until the end, hoping the whole time that I would somehow be saved. Especially since at the time of their deaths, these people thought that the bunker would be a viable solution for them. In hindsight, I am glad I didn't have to watch Jasper being kicked out of the bunker though, talk about hellish.
The Short Version: Episode 4×12 The Chosen After Bellamy unlocks the bunker, and Octavia declares that each clan gets 100 people, Skaikru must decide how to reduce their numbers from 400+ to the 100 Octavia has given them. First they try a lottery, but the people rebel. Eventually, Kane and Jaha resort to knocking them out with gas, then removing the people who didn't make Clarke's list while they're unconscious.
Loading ...
My Decision: Fuck, this is a terrible decision. But yeah, I would do it. Because O was straight up willing to kill them all if she had to, and it's better that 100 people live than no one. But it would probably be the worst decision of ever, so there's that. It kills me to even watch it.
---
Latest News & Updates
Season 5 will be 13 episodes long. I… have mixed feelings. Look, on one hand, I want all the episodes. But on the other… damn did Season 4 work well. So it is what it is, and while I always want more, I can live with it. Which is good because I have to.
Madi (played by Imogen Tear in Praimfaya) has been recast. The role now belongs to Lola Flanery, who also voiced the Sizzle Reel at SDCC.
In more casting news, two people on the Gagarin have been cast! Jordan Bolger will play Zeke Shaw, and Ivana Milicevic will play Charmaine Diyoza!
The first three episodes have titles! Episode one is Eden, two is Red Queen, and three is Sleeping Giants.
Filming began, and lots of cast members are sporting new looks! Bring on the 6 year changes!
Let's chat! What did you think of the choices? Any biggies that I forgot? How are you handling the hiatus?