Welcome to this week's Snark From the Ark! Holly @ The Fox's Hideaway and Shannon @ It Starts At Midnight are mildly obsessed with "The 100″, and need to flail and fangirl after every episode. Now, it's your turn to get in on the fun! As always, THERE WILL BE SPOILERS. So either watch the episode, or use this to catch up! Did you miss last week's chat? Find it here!
SERIOUSLY… ALL the Spoilers Ahead. DO NOT READ THIS until you watch, or unless you're cool with spoilers. You've been warned!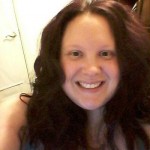 That episode should have been called "Shit Just Got Real", no?
And I want to Cage EVERYONE.
So it'll be a full house in the cage this week.
Indra, Lexa, Cage, Old Man Weather…
I hope they all kill each other.
I'M LEANING TOWARD CAGING INDRA. Like what? Octavia said no once, and she's no longer her second?
I still hate Lexa. And did you see how completely broken Clarke was when she found out? I felt so sad for her.
 RIGHT!? Fuck Indra. And fuck everyone else too. I am MAD.

I still hate Lexa. And did you see how completely broken Clarke was when she found out? I felt so sad for her.
Fuck everyone. Pretty much. Except Raven, Wick, Lincoln, Octavia, and Bellamy. Jasper too, I suppose.

Poor Clarke. She never saw it coming, Because  she is a good person.
Maybe NOW she will realize that all the bullshit Lexa was spouting is NOT the right way to be.
And I am sorry but I don't think Lexa's decision was smart AT ALL. She saved what, 12 people or something? Great. Now you KNOW the Mount Weatherians aren't going to remain her allies, and now she's just made a new enemy, when she and Clarke could very well have taken the mountain.
I don't care though. I'm just glad he's safe. That's all I want. And Octavia.
I could live with deaths of the rest, but it would be hard.

I agree! Oh, my heart almost stopped with Octavia! WHAT THE HELL? See, I told you Lexa was bad freaking news.
I can understand Lexa's decision, even if I hate her for it. You don't think it was smart?
I think it was done in haste.
I don't know how they convinced her to do this honestly.
What were the terms again?

I think it was just plain selfish, lazy, and cowardly.
Nope I think it is going to bite her in the ass, tenfold.
That's the thing, I don't think the terms were very clear, at least to the viewer.
A lot of people are understanding of Lexa's decision, but I think it will be her downfall.
Probably. Now the Ark people won't trust her or the alliance. I think it'll pit them against each other, which is EXACTLY what Cage wants.
But apparently, what Dante wants instead? That was his idea, right?

Yep, it was his idea to convince Lexa to turn on Clarke. He seemed like he almost hated to do it, but he wanted to save his people too.
Cage would have been fine just blowing everyone up but himself, because he cares about exactly zero other people.
What if he only did it to convince Cage that he was on his side?
I just felt like it was so sudden that it might have been a more calculated move than just simply trying to save his people.
Maybe I'm just making a mountain out of a molehill, or however that saying goes.
I just, something in the preview for next week is making me wonder.

Oh? I should watch it again, I was shaking so badly at the end I couldn't even focus!
I mean, I cried AND freaked out before the first commercial break!
I am hoping you're right, that WOULD be a best case scenario for our Arkian friends. And almost the only way they'll survive.
My heart was in knots that whole time!
I couldn't tear my gaze from the screen!
Like, what the fuck actually happened?
Wait, what happened in the beginning to make you cry?

Right? I just… I still AM in shock.
Ugh, the murders. Those poor people in Mount Weather. Maya's dad.
I just couldn't handle it all.
OH. OH YEAH. That was all sad.
And so was Miller's dad trying to get to the door! and everyone kept dying.
I thought, literally was convinced of this, that Lincoln would take his place and get shot. I was so fucking scared!
I thought Lincoln would volunteer!

I thought we'd lost Lincoln too! I was sure he was going to do it!
See? I am quite convinced I would not get over Lincoln's death. He just needs to stay alive forever. It's almost as heart-wrenching as when Bellamy is in perilous situations.

I know, he is so GOOD deep down, and it is even more impressive considering how he was brought up. He cannot die. And Octavia cannot die. And Bellamy cannot die.
I would be sad about some others, but I just can't with those 3. Or Raven, that would be really hard too, but I don't think that she AND Wick are making it out alive.
What? Don't even say that, Shannon! It definitely wouldn't be Wick, though, cuz think about it. The writers already took away Finn. The grief story-line would be overdone in that regard.
So, out of those two, I'd say Raven would die. But I don't WANT it to happen!
Didn't we say last week that we were not going to psychoanalyze the writers' thoughts ever again? LET'S STOP THIS.
well, after watching next week's preview, pretty much everyone will be inside Mt. Weather. But some won't make it out.
Clarke pulling a gun on Dante. Someone pulling a gun on Octavia. GUNS EVERYWHERE.
This episode is going to kill me.

Yeah, well, now that the Grounders are gone, this will certainly be a gun battle.
I don't even know with this episode! Because um, what if it ends on a HUGE cliffhanger and we have to wait SIX MONTHS for answers?
But seriously, you KNOW it's going to be something like that. What if it just ends with shots being heard, the camera pans out from the Mount Weather door, and then BAM! credits?
Those assholes would totally do something like that.
I don't even wanna throw out theories. My heart and soul aren't okay with that.

Nope, I can't. I don't have any more ideas, these writers are basically just too smart and creative for me. You win, The 100 writers, you win.
They should just show the gang sitting on a couch chatting somewhere for an hour, that would throw us more than anything at this point!
Or have Greg come back and kill everyone.
And the writers. No more the 100.

Bwahah. They break the fourth wall and show Greg munching on the camera crew.
The director keeps shouting: WHAT THE HELL WE NEED TO FINISH THIS SCENE STAY WHERE YOU ARE LET'S JUST GO WITH IT.

Yes, and is cut off mid-sentence by Greg eating his head.
Then they'd just let us stare at a blank screen for like, 34 minutes or something.
It returns, it's Greg manning the camera.

Blood everywhere, bits of people in Greg's teeth. Then Jaha and Murphy wander in from the desert.
Along with Ghost Finn, with his creepy ass eyes.

Pretty much. ANd then the season ends with "Will Jaha and Murphy be eaten too?
Will Greg and Murphy team up to rule the world?"
Shockingly, we got off topic again. Raise your hand if you're surprised. No one?
Well, this week's Jaha award goes to its namesake. Holly and I couldn't really think of anyone truly deserving,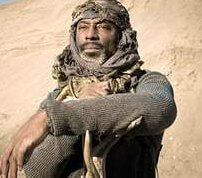 so who better to get this award than the supposed "leader" who is off rowing some damn canoe instead of fighting with his "people" that he claims to love so much?
---
Oh, our little Wick had to get his hands good and dirty this week.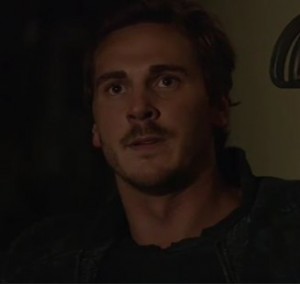 Between trying to help Raven keep them both alive, and killing his first enemy, Wick deserves a little Warrior treatment this week. Especially because things aren't exactly looking great for him next week either. Oh, and it looks like he got the girl, so there's a plus too. We need more Wick, just saying.
---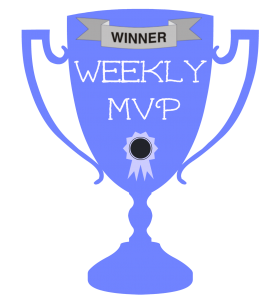 Lincoln is a freaking rockstar, okay? He was shooting arrows at doors, helping Clarke at every turn, and trying
to help a father save his son. It doesn't get much better than that, especially since everyone else in this episode was either being killed or betrayed. Lincoln proved even more that he is one of the good guys, and can be counted on. Also, it doesn't hurt that he is easy on the eyes.
---
Ah, this week's caged. Holly wanted it to be Indra, but since she isn't here…. well, you know. I made the graphic, I am caging the people! But for the record, Holly's cage is emptier than mine, which is full of all the people who Greg needs to throw feces at.
---
Predictions
Greg the Gorilla, joined by my good friend Ghost Finn and his creepy ass eyes to bring you our predictions for tonight!
Greg: So, Finn, welcome to you and your creepy eyes! They give viewers nightmares, you know.
Ghost Finn: Sorry we can't all just eat our prey like you do, Greg. At least it is only my eyes that terrify people.
Greg: Fine, I suppose that's true, but I am (potentially) alive at least. How do you expect to make predictions when you couldn't even predict your own damn death?
Finn: I knew I was going to die, okay? I just didn't exactly know that Clarke was going to be the one who killed me. Semantics, Greg, semantics. 
Greg: Whatever you say, fertilizer. Go ahead, give predicting a try, but remember, these writers be crazy.
Finn: I am not sure Greg, but some people are going to join me in creepy eye hell this week for sure. There is no way that everyone makes it out of that mountain alive, amiright?
Greg: Well, that's true enough. I am still waiting for the scraps of what I assumed would be last week's dead cast. Bad time to be a hungry gorilla, dude.
Finn: You think you have it bad? I am dead, man. One of my girlfriends is napping with Wick, and the other is either in love with a chick that betrayed her, my rival, or both. 
Greg: Fine, you win this round. But with those serial killer eyes, what exactly did you think was going to happen? And don't worry, some Arkian girl is going to get killed off, and you'll have a lady friend soon enough. Maybe even Maya, she is friendly. Ish. Fine, she's whiny and always looks like someone has set her on fire, but you have to take what you can get. 
Finn: Are we actually trying to make predictions on this episode? That doesn't even seem smart. 
Greg: Not at all, Shannon just wanted a way to include your creepy ass picture in her post to give Holly the willies. As for what will happen, we know this: People are going to die. Betrayals and lies and all that stuff. And next time you want to talk about being smart, try not mass murdering all the villagers. 
What did you think of this week's episode? And you are at all prepared for what is sure to be a freaking EPIC finale?