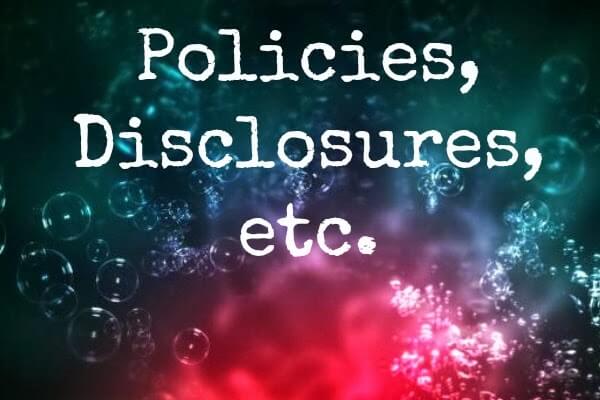 General Disclosures
Books provided for review will be explicitly stated as so.
Reviews done from a provided book will be treated the same as those done from books I have purchased. Being provided with a copy will not affect the integrity of the review.
Links to Amazon or The Book Depository direct to an affiliate page. All earnings go to the maintenance of the blog and future giveaways.
Review Policy
I am only accepting review requests on a very limited basis. I also regret that I am not able to respond to all review inquiries due to time constraints.
My acceptance of a book for review does not guarantee a review. Due to time constraints, or a book simply not being a good fit, there are times that I am unable to complete a review.
I post all reviews on social media, including Goodreads, Facebook, Twitter, and Google+, and often on Amazon
Feel free to contact me further with any questions or comments at itstartsatmidnightbooks@gmail.com
Rating System: I also do half-stars, but I'm sure you can get the gist! 
So amazing, I loved it, want more of it, and am still thinking about it days later. Evoked emotion, and was basically one of my favorite books.

Really good book, definitely would recommend. Maybe had a minor flaw or two, but overall, a really great story.
Pretty good, but not my favorite. Still definitely worth reading.

Wasn't really feeling it, probably would not be recommending it.

Definitely did not like it. Big flaws and/or completely uninteresting to me. Would not recommend. 
So abysmally bad or downright offensive, this book should not be consumed by humans. (I don't think I have ever given a zero star review before, but I'm sure there'll be a first time for everything!)
I did not finish this bad boy. For reasons. (Yes, I will explain them, as well as how far I made it in the before deciding to call it quits.