You surely have seen pictures, stories, posts, tweets, and all kinds of other media about Unity Days. You likely think you understand what it's like, as I'd thought. I assure you, you have no idea.  I fear my words won't be able to do it justice (just as none prepared me for the experience!) and that it's just the sort of thing you absolutely need to experience for yourself. But I shall do my best to help you live vicariously!
The thing about Unity Days is, everyone there genuinely cares about and loves the show, and it shines right through. And in truth, it isn't even just the love for the show, but for each other. It's people from all walks of life, somehow brought together by this crazy, post-several-apocalypses television show. And it's sharing something that bonds us beyond that, something that brings out the better angels of our nature.
I'm definitely not saying that The 100 fandom is without its drama and drawbacks . What I am saying, however, is that Miah and Leana have created a gloriously epic weekend which showcases the best of what fandom represents. People leave their biases and complaints at the door, and what's left is a positive environment of a beloved common interest and camaraderie. I realize that the picture I'm painting seems a bit utopian, but it's simply the true picture. And I, for one, am eternally grateful.
Now, let's move on to all the fun and fabulous stuff that happened over these three magical days in Vancouver!!
A quick note on the panels: They were all moderated by the incomparable Jo Garfein. I'd followed Jo on Twitter for years, due to her work with Cancer Gets LOST, and have known her to be incredibly generous and kind. But meeting her in person was so, so much better. Not only is she genuinely a kind person, but she's so funny and witty, and tried so hard to make every single person feel comfortable and welcome. Add to it that she made the absolute perfect moderator, and yeah. It was a match made in heaven.
(Also, I think it goes without saying, but I am paraphrasing most of this, while staying as true to the gist as humanly possible.)
This panel was all about giving back, and celebrating the generosity of The 100 cast and fandom. Most of us know about Eliza co-founding a school, but we were able to learn so much more about both how the school came to be and the students that they help. The documentary (which you can watch now, and I highly recommend that you do) made by Eliza's brother, Patrick Cotter, is beyond inspiring and heartwarming.
Jo talks about CGL, which I definitely recommend checking out. Some day, when I have money, I want to buy famous things! Especially for a good cause! Until then, I can at least donate here (and so can you)! And if you can, you really should consider sponsoring a little one at Koh Tao. Beth had actually first chatted with me about it, and upon meeting Koh Tao's amazing volunteers (shoutout to Gina, who was beyond great and so much fun to chat with!) I knew I needed to sponsor a kid. My kiddo's name is Ami, you can find yours here!
And as a lovely thank you to everyone who sponsored a kid, we got a special picture with the panelists!
Saturday Welcome Panel
Eliza Taylor, Bob Morley, Sara Thompson, Tasya Teles, Lola Flanery 
**TW for pregnancy loss
And Sachin kept… popping in even though he had no real reason to be there. True story, I think Sachin might be the biggest The 100 fanperson of us all. The panel opens up on a light note, with everyone talking about their favorite character looks, nearly everyone elusively saying that Season 7 looks are their favorites.
Then Eliza is faced with the question of her directing this season, since she'd been slated to do so. She struggles, saying she wasn't sure how she should answer initially, but decided to go with telling us, because we're all friends. Eliza and Bob had been trying for a baby, and while Eliza became pregnant, she lost the baby at eleven weeks. The two talk openly about how difficult it has been, but that they wanted to share because there is such a stigma, and a silence, around pregnancy loss. As an aside, I have to applaud them, especially Eliza, for sharing such a difficult and heartbreaking event. But if anything good can come of such a tremendous loss, it's hopefully that it will help other women to be able to share and be open and find comfort and love in such an awful time.  Bob also discusses why he is so open with his depression struggles, as he hopes it will help others. Honestly these two are doing such amazing things with their platforms that I truly don't think I can put it into words. And I know that every last one of us are wishing them nothing but happiness in the future.
Then, the talk got back to Sanctum, and even season 7. A few random facts we learned:
Sara's dad wants the picture Josephine was painting in 6×05 for his office.
Tasya loves the Season 7 scenes she's done. She also loves when Echo interacts with her Spacekru family, and wants to see more interaction with Indra (us too, tbh!)
Eliza says everyone is on good terms going into S7 especially after losing Abby.
Lola wants to interact with Picasso more
Eliza says it's "very possible" Clarke gets her beach and her cocktail
Sara loved getting to say "We're back, bitches!"
Bob says that he "hopes to see more of Hope" hah.
Lola is excited for us to see someone we don't know yet… but will!
Bonus Guest Panel (Saturday)
Chelsey Reist, Jarod Joseph, Chuku Modu, Jessica Harmon, JR Bourne, Richard Harmon, Tati Gabrielle, Lee Majdoub, Shannon Kook, and Shelby Flannery
It's Tati's birthday, y'all! She is positively glowing with excitement, and her enthusiasm is contagious. This is definitely a bunch of fun little tidbits, so let's just dive into them!
Jo calls JR "Daddy Lightbourne" and if that isn't a mood!
Jarod jokes that Chuku is "bringing back Lincoln". Too soon, my man.
Jess jokes that she directed the whole season and everyone else died and Niylah the only one left. That definitely sounds like what would actually happen if Jess directed, tbh ?
When asked about Mackson, Jarod said they're "still there" which okay cool I'll take it!
 RE: Body Swapping

Lee says Nelson would body swap with no one because "the children of Gabriel don't DO THAT"
JR wants to be Chuku in real life. He also wants a turn in every body
Sachin pops out from behind the curtain to say "if you go into Jarod you get into me"

 RE: Characters' Defining Moments

JR: Chipping Clarke
Richard: Meeting Emori
Jess: When Niylah can't get her cart up to space
Lee: We'll learn more about Children of Gabriel in S7, so that
Tati: when Gaia realizes science makes nightbloods, but also meeting Madi
Chuku: Letting Josephine go
Shelby: pivotal moments to come, we'll know when we see it
Chelsey: lying to Monty when Harper says she doesn't love him in the Rover
Jarod: eating human flesh

How is Gaia going to deal the loss of the flame? Tati says it's re-framing her whole life. It's a big loss of self and identity.
Weirdest thing to happen? Sachin jumps out to say Jarods is kissing his best friend. Jarod says he can't really decide now, he has to reflect later. Sachin yells out that they have to kiss.
Richard's favorite line:  any reaction to Jaha, especially "Camp You is that way"
Will Niytavia happen? Jess says no but then says they have sex the whole season ?
Which death hit hardest?

Shannon: Wells because he didn't expect it
Richard: Charlotte had to die ? Pike and McCreary because he misses Mike Beach and William Miller
Jess: she didn't get sad for anyone because it's good for shows. But losing the actors sucks. Then she says Marper was the saddest. Jess forgot Kane died. Then Jarod said he texted Ian and misses him.
Tati: Jasper
Jarod: Shaw but also Miller's dad. Then remembers Harper is dead bwahah

 Chuku says Gabriel will definitely still be obsessed with the anomaly. Then Sachin comes out to say how awesome Chuku is, because of course he does, but also, he's not wrong.
Sanctum Panel
 Chuku Modu, Sara Thompson, JR Bourne,  and Shelby Flannery
Sachin and Richard were in the audience because I mean, of course they were. Richard yells out that it is a moon, and not a planet, which I mean, he's not wrong.  ?‍♀️ Let's get to the highlights!
Everyone loves Marie! Shelby said she was so much funnier than she'd expected. JR says that Marie's smile "hits his heart", which yes my dude, mine too.
Teen Wolf versus The 100? JR said the biggest difference is the lack of wolves hah
Chuku got spat on a bunch of times,  but then it was all cut out
We'll find about Hopes markings/their connection with the Anomaly
Chuku says "you ain't seen nothing yet" in terms of costumes
Someone asks about Gabriel and Russell being the last Primes and Richard yells "hey I'm a Prime!"
JR says Russell will have to decide where he fits, it's a journey in S7 after losing not only his family but his entire identity as a Prime
Sara says Sanctum is so pretty "like my character just threw up everywhere "
JR said he wished there was different food in Sanctum, and Sachin yelled "WAS IT PEOPLE?" and told him he couldn't complain
Shelby is excited about scenes with Diyoza/Ivana
Chuku "I was in the forest by myself for so long that I was excited to work with anyone "
What if Kane met Russell? JR says he would have loved that. If anyone could have achieved Gabriel's goal, Kane could have
How did Sanctum line up with what we see? It's all built, it's ALL there, not CGI.
Saturday Closing Panel
 All Saturday guests 
The first half of this panel was all about experiences with fans. Beliza's favorite was when they were part of a marriage proposal (I mean, aside from their own ha). Tati relayed a story of a young German fan who touched her heart. Richard and JR have both signed boobs, while Lola signed a forehead. Jarod and his mom had dinner with a random internet fan in San Francisco which was a pretty damn funny story. Tasya has had "Echo" called out at her in both a Moroccan bazaar, and while hiding from a gunman, so that's some fan dedication.
Then, we move on to the auction. JR has a signed jacket to auction to benefit the cystic fibrosis cause The Grace Rose Foundation. Richard models the jacket, and the bidding starts. The eventual winner, Megan, bid $3700 for the jacket which is beyond generous. Then, JR announces that he is donating the proceeds to Bob and Eliza's fund for the Australian fires. And, he's going to offer a second jacket to the second-place bidder, Tara. She too graciously accepts and hot damn, JR just raised over $7k for Beliza's charity so wow.
Sunday Welcome Panel
Lindsay Morgan, Tasya Teles, Sachin Sahel, Richard Harmon, Luisa d'Oliveira 
Beliza is not here today, presumably at home with their puppers being adorable, and Lola and Sara are not on the schedule either (though we do see Sara again, so stay tuned!). But, we get the amazing addition of Lindsay Morgan and Luisa d'Oliveira (and I guess officially Sachin hah), so yay! We open with discussion of the Golden Ticket for Sachin's Ships Alliance Dinner- there are still two left at this point- and Sachin will not give out clues, but instead makes innuendos that the ticket is Richard's penis, which is… something. What else happened? Let's bullet point!
Lindsay says that the best for Raven is yet to come. Her most rewarding aspect of Raven was that prior to this role, she felt very boxed in as a WOC because the roles available had been so stereotypical. But Raven is "kick ass and take names". Raven challenges her to be her best.
Sachin sings "Kiss Me" by Sixpence None the Richer every time someone mentions Luisa in her Emori Prime costume.
Luisa only booked Emori for one episode and kept waiting to die. Richard says he begged Jason to keep her after that episode. "I didn't know she'd be stuck to my hip for 5 seasons"
When asked about putting so much blame on Clarke,  Richard says feelings about Clarke are valid because feelings in general are valid. Luisa says that blame isn't always rational because emotions were so high.
In terms of moving forward from Abby's death, Richard said that Murphy is going to carry Abby's death and it's going to be really hard- the last words he said will haunt him. Sachin says Jackson is going to have a hard time, and neither Sachin or Jackson will ever be the same. Lindsay says losing Abby for Raven will be one of the most difficult things, but brings her other family closer. (Basically, everyone seems super gutted over not just losing Abby as a character, but losing Paige. I feel, guys.)
Luisa says filming the Memori proposal was emotional. Richard was nervous.
Tasya tells a funny story about going to space in which she was the only one had no earpiece, as they were short one and she had no lines. She said it seemed fitting that Tasya didn't know what was going on because Echo sure didn't!
Sunday Bonus Guests
Chelsey Reist, JR Bourne, Chuku Modu, Jarod Joseph, Jessica Harmon, Shannon Kook, Tati Gabrielle, Lee Majdoub, Blythe Ann Johnson, and Shelby Flannery
Let us dive right into the fun!
JR talks about how much better it'd be if people used terrible circumstances to join them together, in life and the show (and he's so damn right)
Shannon shares how lovely Chris was during his first day/Chris's last day on set. He made Shannon feel so welcome, even though it was by every account Chris's day. (More proof of this cast's awesomeness, IMO)
Jarod says he doesn't know if he'd like Miller as a viewer, and appreciates that we do
Favorite scene to film:

Lee says finding out that Xavier is Gabriel.
Chuku says Gabriel meeting Russell (JR calls him an asshole ?).
Jess says anything whew she's seated cause the shoes hurt her feet. Also indoors. And O fight scene.
BA says Gaia and Miller. Jarod says same.
Chelsey says butt drilling, but also when she broke her nose during The Tinder Box and the dying scene.
Shannon says Jordan's arrival. Shannon sobbed, producers sobbed, Bob told him that he "cries like his dad with a body like his mom"

Shannon says that Jordan was drawn to Delilah because he felt so alone, because no one really knew him. They protected and cared for him because of who his parents were, but Delilah liked him for him.
Lee auditioned for the show a few times and it was on his bucket list. He said "I got the role by loitering".
Shelby and Lee both talk about Bob's kindness and welcoming nature.
Jess talks about her first day with a script containing 6 pages of Trig dialogue. She also has to film a sex scene where Richard walks into her trailer while she's mostly naked, getting spray makeup. Richard said "nope" and turns around and walks out.
The 100 Reviewer Panel
Did I just? Gosh yes. Because it was an experience!! And it was so fun. I won't lie, I panicked through most of the morning, and you should be properly proud that I was even able to pay attention to the first two panels! But I did, and here we are. Yana was both a moderator and a panelist, and she did a phenomenal job asking us questions and keeping things moving smoothly! And, she put me at ease from the start, which was a tall order hah. The other panelists were also wonderful- I genuinely felt like I was just sitting around chatting about my favorite show with some friends (which, I suppose I was!) People even showed up, and asked so many insightful and great questions! We talked about all aspects of reviewing, what the best and hardest things are, what our favorite moments were, and so on. So again, thank you so much to Unity Days for one of the coolest things I have ever done in my life!!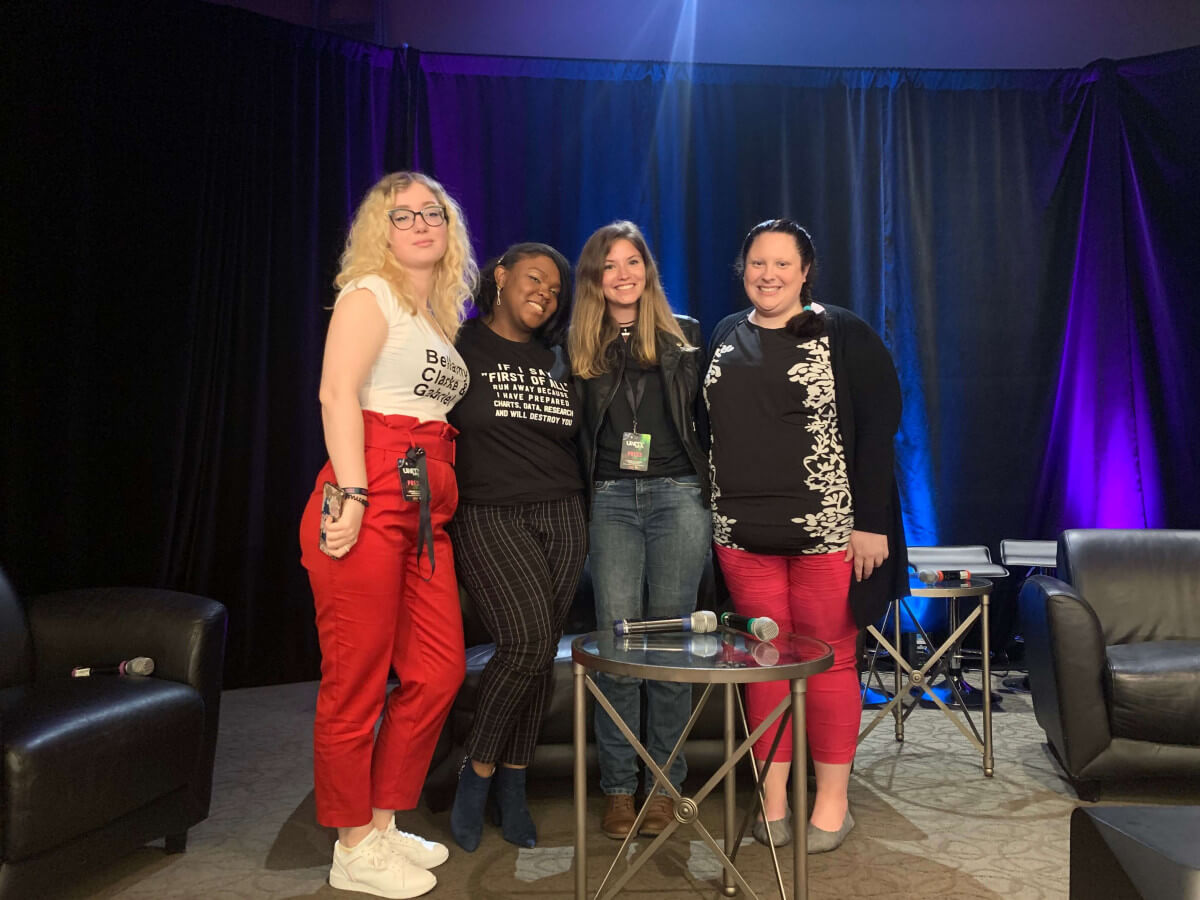 Men & Women Panels
Everyone
I was a few minutes late for the Women's panel because I was doing my Sachin & Jarod photo op, but alas. Cynde Harmon, Richard and Jess's mom, came up to join the women's panel, so that was super fun. Then things pretty much broke out into a dance party which was extra fun. Then, the men's panel, of which I was there for all of and have my bullet points, woo!
When told that Cynde was there, Sachin procceds to explain to us that "Cynde made both Harmons" because we definitely didn't know how that worked ?
Richard yelled out to her ""did you two have SEX?!" and so sorry Cynde, I guess he finally knows ?
Has playing your character made you realize something about yourself?

Shannon says he had become more jaded, and Jordan made him remember the important stuff.
Richard "I hope I got nothing from Murphy ". He realized how fortunate he is.
Lee's realization from Nelson is in Season 7
Sachin says he's learned to be LESS like Jackson and care for himself.

Promo time for Lee's new movie, Sonic the Hedgehog: It releases on Valentine's Day, so get ye to the movies!!
Shannon says Jordan is disappointed in humanity. His parents wanted to save humanity and they went ahead destroyed more crap. (Though can I just say, that feels more like Sanctum's fault?)
JR can't wait for Russell to "figure some shit out" (same, my dude!)
Sachin starts doing stand-up in which he just talks about cereal, and the guys and Jo all walk offstage, except Shannon but because he is filming it.
Man dance party ensues!
Richard tells us that Murphy didn't care that a guy kissed him, just that it altered his plans. Then Sachin kissed him, because of course he did.
Richard also tells us that we have not seen the last of Daniel Prime's boyfriend, Zev.
JR claims that "The 100 would never kill the dog" in reference to Picasso.
Sachin is glad that they get to finish the story on their own terms.
Jarod and Sachin both say that the most memorable part of the show is the people they have met along the way.
Sunday Closing Panel
Everyone
This is emotional, okay. I knew it would be. I tried to not cry, and I mostly didn't? Ugh. I think it's not just that Unity Days was ending, but the show is ending. So let's dive in! This panel was really just audience questions, and was quite short, so I shall make a list!
Your Season 7 Character in 3 words?

Lee: He Is Torn
Jarod: Somehow Still Alive
Chelsey: I'm Not There
Tati: A New Beginning
Shelby: Twisted and Wicked
Tasya: Never More Stressed
Jess: When's It Over?
JR: My Family Died (To which Sachin responds "then maybe you shouldn't kill all the doctors motherfucker")
Lindsay: Karma's a Bitch
Sachin: I Lost Abby
Richard: Trying His Best
Shannon: Finding His Humanity

Who did you wish your character had more scenes with.

Chels says Pauna.
Jarod used to be Jaha.
Lee is Indra.
Shelby says Harper.
Tasya says Luna, Anya, Lexa .
Tati says Lexa.
Sachin says Bryan
JR asks if there's a Kevin ?
Lindsay says the Lightbourne fam.

Then we end with Sachin and Tati singing a duet of Just Can't Wait to be King mixed with A Whole New World, and with that, it's the end.
Fin.

So, let's start with Vancouver itself! Such a lovely city, and the place where The 100 is filmed, of course. I kind of love the city? It's got a city vibe, but it's just so chill and laid back. It's kind of what I expected of the Pacific Northwest I suppose, and I am so glad I finally got the chance to experience it! I would definitely love to go back at some point (hint hint UD5?)
As for the people I met… where do I even begin? The fans were wonderful- it's not every day that you get to experience such an event with people who love the thing you love just as much as you do. And for that, I will be forever grateful. Meeting the cast was absolutely every single thing I had hoped it would be. And more, because I don't think you can know how beautiful each and every one of these souls are until you meet them for yourself. I suppose in hindsight, I would have preferred meeting all of them one-on-one, but alas money and time does have its limits!
I met, on some level, every cast member except for Lola and Shelby. I wanted to, but again, time and money. At the autographing sessions, it was easier to converse, so of course I feel like I got to chat more with those people. And obviously, I got to chat with Chelsey, Shannon, and Sachin at their respective lunch/dinner.
It's funny, because I went into Unity Days thinking I'd meet a couple of cast members, get a photo or two. But as the weekend went on, I couldn't not meet more of them. These people, they are the real deal. And I have to think that getting this cast together was no accident. They were meant to be, and I think that is because of their kindness and warm personalities.
I have made a little slideshow for you to see all my pictures and such from the weekend. (Hover to see captions/who everyone is!)
So, from the bottom of my heart, thank you to the Unity Days organizers, staff, volunteers, cast, and fans. It was beyond perfect, and I'll hold it near to my heart forever.
Have you any questions? Feel free to ask away, and I will do my best to answer!!