Welcome to this week's Snark From the Ark! Holly @ The Fox's Hideaway and Shannon @ It Starts At Midnight are mildly obsessed with "The 100″, and need to flail and fangirl after every episode. Now, it's your turn to get in on the fun! As always, THERE WILL BE SPOILERS. So either watch the episode, or use this to catch up! Did you miss last week's chat? Find it here!
SERIOUSLY… ALL the Spoilers Ahead. DO NOT READ THIS until you watch, or unless you're cool with spoilers. You've been warned!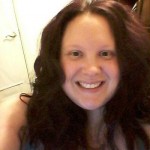 I don't even remember WHAT the show was about, so I hope you do hahhaha
I'M TRYING TO REMEMBER.
A  lot happened. A LOT.

It did. It was all this big old "Here's ALL the things, and now we will spend the next two weeks dealing with them."
I won't lie, I found Jaha's ridiculously small and pathetic rag-tag foursome particularly funny.
Rowing across some random ass lake in the middle of the desert? Sure!
And Murphy's one-liners were AWESOME.
We needed those moments in-between the intense scenes.
Especially after the seriously dramatic moments with Bellamy! Gah, I WAS SO SCARED FOR HIM.

I was too! Most of the time I was "meh, he will be fine, no need to worry", but there were moments when I just wasn't so sure anymore!
Like, HOW was he going to escape!?
I still don't think I completely understand how the thing exploded though.
I don't care though. I'm just glad he's safe. That's all I want. And Octavia.
I could live with deaths of the rest, but it would be hard.

I agree! Oh, my heart almost stopped with Octavia! WHAT THE HELL? See, I told you Lexa was bad freaking news.
Dude, I was so PISSED. I think I tweeted "fuck you Lexa" when she gave the order to kill Octavia.
NO ONE MESSES WITH MY WARRIOR PRINCESS.

I was so mad, and like, mad at Clarke even, because why does she just blindly trust her?
But she figured it out, thank God. I don't trust Lexa after that shit.
However, funny thing, I actually did feel some chemistry between her and Clarke. I'M STILL A MAJOR BELLARKE SHIPPER THOUGH.

I didn't! At all. I felt like Lexa might have some feelings for Clarke, but that Clarke was just sad and lonely and kind of caught of guard.
I don't know, Clarke did kind of seem to care for her.

Holly, NO! You are the biggest Bellarke shipper I know! NO NO NO.
I AM NOT SHIPPING THEM. I'M JUST SAYIN'.
I also STILL don't like Lexa. Not after that shit she pulled with Octavia.

No, I don't either. She makes me mad. I haven't liked her since the shit at the conference, and now I don't like her more. PLUS, she even acknowledged that Clarke had feelings for Bellamy, but is trying to like, steal her away!
I don't know what she was doing, asking Clarke all of those questions about her and Bellamy.

See, I almost felt like the kiss was trying to distract Clarke from Bellamy for some sort of strategic purpose more than Lexa ACTUALLY wanting to kiss Clarke.
I don't know, something about it just didn't feel authentic to me. Especially with how underhanded Lexa has been, and how unstable she knows Clarke is.
A lot of people seem to think it's authentic and I know others who are SHIPPING them, who were like hardcore Bellarke shippers.

WHAAAT!? Like, transfers!?
Point me to them, I must change their minds!
Don't be worried Shannon. You really think Lexa is going to be around for a long time?
I think Indra's even pissed at her. I wonder how everyone would feel if they knew she she'd done. Then again, they're Grounders and their ways are harsher.

I think most of them would be pissed, because they think of Octavia as one of their own now. They'd have been less pissed if she'd offed Clarke!
Do you think they're grooming Octavia to like become the Commander? I've heard that uttered, and I have to say, it seems true.

Oh yes, 100%. I agree. I have thought that for awhile now, which is why I see Indra's time VERY limited.
I was kind of surprised that she made it out of the missile attack
I honestly thought she was going to die in that.
Someone really important WILL die within the next two episodes. No surprise there.

Oh for sure. No question. Probably more than one someone even. Like, first someone kind of important, to think we are done with the deaths.
And THEN… someone actually important.
Monty, Jasper, Lincoln, Indra.
NOT Octavia, definitely not. Not Bellamy either.
I don't WANT it to be Lincoln or Monty, but I could live with it. Maybe Lexa will die.

Maybe Lexa. Probably Jasper or Monty. I hope not Lincoln, but you never know.
Probably Indra too.
I'd say Jasper, but I don't know, he might actually have a storyline with Maya. I could see him dying to defend her though.
I think Indra might die too.

I agree with the Jasper thing, BUT then it would give Maya a grief storyline if he died. Like, if he saved her?
I don't know, girl, this makes my head hurt.

Seriously, no more trying to psychoanalyze the writers! Let's talk about Raven's nap!
She was… weird after. I couldn't' tell why. Was it her leg? Was it because she was napping while her besties were off fighting a war? Was it Finn? All of the above?
I think it was mostly Finn, and also because Raven is very closed off and doesn't let her emotions show.

I suppose. It was kind of awkward to watch though! I mean, at first she's all over him like white on rice, and then she was so COLD!
I felt for her, but also for him. Talk about feeling rejected!
I think she was just feeling A LOT and needed to step back.
I felt for him too. But I think he's good for her and I think he'll break down her walls, if the show gives them more face-time.

I think so too. As long as he doesn't bite it in the next episode 🙁
Shhhhh he won't. they aren't even fighting in the war, are they?

No, they aren't fighting. I don't think. But, that does NOT matter in this show!
Nothing matters in this show.

Nope. They'll have Greg come back and eat all of Camp Jaha, for goodness sake!
I wonder, where WILL that gorilla be during all of this?

Seriously, he came, he wreaked havoc, and he left. But um, he is a giant freaking gorilla, he couldn't have gone too far!
Didn't they lock him in his cage?

Oh, maybe. But Greg is again, a giant freaking gorilla! He won't stay locked up for long!
OMG, Holly- is Greg dead?!
PROBABLY.

NOOOOO. MY GREG!!
SORRY SHANNON.
Well, as per usual, we veered way off topic! Now for our awards (with a new award!) and then a guest post from Greg with predictions for next week!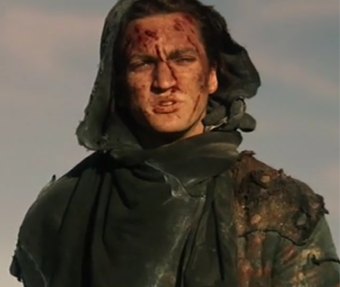 Sad day, but Murphy spent this entire episode cracking jokes and watching people get blown to bits.
Snark is not so funny when you are covered in pieces of your neighbor. Womp womp. If he hadn't started throwing shit at solar panels, he would have been even more useless.
---
This was a bit hard this week, but Raven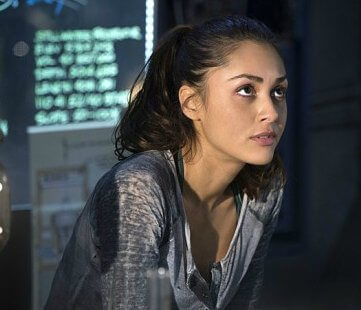 basically helped Bellamy diffuse the fog bomb things, and then got right to work getting her nap on. Now that's a warrior!
---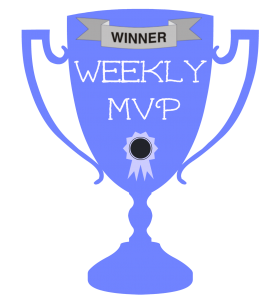 Bellamy
basically proved that he is flame resistant, and can outrun and outshoot an entire group of Weatherians. Kudos, my friend.
---
And our latest addition, the "CAGED" award is basically the person of the week who most belongs in one of those Mount Weather cages, because we do not like them. At all. This week, it's obvious: Lexa. Not only did she try to sink our ship, but she tried to kill Octavia. And no one messes with Octavia on our watch.
---
Predictions
Greg the Gorilla here, to assist with predictions since Holly insists on sleeping and Shannon is fresh out of ideas. You'd think I couldn't type, because  I'm a gorilla, but you'd be wrong. Nuclear war has benefits for Gorillakind. I have thumbs now. BOOM. 
Lexa is out of here! I won't be sad to see her go, since she did shoot at me (quite a few times, if you recall) a few episodes back. But aside from my personal animosity, she's just not useful to the show anymore. Bye, bitch.
What is on the other side of that lake Jaha and Friends are rowing to? My guess? Death and destruction. But only for those two people we don't know or care about. And of course, a set up for next season's plot.
Which Arkian is going to die? Your guess is as good as mine. Since I don't have any lines, I don't get the script ahead of time. I basically improv the grunts and yells. Oh right, the characters. Likely Jasper or Monty, I'd say. And could you feed me one of them, if you think of it? We aren't that genetically linked..
"War, terrible war". I mean, that is probably going to be all that happens next week. A lot of fighting. Some tension. And a big old cliffhanger for the actual finale.
And what about me? "Despite all my rage, I am still just a rat in a cage…."

 

So if you have some compassion for a large, hungry gorilla, throw me a stack of bananas or a Grounder or something, okay?
What did you think of this week's episode? Anything you see happening tonight that I didn't think of?