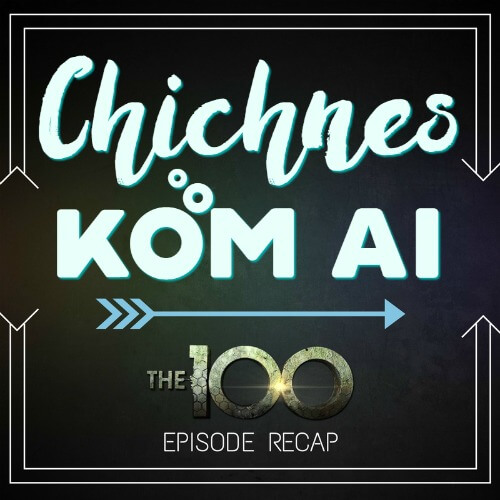 Just a reminder, spoilers galore!! 
Please let me sob for a moment while I come to the realization that The 100 will not be on again until the last Wednesday of April. The wait for DNR is going to absolutely kill me. 
Onto the God Complex talk! I feel like I am going to be pretty gloaty this week. Greg @ Book Haven mentioned in his recap that we were in fact correct about Cultkru being involved. I was also spot on about Fake Baylis's death, and the double meaning of the title of this episode. And Emori's little trick coming back to bite her. And as someone who is generally totally off base on all things with this show… I am pretty damn proud of myself. 
God Complex
Speaking of Fake Baylis… he was a goner within the first few minutes of the show. Like I knew he would. Of course, that is a real bummer, because he was one of their 382 "only hope of survival" so far this season. Womp womp. He was a nightblood in the end, so when he basically blew up in the radiation chamber, the gang got the lucky job of cleaning out black radiated goo after his demise. This is what happens when you kill random stupid Grounder who just wanted a fucking Pop-Tart.
"But it was brown sugar cinnamon!"– Fake Baylis, probably
But it's fine, because Abby just made your basic run of the mill life-or-death oopsie, something about polymers or polyester, I wasn't really paying attention, so once she removes that, next victim test subject will be totally fine, pinkie swear! Only… who can they test? I mean, no way do they want to waste use one of their own people, and that darn black rain is making Grounder Hunting a bit tricky at the moment. Good thing Luna is up to date on her Random Grounder Clan Symbols enough to know that Fake Baylis was… well, fake.
But first, Luna needs to come on down for another round of bone marrow "donation". Which isn't totally painful and causes her to feel like shit or anything, I am sure. But Luna is done with this bullshit.
Luna is basically Angelica singing "I'm not hereee for you". 
Look, I am going to be honest here. I don't know what I would do. Part of me is thinking Luna is just inherently better than the rest of them but… here's how I see it: If they don't find a way to save everyone, Emori dies anyway. Plus, she lied pretty hard and literally killed an innocent man. This will haunt Abby forever. That kind of crime can't be overlooked, especially since she was so manipulative. But we'll look at this more later. Meanwhile, Roan doesn't plan to let Luna leave the lab because apparently, he is Team Save-the-World.
Well, that looks rather familiar….. 
Well pretty much. Except… Mount Weather people just wanted to frolic in the sunshine or whatever, not actually keep people alive, so there's that distinction. 
God, Complex
I spent most of this storyline in some sort of strange "let me see the damn bunker already!" anxiety. So much of what happened was kind of filler for me, even though it really wasn't, in general. The opening of the story is… odd, because Jaha gets this whole idea of finding out more about Cultkru after Niylah says a Grounder prayer over the dead people pyre after the rain. It's… a stretch, let's be real. But, Jaha convinces Kane, mostly because Kane probably feels useless as fuck and there is no one left to "Dad" over at the moment. Then they grab Monty because they need "strong minds" or some other such reason for Monty to have something to do in this episode. Before he leaves, he and Harps have an interesting little… moment.
It should probably also be noted that Harper is moderately sloshed on moonshine at this juncture. But our girl is not doing well. 
Anyway, our little trio of haphazard heroes ventures off to Polis to find Indra, who will totally help Kane find her daughter who she has been hiding. Especially since, let's face it, Kane has been a pretty shitty friend. Has he even checked in on Indra since she was missing for like, seven episodes? She could have been dead, since Azgeda was waging war on Trikru? Indra apparently feels the same as I do though, so it's fine.
That's Indra-speak for "we are no longer bros."
Anyyyyway. We see that Polis has descended into anarchy and violence (more so than usual, I mean) and that our merry band of cult-seekers has to get through some kind of Azgeda tunnels to get to the place where the bunker may be. So says… Gaia's tattoo, I think? It was all kind of weird, I won't lie, and I was doing a wee bit of eye rolling at this point. But then Kane is like "nah, it's cool, I have friendship bracelets with those guys" so they head off to the tunnel. Only… Indra doesn't give a fuck about their new alliance and blows them to smithereens.
Because that won't come back to bite them all in the ass.
I have so many questions. Like…. what the hell happened to Indra? Since when does she touch guns? And also, why is she acting so… rash? I don't know, but they get to this secret room where the tomb of Becca Pramheda is, along with, Jaha supposes, the non-soupy Cultkru bunker. There's a lot of fumbling with keys and talking about old prayers and shit, and then Monty throws Jaha's Cult Soup key into a fire pit, it turns pink, and then the door opens. And there, we have bunker. Non soupy bunker for one and all. I need more bunker.
Such a tease!
"Whatever the hell we want"
The fact that this phrase is back makes me so happy I could cry. Or did, I don't know, don't judge. So Jasper decided to go for a little jaunt outside of camp, sans chem tent, which Bellamy forbids, so he follows him. At first Bellamy is pissed because Jasper is just being his usual, dark-apocalypse-humored self, and Bellamy is kind of over it. I, however, am not, especially with lines like this:
But eventually, they start to talk, like, honest talk. They have a nice little heart to heart which… was kind of great. Jasper didn't tell Bellamy that he was forgiven for his sins or anything, but he did tell him that basically only he had control of how he lived his days. Which is kind of true for us all.
"And really mean it this time"–Jasper
Nice callback. Thanks, Jasper, I needed that!
Anyway, the real reason for Jasper's trip into the woods was for Jobi nuts, because I am pretty sure that Jasper has a substance abuse problem. So he and Bellamy (who is adamantly against the consumption of nuts, considering he halluctinated that everyone he inadvertently culled was trying to kill him in Day Trip) head back to the Ark. Because it's….
Party in the A.R.K.
(You should all now be singing that kind of shitty yet very catchy Miley Cyrus song, thanks.)
WOoo Arkfest 2150 is underway, ladies and gentlemen! I mean, first they have to deal with the business of all their dead radiated friends, but after a good cult prayer and a pyre, Jasper grabbed some Jobi nuts for the festivities. Luckily, Niylah knows how to make a mean Jobi brownie tea for the gang to share, and there's plenty of moonshine to go around until she brews that up.
And of course, your friendly neighborhood blonde delinquent that no one has seen since a romp with Bellamy in Season 1 is back, to well, have another go at him, apparently.
THEN GO AWAY.
Can I just say I do not approve? I know, it is probably unfair of me, but you know what? I don't care. Screw that rando. Actually no, please do not screw that rando, Bellamy. You love CLARKE, the other blonde girl from Season 1 who is currently willing to sacrifice her own damn life to save yours.
"I bear it so they don't have to."
So Luna's bone marrow is drawn, and the time has come to take Emori out of her makeshift prison and into her tomb testing chamber. This… well, as you can imagine, it is a whole lot of hurt. Emori just wants Murphy to protect himself, which kind of redeems her a bit in my eyes. And Murphy of course says he will go down fighting to make sure they don't hurt Emori. My heart broke for these two.
Even after Emori is taken to be prepped, Murphy pleads with Clarke, in a moment that was just… it was just fucking phenomenal is what it was. Richard Harmon absolutely kills this scene, and my feels.
Screw it, I changed my mind, this is a long shot anyway.
So as Abby readies Emori, her hands start to shake. Whether it is from her brain problem, or the fact that she simply can't do it, or maybe both, I don't know. But Clarke thinks she can. So she takes the syringe. And then…
I did not see this coming. Even when she said "I bear it so they don't have to", I figured she meant, you know, killing Emori. But NAH, she is quite literally going to bear it, eh?
But Abby had that ALIE-infused premonition about Clarke being radiated, and so before Clarke can get into the chamber, Abby loses her shit and beats the living hell out of the chamber, rendering it, and therefore any further testing, inoperative.
This… is probably for the best, considering how successful it had being up to this point… 
Elsewhere on a lonely, dying planet…
This is where I ask questions/have thoughts about stuff that we didn't see, or maybe just didn't see enough of. Or whatever the hell I want because it's my post and also Jasper said so.
Where did Octavia and Ilian go? I doubt the sheep farm has much radiation cover. Have they been tuning into their local news? Do they know that Head Meteorologist Raven Reyes said they only have ten days to live? Also, can we just presume the sheep will be dead upon their return?
Who else noticed Riley at Arkfest '50? Raise your hand if you think he is going to be a big old problem in DNR. ???
Does anyone else really want Jackson to have more of a say in the moral dilemmas? I mean, everyone seems to trust him enough to come up with them, but he never seems to actually factor into the decision making. Maybe that is by choice? Guess we'll find out if Abby dies…  ?
Miller is up from his nap (and looking good, that several weeks of beauty rest has been kind to him) but still no signs of Bryan. They aren't just going to Wick him out of the story, are they? That seems… cheap. Also, can we please discuss how much more awesome it would be to see Miller trying to get Bryan to come to the bunker rather than a bunch of people halfheartedly telling Riley he needs to live? I feel for Jarod Joseph, because man did he get screwed out of some potentially powerful and amazing scenes. Thanks a lot, guy who plays Bryan.
DNR
So. There is obviously going to be wayyyy more than meets the eye at Cultkru Bunker. Because look, there is literally NO WAY that we'll spend the next five episodes watching Fun With Bunkers. No, some other catastrophe must befall our unlucky friends. Do you think anyone will actually end up dying because they want to stay at Arkfest '50? Tbh, it doesn't seem like a good enough party to die for, but maybe that's just me?
Uh, hi, what is an obsessed person supposed to do for FOUR WEEKS?! I mean, let's be real, I will be rewatching the series, of course. And hopefully getting Nerdkru together (this is your official war horn, friends!), but still… the long wait hurts.