Welcome to this week's Snark From the Ark! Holly @ The Fox's Hideaway and Shannon @ It Starts At Midnight are mildly obsessed with "The 100″, and need to flail and fangirl after every episode. Now, it's your turn to get in on the fun! As always, THERE WILL BE SPOILERS. So either watch the episode, or use this to catch up! Did you miss last week's chat? Find it here!
SERIOUSLY… ALL the Spoilers Ahead. THIS IS THE FINALE RECAP.  DO NOT READ THIS until you watch, or unless you're cool with spoilers. You've been warned! 
Guys… we can't this week, okay? There are too many feels. So we're going to change things up a bit, for this finale special. Pictures, movies, and some of Holly's live tweets will be part of the festivities, maybe a poll, and some special guests! I figure, we'll break it down by sections. Last chance to avoid spoilers!
The Jaha Coalition (of Two)
Well, I hate to say I told you so but…. I really called this one. I knew it would be Jaha and Murphy stumbling ashore. What I did not guess is that Jaha would be the one feeding "his people" to Seazilla.
Though, I doubt that dude considers Jaha his leader at this point. If he considers anything at all, as Seazilla food.
So Jaha pulls the boat ashore and ditches an ailing, Seazilla-bitten Murphy on the rocks. Because come on, that is what any good leader does, right? No? Oh. 
Luckily, while Jaha is finding the non-City of Lights, Murphy finds himself a mighty fine apocalypse bunker. Fully stocked, with the stalest crackers in the history of food, with "Werewolves of London" blasting in the background (YouTube it, Holly. It's a thing for those of us not under rocks and such.)
Then Murphy turns on the TV and watches some kind of video of a dude offing himself. Presumably after starting up his iPod.
Jaha goes up the road a little and finds…. well, I don't know what he finds, I guess we get to find out next season. He finds this fake person: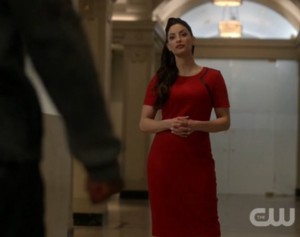 Oh, and also, she has some kind of nuclear warhead or something that I don't really understand. It was a long episode, and this is how it ended.
---
The Mt. Weather Debacle
We all know by now that Clarke got ditched, and she got ditched hard. Bitch kissed her and then betrayed her. But Clarke doesn't give up easily, Bellamy doesn't give up easily, and Octavia sure as shit doesn't give up ever, so we still have a fight on our hands, only this one is all Arkian vs. Weatherian.
I mean, this wasn't going to be pretty. We knew that going in. At first, I don't even know what was happening. The captured Arkians were being drained, Clarke and Bellamy went to find Old Man Weather for help, and Jasper was in charge of… something?
But that didn't last too long, because Bellarke soon figured out that Old Man Weather was not on their side, so they drag his old wrinkly ass to the control room, where they watch, in horror, as their friends start to be drained of their bone marrow.
Clarke gets on the horn and basically tells Cage that his dad is going to be Greg food if he doesn't calm the fuck down and talk to her before draining these people. For one small moment, you think he might have a conscience: 
I mean, he was legitimately sad about his dad being shot for, oh, 2.6 seconds. But then he's over it. So Clarke, like the parent of a toddler simply must, follows through on her threat, and rids us of Old Man Weather (who truth be told doesn't look like he'd make it through many more seasons anyway).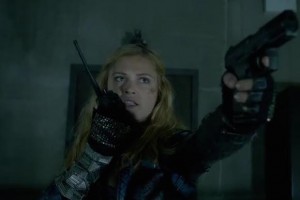 Only… shit backfires and Cage brings in Abby to drain. I mean, Raven is relieved as she's kicked off the table, but Clarke is none to happy about this. Then, on another camera, Bellamy sees Octavia being cornered by a shit ton of guns. So they do what any normal person would do: They poison every last one of these assholes to death. 
No, they had no choice. It was agonizing, trying to watch them decide. But, alas, indecision would have been a choice too, and they knew that the Weatherians would never stop, even after Kane tried to explain that they could donate marrow. It was a lost cause, because Cage was too engulfed in power. Watching those people die was so horrible. I sobbed, uncontrollably. I seriously was sure I'd be sick. I even cried while Holly watched it!
And then Jasper realized what this meant for Maya. It was really sad, even though I was never a huge fan of Jamaya (I don't know what their ship name was, I didn't like them!) because Maya helped the Arkians, and she died for their cause. Jasper screams, as she dies "She was innocent!", to which Maya replies:
And then, the Arkians are free at last! Cage escapes, only to be caught very quickly by Lincoln, who Indra had told to make his choices (thanks Indra, you're back on my good side- kind of). Of course, Cage is equipped with his Reaper whistle and some Reaper poison, so Lincoln starts to fall… until he somehow manages to cut off Cage's hand and then inject him with his own poison. Well, that certainly was badass. Sorry, Cage and your severed hand.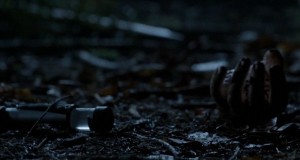 Finally, a beautiful version of "Knockin on Heaven's Door" plays as the Arkians walk solemnly back to camp, so aware of what they'd done. Not jovial or celebratory, but mournful yet hopeful. And then, with a heavy heart, Clarke tells Bellamy she must go. He promises that he will help her bear the burden, but she insists. And every single heart of Bellarkians everywhere shatter into a trillion pieces.
And finally, I found this video on YouTube, and if you watched the show, this song and the clips it features will have you bawling. But in a good way.
If you did not cry during that, I doubt your humanity. Just saying.
Awards, one last time this season:
"My name is Thelonious Jaha. I feed people to Jaws. I abandon Murphy to go talk to holograms. I am as
uselessas the award I am named after, but bonus points, because this week, I have given big ol' weapons to a new potential enemy!"
---
The original warrior princess, Octavia. Come
on, did you see herbadassery? She used some crazy moves on those Mount Weatherians! And her man basically gave a big "fuck you" to his people to come and fight with her. Not save her, fight WITH her. If that isn't a warrior, what is?!
---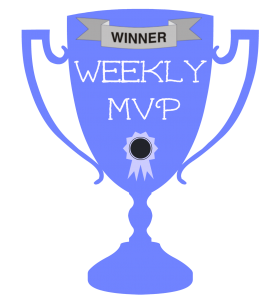 There are some people who had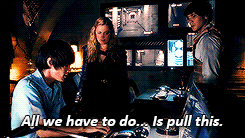 one hell of a decision to make. And say what you will, but if these three hadn't worked together and made the tough choices, shit would have been very different. They saved themselves, their families, and their friends. They have to live with it, but they also had no choice.
Guys… does anyone have a suggestion for Holly or me as to HOW we are supposed to function until the fall? Did you freaking LOVE and hate the finale? Do share!