Just a reminder, spoilers galore!! Like ALL the spoilers- proceed with caution! 
Are you still crying? I am (shocking, I'm sure). Praimfaya has come and gone. Look, I won't lie, I had trouble even concentrating the first time I watched it because I was so freaking scared the whole time. But damn, you have to appreciate this Delinquent-centered finale. It was quite epic, and I loved  the relationships and character focus, while still being the action-packed show we've come to love. Honestly, I will never not be impressed that this show's writers can deliver both insanely strong characters, relationships, and plot episode after episode. 
I'm also pretty much gutted that we have to wait EIGHT MONTHS to know anything. And worried because damn, six YEARS is a long time. 
Prepare for Launch
We pick back up where we left- ready to rocket back to space. Bellamy is making contact with the bunker, telling Octavia where they are, what the plan is, and saying their goodbyes. It made my heart happy and sad all at once, as usual. Bellamy gives O the talk she really needed to proceed as a leader in the bunker. And they're finally, finally back to where they were- maybe even better than before, because they're more equals now. Bellamy sees O as a full-fledged leader in her own right, and it's kind of everything.
But then the radio goes silent. Not only can Bellamy not finish his conversation with Octavia, but Clarke can't say goodbye to Abby at all. She is understandably devastated, and it's heartbreaking. But Bellamy is there for a hug, and it is perfect, of course.
No, you're sobbing.
Spacekru needs to get ready to go ASAP, though. There's only 90 minutes for them to get the rocket ready to launch. Which is a little weird, because didn't they start with 9 hours when they got to Raven? They should have probably started working on this already? Though Raven did say that the radiation accelerated, so maybe they had less time than they thought. So she explains a bunch of sciency ways they can die, and how nearly impossible it will be, and Bellamy asks her what they need to do, because enough freaking out, let's get on with getting to space.
So everyone gets a job, and off they go to try to get off the ground in 90 minutes. I am sure nothing will go wrong ?
Meanwhile, in the Bunker…
Indra is there to give Octavia another pep talk. I love their dynamic so much. Are Gaia and O going to be actual sisters by the time this is over? I hope so. "Mommm, Octavia ate the last of the algae tarts!" Here for it. Also here for as many Indra pep talks as a 42 minute show will allow.
Anyway, O is still concerned about her ability to lead, but between Indra and Bellamy (her fam, I swoon), she is able to go out and deliver a message to the bunker. She tells them it's going to suck, but they'll make it, which is nice.
We do at least get a few glimpses of people who are in the bunker. While we didn't see Kabby, this was a Delinquent narrative after all, so I am glad that we saw Miller rounding out the remaining Delinquents. And standing by Jackson, obviously. They showed us a glimpse of Niylah and Gaia, too. Probably so I can continue to ship Octylah in the off-season. Also, I saw a Grounder in a cable knit sweater and it made my night.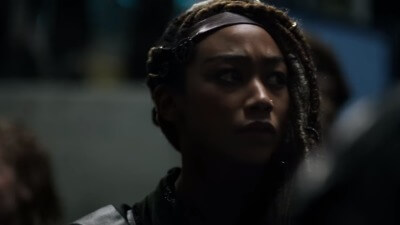 But after that, Praimfaya hits Polis, and we see complete destruction on the camera in the lab. It's awful, and I hope all the Bunker Rejects were dead before this hit. Maybe Mr. Miller led a gathering expedition to the woods to make Niylah's Jobi Tea. In my head, she shoved the recipe in his pocket as the Grounders took them out the door.
Overdue Delinquent Bonding
We start this episode of Space Bonding with Monty and Murphy, who somehow in four seasons have never interacted with each other. That is… almost impressive? Anyway, they get to go to the Lighthouse Bunker to get the oxygen tank together. And since they have never spoken, and Jasper's death is still fresh, Monty is still pissed at Murphy from that time a year ago that he wanted to kill Jasper when he was speared. I get it, because Monty is definitely still reeling from the loss. But luckily, Murphy simply isn't that same guy anymore.
So they get there in a reasonable amount of time, locate the tank, and all is going just swell, until neither of them could get the wires out with their big ass radiation gloves on. So because Monty is a true hero, he says "fuck radiation". Ha, just kidding, it's Monty, he says shit like "Bob's your uncle", but he is still badass.
Of course Monty may never regain use of his hands. They looked a hot mess, literally.
Murphy doesn't want Monty to use his hands to pick up the oxygen tank, but Monty insists. Murphy can tell he's fading, so he tries to get Monty to chat about girls. I feel like this is the most adorable slumber party ever, and I want all the Murphy/Monty moments in the future.
I mean, then Monty passes out in the snow, but it's fine because Murphy is awesome and is going to save him. Best. Slumber Party. Ever.
Bellamy also has a little bonding moment with Echo too, as she is scared out of her mind. And while it seems twisted, I like Echo so much more because of her fear, because of her vulnerability. For a hot second while she was playing with swords and paint, I was afraid she was going to kill everyone. But no, just herself, and my heart broke for her. She'd been so devoted to Azgeda, to Roan, and now without them, and the thought of going into space, it was just too much. But Bellamy talked her down, and she rejoined Spacekru.
The Head and the Heart
As it was screamed all over the place, I think quite a few of us knew that Bellarke was going to be separated in this finale. It didn't make it hurt any less, I assure you. But they at least gave us some truly lovely and epic Bellarke moments to cry ourselves to sleep at night during the eight months of torture we'll be undergoing until Season 5. There was The Hug, and now there is The Talk.
???
But then, shit takes a serious turn, because Clarke is convinced that Abby's premonition from Becca/ALIE was right. Which… Clarke, hi, you never actually died in that premonition. You just got a case of the Radiation Pox. Regardless, she wants to tell Bellamy stuff and I fucking can't okay? I sobbed while making these GIFs so you had all better appreciate the hell out of them.
Nope, not okay, never will be okay again. 
Decisions & Sacrifices
With only 53 minutes remaining, Raven faces a catastrophic problem that could derail everything. The communications system is down, which means she cannot open the door of the Ark remotely, and there is no way to get inside with no power on the Go-Sci Ring to open the door. She gives up, tells the computer to stop the launch sequence. Clarke tries to talk her down, but it's no use. This is a problem for Bellamy to handle, and I love that.  I love that this show plays to the strengths of every character.
This triggers a memory in Raven, of how ALIE actually was on the Ring, when Raven and Monty were in Arkadia trying to activate the kill switch, but ALIE transferred remotely from Polis to the Ring. Raven now has a plan, but it involves Bellamy and Clarke walking a mile to some kind of satellite thingy. Only Murphy runs toward the lab, freaking out because he has carried this crazy heavy tank, and also Monty is passed out in the woods. So we knew how this would go down: Bellamy helps Murphy, and Clarke runs alone.
Clarke gets to the satellite tower with no time to spare. She might have made it back, but if she wants to turn the power on, she has to manually do it from the top of the tower. She will not be able to make it back, not even close. So she decides so save friends and sacrifice her own life. Clarke has been making the toughest choices since the moment she arrived on Earth, yet this one was almost easier in a sense. She got to make the choice about her own life instead of someone else's, and it was clearly a no-brainer for her.
And speaking of choices, Bellamy now has to decide whether to go without Clarke. Raven tells him they're out of time, and they have to go now, or not at all. Even Emori begs them to wait, and it is so heartbreaking. Monty looks at her empty seat, and it is so awful. Too awful. Even Murphy looks like someone ran over his puppy. None of this is okay. But the worst is when Clarke watches the rocket launch. I cannot even imagine that kind of feeling.
She gets down just as the death wave closes in, and shuts the lab door, but she's been quite radiated, and I was so scared, because I legit don't think anyone on this show, even Clarke, is safe.
Spacewalk to the Ring
And… we're back where it all began. Of course, not without problems. Raven gets to take her spacewalk, and Emori and Echo looked like actual Santa Claus just landed in space, which was fun. But their oxygen level is critical, and it takes Clarke several more minutes to get the dish straight. Bellamy has unwavering faith that Clarke will get it done, and again, gutted. By the time they get inside, they have basically no oxygen left and are forced to share. Bellamy needs Monty to tell him what to do, and luckily he is able to connect the oxygen and then pass out. But when the oxygen starts up again, all our little Spacekru lovelies are okay.
Also here for Murven becoming a thing.
Bellamy is looking out the window, much like Jaha did when he was alone up there in Season 1. He even found the empty Baton bottle. #ThanksJaha Then, Raven comes to talk to him. Every minute of this broke my heart into pieces.
This is the song played in that scene, by Tree Adams, which is on the official soundtrack and makes all the tears fall on my face.
Six Years, Seven Days Later…
Shannon: I really, really do not want a 5 year jump. I can't handle it, okay?
The 100: Roger that. Here, have a 6+ year one instead.
Shannon: I am not amused.
Definitely not okay.
When I saw that on the screen… my jaw dropped, and I don't think it ever picked itself back up? My heart dropped too, because why is Clarke still alone? Where are my babies? How must she have felt, mostly alone in the world? We don't even know when she found Madi, only that they've been together for some time and are now very close. Oh, and she talks to Bellamy Every. Single. Day.
Also can we just appreciate Clarke's look here for a second? Great, you may return to your tears.
But then! Then something is coming down from the sky! And just when I think this show doesn't hate me and exist on my tears, it's not Spacekru. NOPE. It's freaking prisoners. From a ship with name Eligius Corporation on the side, a ship called Gagarin.
That's not going to be a huge problem or anything. 
Clarke looked so hopeful, got Madi up, and then… NOPE. Sorry, no happiness for you today.Of course, this ship was not random, as nothing ever is really. Anyway, the Eligius Corporation was mentioned in both Echoes and The Tinder Box. Abby and Jackson have this little chat in The Tinder Box:
Jackson: Abby, listen to this. According to the record, Becca first developed what we know as Nightblood for the Eligius Mining Company.

Abby: Mining?

Jackson: Long duration space missions. Criminals were put into hypersleep and given Nightblood to protect against solar radiation.

Abby: Hmm. Nice of her to share that with our ancestors on the Ark.
 So… we are left with that. No Spacekru, no Bunkerkru, just Clarke, Madi, and a ship full of unknown prisoners (or their descendants). And no, of course I am not okay.
Season 5
I'll just be sobbing in the corner for the next 8 months or so if you need me. I seriously can't with my emotions. I know this is probably not a particularly stable response, but shhh. Let me drown in my feels. Okay. A few things:
The only people we saw (in more than a quick flash) in the bunker were Octavia and Indra- because like I said, this was a Delinquent centered episode. And I love that they didn't exclude O in that narrative. But beyond that? We're in the dark as much as Clarke is. Did Abby forgive Kane? Do they have seven Kabby babies? (I mean, I know she's…older, but she probably has a few good eggs for Kabby babies, right?) Did Octavia have to sacrifice even more people so they could stay in the bunker? Is this what happens to Jaha, or did he start another riot?  Did Miller freak the fuck out when he woke and his dad was gone? Are he and Jackson married yet? I hope so. Did Indra start a little convenience store in the bunker, which she makes the Skaikru children run for her? Does Niylah sell her shampoo line there? I need answers!
Similarly, we don't really know where Spacekru is, just that they're probs still in space? Last we saw, they survived. But they seem to have no radio contact, at least with Earth, because I can't imagine they'd be able to contact the bunker and not Clarke, considering she's above ground. Their relationships could be drastically different than when we left them. And also, Bellamy thinks Clarke has been dead for 6 years and my heart cannot handle it. But you know he moved on. So… bets on whether it's Echo or Raven? (Sure, he and Raven have a history, but Becho has been setting up since Season 2. Plus, Tasya was just promoted to main cast so… )I just know that Clarke know realizes how much Bellamy means to her, and now he is the one who will be with someone else.
Who is Eligius Corporation going to be? I mean, are they young, old, male, female, friend, foe, or all of the above? I need to know these things. Are they their own society at this point? They're all nightbloods, so I don't know why they didn't come back before now. Maybe they had a similar fuel conundrum as Spacekru.
Can we please not spend the entire season waiting for a reunion? Because I can't. Eight months is long enough to have my poor heart in pieces. I just hope we still feel like we "know" these characters after all this time.
What did you think of the finale? Of Season 4 in general? It has definitely been my favorite season so far. Even though I may not make it through the next 8 months…