Top Ten Tuesday is a feature hosted by The Broke and the Bookish. This week's theme is: Top Ten Best Books I Read In 2015 (you can do it by only 2015 releases,  overall , by genre (top ten fantasy books I read in 2015), etc. however you choose to make your BEST list)
Well, last year I could only narrow it down to 16. This year, I have 12. This is progress, people! And inevitably, I will find one that I forgot on one of your lists, so be ready! 😀
Oh and these are in absolutely no order other than where they ended up in the picture. I couldn't do that.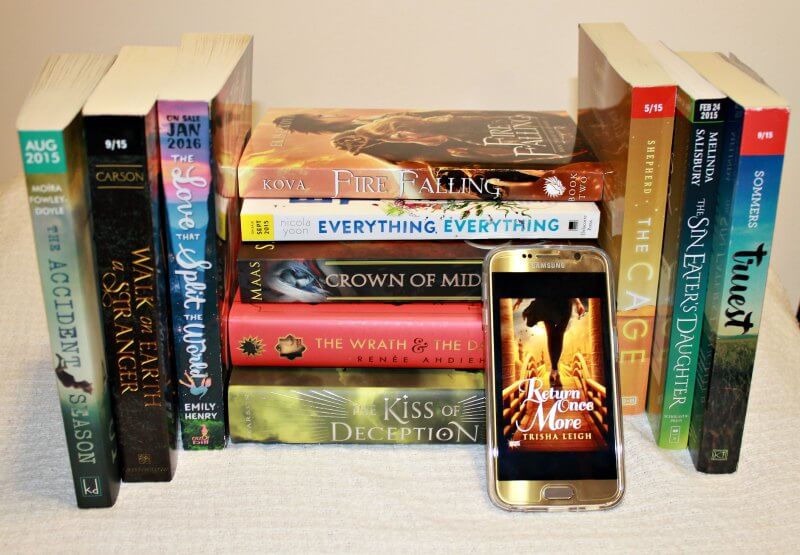 My Review | Read July 25-31
This was unexpectedly fabulous. I knew I was interested in it but I didn't know how interested I would be. The characters are incredible, and the atmosphere is amazing.
My Review | Read August 16 to 21
Um, can I even explain how much I loved this book? This book is my spirit animal. Read my review because I might be on The Oregon Trail with President Snow and that damn Annalise from Half Bad.
My Review: N/A | Read November 19 to December 01
This bad boy comes out on January 26, 2016, and you'll want to run to wherever you obtain books and obtain it. I was hooked, and had a pretty sizeable book hangover afterwards.
My review | Read October 21-26
Oh man. I loved Air Awakens (which is book one in the series) but holy crap did Fire Falling blow my mind. It was so epic I don't even have words. The only thing I can say is that I need Earth's End, and you must start this series!
My Review | Read July 21-26
I will continue to be cheesy and say that this book is Everything, everything. Because it is. It was quirky and sweet while still being emotionally charged. So much yes. And for a fluff-fearer like me, the perfect blend.
My Review: N/A | Read June 8-15
I liked Throne of Glass. I did not love Throne of Glass. Now I am addicted to Celaena and company, because Crown of Midnight blew my damn mind. And now I am afraid to read Queen of Shadows. For reasons. And because of people who spoiled it making me scared.
My Review | Read May 13-22
I'm just going to leave this here:
My Review | Read April 24-29
It was hard to choose between this one and its sequel, The Heart of Betrayal. I don't really know why I chose this one, I guess I just extra loved it. I am so excited for The Beauty of Darkness, but also so, so scared too. Thanks, Holly, for making me read this one!
My Review | Read September 13-26
GAH, this book! It was unputdownable, swoony, exciting, painful, thrilling… what more is there even to say? I am in love, and I need the sequel so badly it hurts.
My Review | Read April 10-16
Funny, these last three are the more polarizing books. People either seemed to love them, or umm not. I loved them so, so much. Clearly. The Cage was definitely strange, but wholly unique. And there's a forbidden love and some strange psychological stuff that has me completely fascinated in a way that makes me want to grovel for The Hunt.
My Review | Read January 30-February 4
Goodness I adored this book. I felt like I really just understood Twylla. And the twists and turns were totally unexpected for me. Now, I need The Sleeping Prince, please and thank you!
My Review | Read August 9-13
It's funny, I was nervous that I would not like this book because I had just finished (and loathed) a book with similar themes, but it was absolutely remarkable how differently they were handled. The themes in Truest were amazing, and West, the main character, might be my soul mate.
---
Honorable Mentions
Because you didn't think I'd really stop at 12, did you?
So, there you have it! I beat last year, technically. It's fine.
Do we have any books in common? Did you have a favorite that I just must read?