I've done this before (here and here, and here if you're so inclined) but this is basically just books that I don't really feel like reviewing, for reasons. Mostly those reasons are "laziness" and "exhaustion" and "oh crap, no time".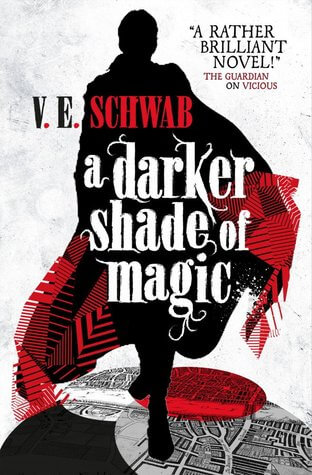 Goodreads | Amazon | Book Depository
Series: A Darker Shade of Magic #1
Paperback, 400 pages
Published February 27th 2015 by Titan Books
Source: Purchased
Kell is one of the last Travelers—rare magicians who choose a parallel universe to visit.

Grey London is dirty, boring, lacks magic, ruled by mad King George. Red London is where life and magic are revered, and the Maresh Dynasty presides over a flourishing empire. White London is ruled by whoever has murdered their way to the throne. People fight to control magic, and the magic fights back, draining the city to its very bones. Once there was Black London – but no one speaks of that now.

Officially, Kell is the Red Traveler, personal ambassador and adopted Prince of Red London, carrying the monthly correspondences between royals of each London. Unofficially, Kell smuggles for those willing to pay for even a glimpse of a world they'll never see. This dangerous hobby sets him up for accidental treason. Fleeing into Grey London, Kell runs afoul of Delilah Bard, a cut-purse with lofty aspirations. She robs him, saves him from a dangerous enemy, then forces him to another world for her 'proper adventure'.

But perilous magic is afoot, and treachery lurks at every turn. To save all of the worlds, Kell and Lila will first need to stay alive — trickier than they hoped.
Quick & Dirty: Listen, everyone else has already reviewed it. Why bother? I liked it. I wasn't quite as blown away with it as some other people, but it was a solid book and I will definitely be needing the sequel. Done and done.
---
Goodreads | Amazon | Book Depository 
Series: A Court of Thorns and Roses #1
Paperback, 432 pages
Expected publication: May 7th 2015 by Bloomsbury Children's
Source: Won
The breathtaking start to a seductive high-fantasy from New York Times bestselling author of Throne of Glass series.

Feyre's survival rests upon her ability to hunt and kill – the forest where she lives is a cold, bleak place in the long winter months. So when she spots a deer in the forest being pursued by a wolf, she cannot resist fighting it for the flesh. But to do so, she must kill the predator and killing something so precious comes at a price.

Dragged to a magical kingdom for the murder of a faerie, Feyre discovers that her captor, his face obscured by a jewelled mask, is hiding far more than his piercing green eyes would suggest. Feyre's presence at the court is closely guarded, and as she begins to learn why, her feelings for him turn from hostility to passion and the faerie lands become an even more dangerous place. Feyre must fight to break an ancient curse, or she will lose him forever.
Quick & Dirty: Again, if you haven't read a review of this yet, well, feel free to come out of hiding now. I adored this book. It was, for me, better than Throne of Glass. I love Feyre, I love Tamlin, I love Lucien, I love all the things. Moving along.

---
Goodreads | Amazon | Book Depository
 Series: The Remnant Chronicles #1
Hardcover, 489 pages
Published July 8th 2014 by Henry Holt and Co. (BYR)
Source: Purchased 
A princess must find her place in a reborn world.

She flees on her wedding day.

She steals ancient documents from the Chancellor's secret collection.

She is pursued by bounty hunters sent by her own father.

She is Princess Lia, seventeen, First Daughter of the House of Morrighan.

The Kingdom of Morrighan is steeped in tradition and the stories of a bygone world, but some traditions Lia can't abide. Like having to marry someone she's never met to secure a political alliance.

Fed up and ready for a new life, Lia flees to a distant village on the morning of her wedding. She settles in among the common folk, intrigued when two mysterious and handsome strangers arrive—and unaware that one is the jilted prince and the other an assassin sent to kill her. Deceptions swirl and Lia finds herself on the brink of unlocking perilous secrets—secrets that may unravel her world—even as she feels herself falling in love.
Quick & Dirty: I shouldn't have waited so long to read this, because frankly, I adored it. I will be anxiously awaiting Heart of Betrayal. I need it now. If anyone has a spare… just saying. Also, I prefer Rafe. If you have read this, I need to know your preference. Please and thank you.

---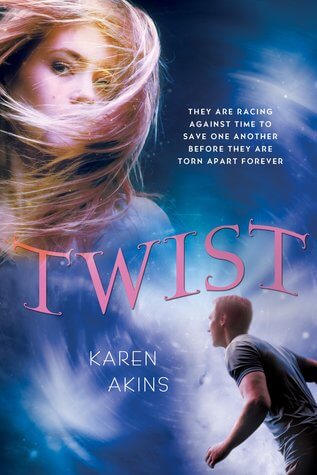 Goodreads | Amazon | Book Depository
Series: Loop #2 
ARC, 336 pages
Published April 7th 2015 by St. Martin's Griffin
Source: Won
The unbelievably thrilling sequel to the time-travel YA novel Loop.

Bree Bennis finally has it all—a non-comatose mother, an uber-hot (albeit anachronistic) boyfriend named Finn, and a new-found mission to protect the timeline from those who would skew it for their own gain. But when she leans over one day to smooch said boyfriend, her lips meet those of her arch-nemesis Wyck instead. The timeline has been altered, and Bree is caught in the crosshairs. But when she goes back to repair the damage, she is stopped by none other than her Future Self, who delivers an urgent message: Someone is kidnapping Shifters from the distant past. It's up to Bree to stop them. But first, she has to figure out who… and why.

To follow the trail of chronocrumbs, Bree reluctantly accepts her new undercover gig as Wyck's girlfriend. Everything goes spiffy until Finn shows up in the 23rd century on the eager arm of a gorgeous fellow Shifter,Blark. Even as Bree struggles with jealousy, she battles the nagging dread that Finn might be better off with someone less chronologically complicated. Her worst fear is confirmed when Finn becomes the kidnapper's next victim. As Bree zeroes in on the culprit, they unravel her life one timeline-change at a time. She realizes that she alone has the power to save herself and everyone she loves. But to do that, she may lose Finn forever.
Quick & Dirty: I liked it, I didn't love it. It was a decent book, just not quite as much fun as the original. The charm of Loop was a bit lost in this sequel, in favor of more action, and I'll admit, a bit of confusion on my end. 
And that's it for this round! I assume next round will showcase An Ember in the Ashes, The Wrath and the Dawn, and basically any other non-review book I get a chance to read! If you want to know more about any of these, I am happy to oblige! 
Have you read any of these? Agreements? Disagreements?