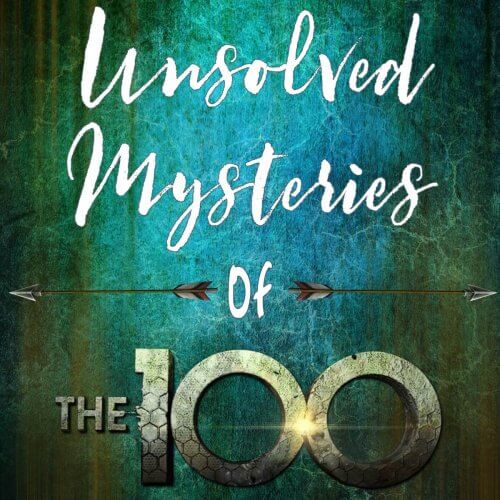 P.S.- ALL the spoilers ahead!! 
To be honest, The 100 is usually pretty damn awesome about wrapping shit up, continuity, and solid plots. But no one is perfect, and sometimes things fall through the cracks. Sometimes they're things that don't even fully matter to the story, but fans just want to know! I answered a few of these myself, mostly in regards to "missing" characters. But sometimes, we just want to know… what's the story behind the mystery!? (Spoiler: We will never know.)
Why did no one give Maya some damn bone marrow?
They MacGyvered more things in that damn Level 5 than you can shake a stick at, and Bellamy could have easily scored a needle. Everyone was *so* worried about Maya and the radiation, and they knew that the marrow was working so… why did no one step up? Looking at you, Jasper. Monty could have helped. He's handy.
"And also, why didn't you just give me some marrow?"
When was Jasper chipped?
(Related: How did ALIE know Sinclair was dead?)
This is a hard one, and I don't *think* there has ever been a certain answer? The general consensus is that Jasper was chipped on the Rig, when ALIE was torturing Luna. But… how did she know Sinclair was dead? How did she know where the Rig even was? No one else in their party was chipped at any point, and yet ALIE knew about Sinclair and that Clarke, the Flame, and the only other Natblida were on the Rig. So… if it wasn't Jasper, who was it?
That…. sounds like a lie.
Who the hell lights all the damn candles in all the Polis Tower bedrooms?
Look, this was a fire hazard, but beyond that, it must have been a time consuming hellscape for whoever had to light them all. Because there are no lighters, who knows how they had to do it? It makes for a lovely, atmospherically romantic scene, sure. But not for Dave, the poor Trikru guy who was tasked with lighting them. Who gets called back every time the wind blows one out.
Literally one part of one room. Poor Dave. 
Why did we only see one Pauna?
And is the plural "Paunii"? Please be.
That particular Pauna did not survive for 97 years. Which leads me to believe that it spawned from other Paunii. And since Lexa and her people knew what it was/had seen it before, I am pretty sure this guy wasn't the only one of his kind. So why have I seen exactly zero other large gorilla-types? That seems rude. Speaking of, I'd also like to see more mutant animals in general, especially after more radiation.
How did Luna know about the Conclave anyway?
I don't even fully understand how Luna got back to Polis from ALIE Island, tbh, but let's pretend she swam, because I like that story. Why did she even go to Polis to begin with? And who did she suddenly get friendly enough with to tell her that the Conclave was a "thing"? I mean- she now hates all of Skaikru (I don't fully blame her, but that's a topic for another time) and no one else has ever bothered with her on the Rig. Every other member of her clan is dead, so…
"I showed up here after swimming across the ocean. A carrier pigeon told me about this little festival." –Luna, I guess?
Why was Aurora seemingly the only woman without a birth control implant?
There are so many reasons that this doesn't make any sense, my head is spinning. First, why would a sexually active (and Aurora, it seems, was quite active) woman who knows that the penalty for pregnancy is death not just take preventative measures? Actually, speaking of, why the hell didn't they just all have tubal ligations after their first/only children? Jackson makes it clear in Season 2 that the women of the Ark had birth control implants, so seriously Aurora, what's the deal!? One of her many suitors would have hooked her up, no? And for that matter, who is Octavia's father? Bellamy's? We need to know, thanks.
Four women who didn't have to hide babies under the floor. Just saying.
And don't get me started on how the hell a six year old kept an infant from crying without food while its mother is passed out. And what about when they went to get food and shit- did they just leave a baby under the freaking floorboards!? How the Blakes aren't more fucked up is anyone's guess, really.
Did Bryller ever officially break up?
Bryller has fight in Heavy Lies the Crown. Murphy makes comment to Miller about Bryan in The Four Horsemen; Miller looks sad. Bryan is never seen again, and Miller and Jackson are a full-blown item. Which I am obviously giddy about because Mackson > Bryller, but this still doesn't answer the great unknown question: Where did Bryan go?
::Cough:: Wrong answer, Miller ::Cough::
No seriously, where are the Reapers?!
These dudes are such a pivotal plot point in Season 2- they're the entire reason that Lexa's coalition and Skaikru were able to bury the hatchet! "Turning Reapers back into men" was Clarke's entire bargaining chip with Lexa. Then, Lexa betrays Clarke at the Mountain, gets her non-Reapered folks back, and Clarke rescues Skaikru. But.. where did the Reapers go? Without Skaikru assistance, they couldn't have been turned back. And had it happened off-camera, no one even mentioned it.
"We were only a plot device? Attack!"
Lexa was willing to make an alliance to get them back… and then literally no one ever spoke of them again. Even Lincoln, who was one.
And a few Unsolved Mysteries that still could be solved! 
Because Season Fiveeeee! 
Where is the 4% of Earth that can sustain life?
As ALIE told us in Perverse Instantiation 2, "96% of the Earth's surface will be uninhabitable". Okay Hoss, where's the other 4%? This show doesn't do one-offs, so I know it meant something. Right? Right? But also…. why did no one look into this before Praimfaya the Sequel?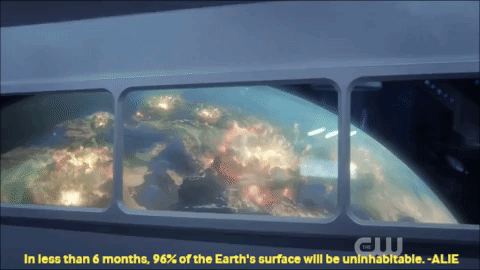 What Happened to the Bunker Rejects?
Will we see this in flashbacks? Gosh, I do hope. It's probably insanely morbid, and they probably won't spend time on this considering we have six years worth of flashbacks to worry about but… I want to watch Five Year Old Dad rage, and I want to watch Mr Miller calm his ass down.
"But he made it inside the bunker?" –Every confused bunker reject
How did Gaia become Fleimkepa?
Wasn't Titus the only fleimkepa? Hence why he slit his own throat so that Ontari couldn't ascend? And then suddenly, of all people, Indra's daughter (that no one knew existed, by the by) pops up as fleimkepa? Did she study with Titus? Was she one of the scouts? Why have I never heard of her before, basically? Also, who's her dad? Gaia, I have some questions for you.
Definitely a better hugger than Titus was. And she probably won't shoot her own Heda, so there's that.
News! Info! Season 5!
Yes, yes, we have that stuff now!! WOOO. 
Season Five officially premieres on April 24. Yes, April. No, no one is happy. But I guess it could be worse, and it's only three months away, sigh.
Season Six, while unconfirmed, is in talks, and is apparently "likely" and I guess I'll take it, since I have no choice.
The trailer will probably land sometime in March, which is rude if you ask me. They're done with it, let them feed us, The CW!
Are there any unknowns that you want answers to? Know any answers to these? Let's talk!