This episode.. oh wow. Let's not pretend that I didn't cry. Several times. Let's also talk about how many subtle revelations there were. Seriously, this season is Killing. It. 
Just a reminder, spoilers galore!! 
The Four Horsemen
Leave it to Jaha to get giddy excited about another cult, right? But in seriousness, this isn't a bad call. Of course a doomsday cult would have a bunker! I just don't understand how Jaha has mobile data in the Rover, but I suppose that is a mystery for another time. Or how YouTube is still up? Look, I have a lot of questions, but I should probably just let Monty handle those and worry about the show.
I love how Jaha, straight out of the gate, schools the kiddies about how it's clearly obvious to him that only about 100 people can fit in Alpha Station. They thought they were being all shady and Jaha is like "please". Can I just say, Season 4 Jaha is killing it? Anyway, he finds Cultkru on ApocalypseTube, and decides to take the Rover for a little jaunt to see if they had a bunker.
Only, oopsie, he isn't still Chancellor since he almost got everyone killed a half a dozen times, so Raven puts the kibosh on that. Only… what if there is a bunker? I am not understanding Raven's thought process, isn't it at least worth a look? I mean, desperate times and all that? Bellarke overrides her (which, tbh, probably explains some of her saltiness) and off they go, with Jaha and his 100 year old iPad explaining along the way. Then they get there and Bellamy… politely knocks on the door?
I won't bore you with the details (because they involve some kind of weird Rover pulling that I didn't even understand) but when they get to the bunker… womp womp, Cultkru Soup. Yes, these morons in their infinite wisdom failed to seal the bunker. So that is disgusting, but also useless for them. Though I do wonder what it would take to fortify said mess? I mean, has to be better that the literally nothing they can do on Alpha Station, right? I don't know. Maybe we will see more of this bunker. A whole season cannot have these people's logo for no reason… ?
Jaha and Bellamy have a "moment", and I am in love.
Since Jaha ships Bellarke, he is automatically back in our good graces, yes?
Have I mentioned how much I love Bellamy in the past 30 seconds?
In seriousness though, I like that both Kane and Jaha have told Bellamy that he doesn't need to atone anymore. I think it means more coming from Jaha even, since Bellamy did shoot him a few times. And they don't have the mutual respect that he and Kane do. So more of this, please. Jaha, you are earning your way back into my heart faster than I thought you would.
"They call her Skairipa- Death from Above"
Roan lost the chip because Roan…. well, Roan kind of sucks at this, let's be real. He had one job. One. Job. Anyway, since he is busy doing… you know what? I have literally no idea what this guy does all day. He is injured, so he isn't exactly doing any heavy lifting. His guards won't "let" him take care of his own messes. So… yeah, useless, I say. He counts on a teenager to fight all his battles. Sad, Roan. I miss Lexa.
So, he tells O that some little girl Flamekeeper took the chip. Since when do we have multiple fleimkepa? Like wasn't Titus it? Hence why he was so important. Greg @ Book Haven had the most logical explanation IMO:
"And yes how many Flamekeepers do we have now lol? As many as Jason needs for plot armor?"
Literally better than anything I could come up with. And maybe to give Indra more of a role? (Which again, fits the above theory.) Because of course the young fleimkepa who stole from Roan was Gaia, who just so conveniently happened to be….
Yes, yes, Octavia, we were shocked too. Mildly. Since there were glances in Echoes and all. 
Bad day for O, she can't behead this person. But it's fine, because she can just behead some other dude and protect Gaia. Look, I get helping out Indra, but there were like, 22387 other ways to do this. Things like:
Just give Roan the flame, because who cares if Gaia keeps it.
Make another fake flame like Gaia's fake flame.
Go find one of the endless chips that ALIE had lying around and use one of those.
Literally anything but cutting that random dude's head off and telling Roan there is no flame.
I don't get O. Maybe she is having a meltdown. But she and Roan are a hot mess. And where is Kane? Taking a cold shower? Because uh, your friends are failing hard, my friend.
And I don't even give enough fucks about Ilian and his tech-phobia to get into it all. Short version: Ilian and newly beheaded guy try to attack Gaia for the chip. O plants a fake one, Ilian "kills" it. Then they leave. It was all… anticlimactic and kind of stupid. If this is all Ilian is around for… just have him hook up with Miller already so my crackship, Milian can happen.
Nightblood > Your Blood
Oh, dear Luna is back, and guess who brought her? NYKO, y'all! I love me some Nyko. Sadly, he is the literal bearer of bad news. He has with him all that remains of Flokru, including Luna, and they are all sick with ARS (Acute Radiation Sickness, apparently). They ate some fish… and then all the fish died. So things are bad. Worse than anyone thought. Raven estimates that they have two months left, at best. Perfect timing for 11 more episodes, right? Right.
So Abby asks Raven for the medication, and Raven is like "nah, hard pass", because she wants to save it and she is in charge of rationing. But Murphy has just trotted on back, because Emori was all out of bugs to eat, so this is… good news, I guess?
So Murphy overhears this all, steals the medicine, and gives it to Abby. Which is kind of awesome. But… it doesn't work, and Raven realizes it's gone just as Adria dies. She storms in like a real asshole, but we'll get to that.
Anyway, later, Clarke walks in after her Rover trip to Cultkru Swamp, to see Luna not only not dead, but basically just fine. I mean, she is depressed because she is the only living member of Flokru, and the world is about to end, but health-wise? She's never been better!
Luna looks about as excited as someone heading off for a root canal. I don't know what this will mean for anyone but I am certain it plays in.
Raven's Medicine
This is a double entendre, for I mean it both figuratively as in, Raven has gotten a taste of her own medicine; and literally as in Raven controls all the fucking medicine and withholds it from young, dying kids. Raven was cold as ice when she tells Abby and Jackson to go fuck themselves, basically. But then it torments her later, as she watches Adria die, so I am hoping that she had some kind of revelation. (P.S.- is it just me or is this episode chock full o' biblical references?)
But then, Holly had a theory that kind of blew my mind, and makes a ton of sense when you think about it:
I will spare you the awfulness of watching Adria die, of watching Luna break down, of watching Raven realize what kind of hell she is in charge of. I hope this changes Raven. And if Holly is right, I hope Raven is able to fight this.
"If I'm on that list, you're on that list."
Okay, Bellarke fans, this is legitimately everything. Actually, even if you don't ship Bellarke (and seriously, what is your malfunction?) you have to at the very least admit that this was as incredibly powerful moment for these two, who have somehow gone from bitter adversaries, to co-leaders and friends. ::Whisper-yells:: and more than friends.
Clarke has to acquiesce to Raven and write the damn list, so she does, and it is tearing her apart. Bellamy is sleeping on the couch while she writes. And just… goodness, just look at it because I cannot word.
And then if you haven't already exploded from feels… 
(In case you were wondering, this is called "extra lazy chat formatting. Technical term, obviously.)
"From the Ashes We Will Rise"
So now we know where this quote comes from: The people of Cult Soup. I like it. I mean, it is ironic since from the ashes they… melted into radioactive puddles of human waste, but shhh. Anyway, like I said before, I feel like this isn't the last we have heard about them? Or at the very least, their slogan, since it is the slogan of all of Season 4.
Which is why, when I was approached about doing a fun custom t-shirt by Uber Prints, I decided to make THIS quote into my shirt! You can of course create anything you'd like- and it is a really nice shirt, too! And this is the perfect time to post it, yes? YES!
And just a P.S., I made an art print of it too, if anyone is interested 😉
A Lie Guarded
Is it supposed to be… ALIE? Because I always thought there was some connection with ALIE and "A Lie". Just saying. Or, maybe the lie is the ridiculous middle school-esque "Bunker Buddies" list that Clarke made. Did anyone really think that wasn't going to backfire? Seriously? Because they show Jasper being pissed, because you know he is not on that damn list.
Speaking of, I did a list prediction with some of our faves! (I don't actually know if Clarke included Grounders on the list, but hey, I did.) Holly helped. The only one we disagree on is Miller. She thinks Miller is out, and Mr. Miller is in. I say the opposite since Miller is young. But Bryan is totally out either way. Also, we had this debate:
Anyway… my list!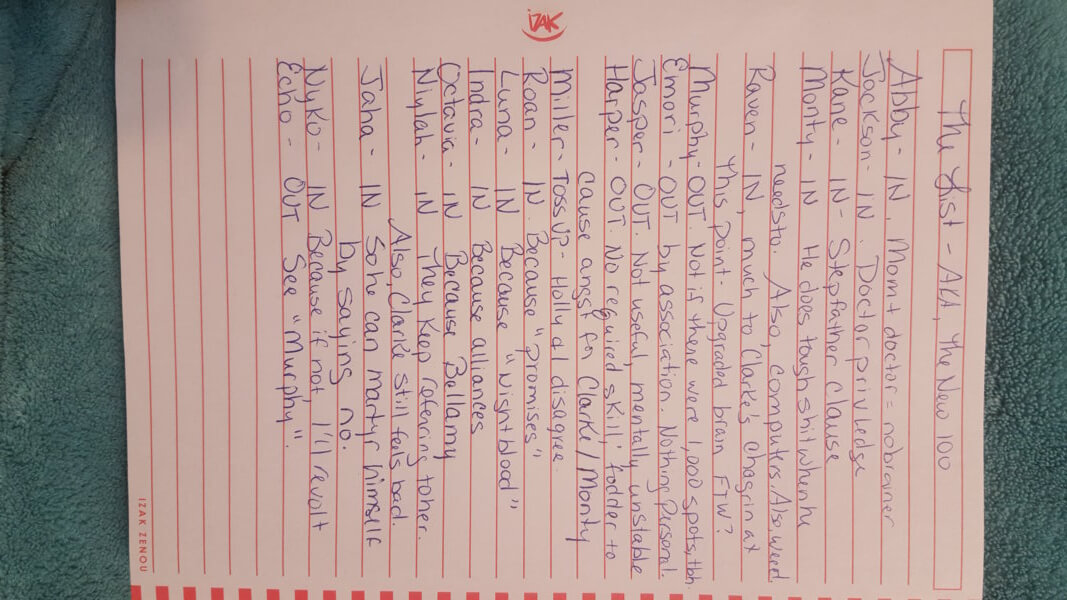 If you want to see some of the real list, someone with a lot of time and patience figured out bits of it here.
So, what did you all think of the episode!? Who do you think will make "the list"?  Thoughts, theories, flails, freakouts? Let me know!