So. This is one of my favorite episodes. Why, you ask? Well, a few reasons. There were funny moments. There was some Kabby sexy times. And there were moments that made me gasp, and moments that were just so damn full circle and I loved it. Loved. It. And no one I cared about died! WOOO! That doesn't happen often, so I have to get excited about these things while I can.
Just a reminder, spoilers galore!! 
Heavy Lies the Crown (It's All Just a Little Bit of History Repeating)
Ohh I had hoped for a day like this to come- one where the delinquents see that it isn't always as easy to lead as they had assumed. One where all those impossible choices start to remind them of… other impossible choices, made by their predecessors. Made, in some cases, by their own parents. Yes, that moment has arrived. And to his credit, Jaha takes no pleasure in it. In fact, you can see the sadness, see how he had hoped that he made the most horrific choices so that the next generation didn't have to. This is the Jaha we respected in Season 1. And okay, maybe Jaha being a secret engineer is a teeeeny bit deus ex machina, but I can live with it. It's how he knows that he isn't prepping for winter or Grounders or some such nonsense. How he knows Clarke is hiding something big.
And she does. You can see the resignation, the truth bombs hitting her. And so she does the very best, most humble thing she can: she asks him what to do. This is pivotal, IMO, because it shows that they both have a much greater understanding of what came before and what lies ahead. These two have something powerful in common: A love for their people, and a self-imposed duty to put their people above all else. If anyone on Earth understands Clarke Griffin, it's Thelonious Jaha. And now, maybe the reverse can be said as well.
Thanks, Jaha, might as well have pulled the hair clip out while you were at it, make us sob a little more. ???
Azgeda Still Sucks
In case you let Roan fool you for a hot minute into thinking that Azgeda as a whole isn't the actual worst, there's a quick trip to Farm Station to remind us that just kidding, they're the worst. Roan may not suck, but the rest of them? Well, let's just say, I haven't found an Azgeda leader I didn't want to stab, so…
Now they have slaves. Because of course they do. These are the people who behead little kids, after all. And most of the slaves seem to be kids- and shocker, some of them are Farm Station kids. Including some dude named Riley who everyone (and I mean everyone) seems to know and love even though not a soul mentioned him before this very moment. Like I was wayyy more concerned about the little girl with the puppy dog eyes, but hey, I guess Riley was more important?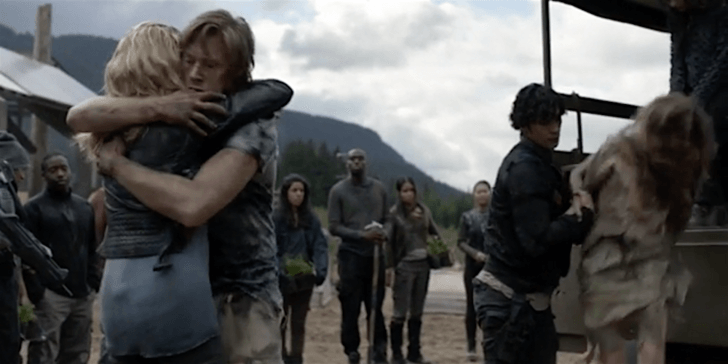 This is whoever the fuck Riley is. Bellamy at least cared about the little kids. ♥♥
Annnnyway. The bottom line is this: The delinquents (and Bryan) get to decide if they are going to use Sciency Machine Thing to save the slaves who are being held in Farm Station, or if they are going to take it back to Raven as planned so she can use it to fortify Alpha Station. It was this weird Mockingjay-esque vote where some of the people (Miller and Monty) were like "YEAH throw 'em in a new Hunger Games!" and some people (Harper and Bryan) were like "no, this doesn't solve anything, let's save the children!" and then they look to Katniss Bellamy to decide for them as usual. Anyway, he sides with Peeta and Annie  decides to save the slaves. Not everyone approves, but we'll get to that later.
Also, Hanty does something cute, and I am low key annoyed because I am trying to hate them, but I think resistance is futile. :/
Long Live the King, Part 2: Skai Ripa
Kane and Octavia have been tasked with keeping Roan on his throne. Easier said than done, methinks. As such, of course the very first chance some village idiot gets, he wants to challenge Roan. Which, tbh, would be no biggie, except that Kane shot Roan in the chest. Oopsie? Yeah. So he isn't exactly at the top of his game. O takes the chance to remind him that Lexa kicked his ass sans bullet wound, of course, because she is awesome
Anyway, Kane tries diplomacy with these fools, to no avail. Shocking, I know. So O pays this guy a visit. I don't even remember his name, but don't worry, you needn't get attached.
Tbh, this guy is probably too stupid to live anyway. 
Aw, What's-His-Name, we hardly knew ye. 
And O is BAD. ASS. This is one of my favorite moments in the history of ever.
All bow to the Skai Ripa. 
Kabby ♥♥
Ooooh raise your hand if you are giddy excited that Kabby finally had ALL the sex! Can we also please take a minute to appreciate how freaking amazing these two look, and that I want to look like them in my 50s? Or now? Whichever. But seriously, they are just #goals, no matter. I love that their dynamic went from hate-to-love, and how perfect they are for reach other.
Plus, we needed a bit of happiness up in here, right? AND, I am so glad they had some time in Polis, in one of those nice, cushy Clexa-like beds. Though hopefully not the same bed… for reasons. ? Anyway. And then Kane proves that he is the actual best and the type of guy that all future men shall henceforth be measured against when he tells Abby how totally fine it is to still wear her wedding ring. I love Marcus Kane more each minute.
I was sad when Abby had to leave Polis, but it's probably for the best, because frankly, I don't think Roan would last another day on the throne with these two having so many um… distractions 😉
Jasper Needs Mood Stabilizers
First, Jasper may have gone off the deep end. One minute he is seriously contemplating suicide, the next he is eerily happy, then he is arguing, then he is dancing… I hope when Abby gets back, she has some kind of serious meds in her bag. I am not joking, he needs help. Speaking of, why aren't there any therapists on the damn Ark? We could have used 2 or 49.
But Jasper's shower scene… well, it was glorious. He and Monty banter, there is singing, and then Jasper wants weed. I could make a dozen GIFs but… I think that'd be doing you a disservice, so here, watch the clip, it's short:
But then the good naturedness vanishes, and Jasper is lecturing Clarke. I fear he will never forgive her for Maya's death, which is really unfair. She isn't the only one who pulled that lever, and she also was out of options and time. I digress.
Anyway, Clarke is busy trying to figure out a way to not die, and Jasper is having some sort of impromptu Burning Man in the backyard of Arkadia.
Bwhahah. But you have to admit, that's funny.
But then he goes from snarky and fun-sarcastic to basically telling off Clarke, then starts singing and dancing again. He is clearly not doing well. But I do love his Clarke snark, even if she doesn't really deserve it.
Lest Ye Judge
Like, okay, I get why Raven thinks that Clarke is being hypocritical by not really telling the whole truth to the people. But. Raven also doesn't have to worry about the fallout. Also, real talk? These assholes in Arkadia probably shouldn't have a ton of information, because frankly, their choices have been… questionable, of late. First, they elect Pike as the Chancellor. Great call, that wasn't a huge mess. Then when that all goes to hell, most of them line right up to take the chip! No, these people should be kept as far out of the loop as humanly possible. #TeamClarke on this one. Hell, I probably wouldn't even be trying that hard to save them. I'd probs yell "DARWIN" and run away or something. ::Shrugs::
I would have told her to go float herself, so Clarke's calm impresses me. 
And of course, she and Bellamy have each other's backs, even when they may have made different decisions. I heart Bellarke. So much, for so many reasons. This is just one of them.
The Four Horsemen
This shit sounds hella foreboding, yes? "Oh, the world is ending, so let's name this episode The Four Horsemen, that oughta give them quite a heart attack!"–The Writers.
So, what did you all think of the episode!? Thoughts, theories, flails, freakouts? Let me know!