While reading this post from Kristen @ Metaphors & Moonlight,  I realized that there was one major reason I do not DNF books: I cannot be trusted. Sure, the reasons Kristen listed apply to me, because as you know, I am a notorious non-DNFer. But the more I thought about it while commenting on her post, the more I realized that I am simply awful at making the decision to not finish a book.
No really, I am the actual worst. I almost DNFed a few of my all time favorite books, so I am clearly a terrible judge of bookishness. Add to it, I didn't DNF books that I really, really should have, and you've got a perfect storm of inadequacy.
"Oh, it can't be that bad, you are clearly being dramatic", you are likely thinking. And of course I am being dramatic, but also, it is that bad. For I have examples, oh yes. Ready to see why I should never be allowed to make these decisions? Great!

The Book: The Knife of Never Letting Go by Patrick Ness
The Story: Am I insane?! Clearly. A (non-bookish) friend forced me to read it, and I still ended up almost quitting. I didn't like the dialect and thought the story was weird. And I guess it was, but still, it was amazing!
The Outcome: Literally one of my all-time favorite series, and Patrick Ness is an absolute auto-buy author for me.
---
The Book: Blood Red Road by Moira Young
The Story: The dialect, like in TKoNLG, threw me off, and I couldn't get past it. So I almost quit. Bad Shannon.
The Outcome: Falling in love with Saba, does that count? Loved the series, though the third book did leave a bit to be desired, but shhh.
---
The Book: Under the Never Sky by Veronica Rossi
The Story: I tried to DNF this not once, but twice. I just wasn't really feeling the beginning, I guess?
The Outcome: Again, an all time favorite series. Some of my favorite characters in all of books, too.
---
The Book: Fire & Flood by Victoria Scott | My Review
The Story: I thought it was kind of implausible and strange, so I almost did not continue.
The Outcome: I adored it, and its sequel, and for the love of all things bookish, will someone sign this woman for a third book so I can read the conclusion? Victoria also became a new favorite author for me!
---
The Book: Seeker by Arwen Elys Dayton | My Review
The Story: I kept assuming it would make some kind of sense, any kind of sense.
The Outcome: It did not. At all.
---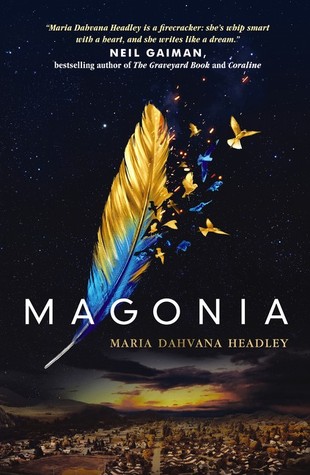 The Book: Magonia by Maria Dahvana Headley | My Review
The Story: I liked the first half a lot, but then bird people came into the picture. But I kept reading even though I really, really hated the bird people because I am a shitty DNFer.
The Outcome: I still hate bird people.
---
The Book: The Last Boy and Girl in the World by Siobhan Vivian | My Review
The Story: Val told me to DNF this book when I was super bored. She said it would not get better. I did not listen to Val.
The Outcome: Val was right. (See also: Review of The Marked Girl)
---
The Book: Frozen by Melissa de la Cruz & Michael Johnston  | My Review 
The Story: Like, everyone I knew told me that this was a hot mess, but I insisted that it sounded cool.
The Outcome: By the end, there were people sailing through seas of iced garbage and eating their jackets for sustenance. 'Nuff said.
---
If I trusted myself, can you even imagine some of the horrors that would have befallen me? Not loving some of my favorite authors? The humanity!
BUT! I think that this little post has showed me a pretty significant trend: I am getting better! See, the books my gut said to DNF but I kept reading were more recent. The ones I tried to DNF were pre-blogging, for the most part. So maybe my little inside voice is getting better at deciphering these things?
That said… I still don't trust me 😉  Do you trust yourself when you DNF a book, or do you second guess? Are you a regular at the DNFing, or are you too scared like me?