Welcome, welcome! In case you missed the finale recap, here you go! 
 Now, if you recall, unlike in book reviews, we do not mind spoiling the hell out of the show, so turn back now if you don't want to know any of the things! This has been your warning! This will include junk from ALL of Season 3! 
OH and while it may be obvious that I don't like, hang around taking still photos from the show's set, these pictures aren't mine, of course. They're from, you know, the show.
I make my own GIFs now. And I am going to start to edit them. I want to be one of those people who makes GIFs that make me cry. You know the people. Who can make a sequence of GIFs on Tumblr, and then like… they're amazing, and you're sobbing? Yeah. Also, when I redesign this bad boy (which I will- maybe over the summer!) I need to make sure I have a Tumblr button. Because right now I don't, and since I didn't make these buttons, I can even add one. Maybe. Unless I can. I digress.
Now, let's do this! The 100 Season Three!
GUYS. How is the season over already!? Didn't it just begin? My heart. Anyway.
General Thoughts
I am rewatching the first two seasons (well, I am on Season 2 currently) and it's amazing to see everything from this side- the side that knows at least some of their fates. I freaking love it- even more than I did the first time around. I highly recommend, and I have pre-ordered Season 3, because of course I did.
I read The 100 (the first book). And there will be thoughts. I promise. Hopefully I can even make Holly join me.
I seriously miss this show and I think I need to form a support group. Anyone else need intervention?
Some people thought that this season wasn't strong, but I disagree. I think the ending wasn't as strong as it was in Season 2, but I also think the setup for Season 4 was much better. Plus, no more ALIE, guys!!
The Best and the Worst of Season Three
Best episode:
 3×07: Thirteen (with 3×11: Nevermore a close runner up)
The 3rd, I think (Holly means 3×03: Ye Who Enter Here)? When Bellamy finds Clarke tied up by Roan and he literally cannot leave her behind. OR. the episode where literally all the shit from the past three seasons comes up, when Raven is possessed by Alie (by which Holly means 3×11: Nevermore). Both.
Most Boring:

 3×12: Demons (The one with Emerson. YAWN. Until the end, then all the sobbing. But minute for minute, my least favorite.)
NO IDEA. 
Most Tears: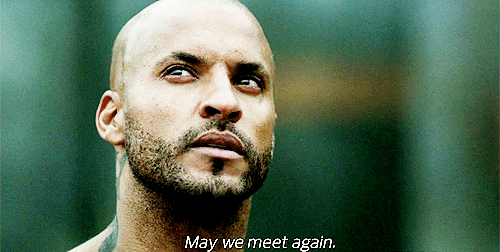 3×09: Stealing Fire (Lincoln's death) but a close runner up was Lexa's. (3×07: Thirteen)
Best use of music:
The JEEP RIDE.
Runner up would be this:
(Holly's answer? "I'm not sure?? I don't pay as much attention to the music score")
Best flashback:
 Pike's survival class, seeing the delinquents just being… kids.
We both agreed on the Becca stuff.
Most Surprising Event
Ontari beheading children. Because they went there.
Holly: No one dying in the finale (I guess Pike means nothing to Holly.)
Best Fight
Lexa and Roan
Best Kiss
Linctavia. And now I am dead.
Holly says:  Who even kissed this season?? Lexa/Clarke, Monty/Harper, and?? Maybe O and Lincoln's last kiss. ABBY AND KANE. THAT ONE.

Kabby at least doesn't make me sob. So good work, Holly! 
---
 

Season Superlatives and Awards!! 
Yes, Lexa owns the apocalypse but come on. Do we remember Kane's Ark Look? Not good. This… gives me strange feelings.
All five minutes of it were simply darling. 

Hey guys, remember back when Jaha used to do decent stuff like sacrifice his life for the greater good, and conjure up babies in his head, and give chess pieces to kids with birth defects? Let's get that guy back. Or float this one, I literally could not care less which.

Miller's Boyfriend. Because MINTY. Did he come down with Farm Station? Literally no idea. But main(er) cast? I don't know. I am scared.

Nothing says death like a double scoop and some Banana Republic… 

Shannon explains: Ontari and Hannah, but both with equal parts dread.
Because it's Jaha. Of course he nearly killed mankind. 

Ah Gina, we hardly knew ye. Literally. Where did you even come from?

GAH, it was a bad year for the Blake siblings. With about 300 unnecessary deaths between them (299 of Bellamy's, and Pike) and the complete facturing of their relationship, the loss of both their partners (albeit O's was far, far worse)… yeah man. Bad year indeed. 

I fully admit that I viewed Lexa's redemption as like, a personal thing- hence the whole "swearing felty" to Clarke thing. 

Roan, because of the possibilities. Does Luna count as "new"? Holly said yes, so I went with it.

Literally just going to be sobbing in the corner, mmmmkay? 😭
Shannon: Minty isn't happening yet, is it? Harper and someone new, like a Grounder. (Because Lincoln, I cannot stop crying.)
Holly: Um. Anyone with Roan. (Because I need him to stay on this show)
Well, well, looks like Holly and I made a match!!!!
Shannon: Greg, who, as it turns out, is not a Gorilla, but something called a Puana which means "giant mutant gorilla" in Trigedasleng. So… crazy-ass gorilla indeed. And I miss him.

Clarke. Hear me out! She went through so. much. this season, and yet somehow, she just kept on going.
And then….

Raven for sure, with Monty as her apprentice!
---
Favorite Season Quotes:
"Ge smak daun, gyon op nodotaim." (Get knocked down, get back up) —Lincoln
"Sounds like a terrible idea, I'm in." —Jasper
Pike: "My job is to keep us safe, not to be liked."
Kane: "Then keep up the good work."
"Ai laik Heda. Non na throu daun gon ai." (I am the Commander. No one fights for me.). —Lexa
"I beg you one last time, to see the world as it is, not as it was, not as you want it to be." —Kane
Monty: "After all that we've been through, you don't trust me?"
Harper: "Does your mom know you're here, Monty?"
"Raven: If I'm right, it will fry whatever ALIE put in there without damaging the tissue.
Jasper: What if you're wrong?
Raven: If I was wrong, ALIE wouldn't be looking at me right now like I just stole her favorite toy".
"She's a computer program. But I get that's hard for you to grasp, considering you pray to garbage. No offense… obviously". —Murphy
"You were right, Clarke. Life is about more than just surviving." –Lexa
"Places are not evil, brother. People are." — Nyko to Lincoln
"Kom woda 'so gyon op, gon woda 'so kom daun. (From water we are born, to water we return.)"
– Luna
"Following the creepy music is a bad idea. Or we can follow the creepy music."–Monty
ALIE: "Why Raven? With everything I can do for you? Why would you do this?"
Raven: "Because you stole my memories, you crazy bitch!"
"Just another day on the ground, right?" —Murphy
"Bellamy: Clarke is in trouble.
Murphy: Clarke is always in trouble.."
Clarke: "I know how to stop ALIE. I have to take the chip. I have to go into the City of Light and find the kill switch."
Murphy: "Yeah. That sounds like a great idea."
Octavia: "Why is he still alive?"
Indra: "Because the dead can't help us."
Octavia: "He was my home."
Indra: "Your home is here."
"You don't ease pain. You overcome it. And we will." —Clarke
---
The Predictions For Season Four 
---
The Wait
Literally. Cannot. I have been rewatching the show, and I even read the book. But more on that later. Because I am making Holly read it so we can do a discussion review! And I will unveil my NEW The 100 look, along with my NEW The 100 Tumblr. Because I am obsessed, you guys. 
What did you think of Season Three overall? Do you have thoughts/predictions for Season Four? No worries, we're not finished yet! I have some fun stuff up my sleeve for when we're all having withdrawal! 😉