Ah, a double recap! We didn't have a lot to say last week (nor a lot of time) so we figured we'd double up. But… that was a mistake, because my feelings are all over the place. 
 Now, if you recall, unlike in book reviews, we do not mind spoiling the hell out of the show, so turn back now if you don't want to know any of the things! This has been your warning! 
OH and while it may be obvious that I don't like, hang around taking still photos from the show's set, these pictures aren't mine, of course. They're from, you know, the show.
Now, let's do this! 
Episode 3×03 Ye Who Enter Here
::Whispers to whoever is reading this:: I have no idea what the hell happened. Off to read a synopsis. Too upset about this week. 
Right, I got it all now. I really liked this episode. For reasons. Shall we?
No City of Light! I didn't have to see Jaha or any of the random people inside my Sega circa 1993! It was a win.
Seeing Polis, which is apparently what the huge ass tower city is called, was amazing. The best moment for me was seeing Abby looking like she was going to actually shit herself while Kane walked up to someone, bought some food, complimented them, and moved on. That is why Kane has quickly become one of my favorites.
Sky Crew becoming the 13th clan? HELL. YES.  I dare say this was overdue? I love how Indra and Lincoln are besties with the Sky People, and how the Arkians care for them in return now! Well, most of them, we'll get there. 
I feel like this trio should do all the things together. Plus, it's totally badass when Kane takes the seal of whatever these people are called. And when Clarke acquiesces and bows to Lexa. 
But even more awesome? When Lexa bows to Clarke!!!
Clexa fans must be in their glory! And I will of course let you know what I think about that very soon.
What on earth could go wrong during this love fest? EVERYONE. ELSE.
Mother of god, some of these other people…. yikes. So Bellamy finds some girl named Echo, who he knew from I don't even remember what. I don't sorry. But here she is, maybe you do: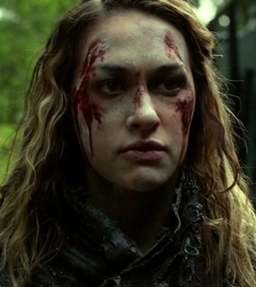 Seriously, am I supposed to know this person? ::Shrugs::
So yeah, based on… whatever, Bellamy and company take her at her word that someone is going to be attacking Polis, during this big old meeting. Well, no one wants that, so Bellamy and his team of randos are going to stop these shenanigans! Only… no one is attacking Polis. They're attacking Mount Weather, and this Echo bitch has just gotten every damn defender of Arkadia out defending the wrong ass place.
So while everyone is singing Kumbaya and getting branded in Lexa's tower, Raven and Gina are trying to stop the attack once they get word that Echo is evil. And because you know Gina was only a plot device…. 
Oh Gina, we hardly knew ye…. 
---
Episode 3×04: Watch the Throne
Well then. I am going to declare something that might surprise you: I am Team Clexa. For now. Look, I still think Bellarke needs to be endgame, but there are a few reasons that Clexa should be a thing right now:
Bellamy is being a real douchecanoe. This is probably the most important. Clarke doesn't have time for this shit.
Lexa is really seeming to care about Clarke– and not just for how she can "use" her, though I have been wrong before.
Umm this might sound weird, but they were both looking really good in this episode. Like, Clarke looked stunning. I don't even understand why or how. Also, and totally unrelated, I wanted to gobble Lincoln up too- he looked extra tasty. Seriously, I don't know if they have had new makeup people or something, but everyone has been looking extra nice. Just saying. 
Seriously, is it just me? And here, have some Lincoln 🙂 
It's clear that Clarke cares about Lexa. And even though she cares about Bellamy, it is going to take a long time for her to forgive this shitshow. 
"What shitshow?" you ask? Ah, you know. The one where Bellamy is "so devastated" over the loss of the girlfriend we saw in his company twice (I am not even exaggerating), he decides to basically throw away everything he has ever believed in, join Pike in his quest to be… Grounder-racist?, and kill all the people. Look, he's pulling a Finn, and no one liked it when Finn did it, and no one will like it when Bellamy does it. So because people in general are fucking stupid, they elect Pike as the Chancellor over Kane. Makes sense, Pike has been there all of three days, why wouldn't we elect him? It's really the post apocalyptic television equivalent to people thinking Donald Trump would make a good president, but I digress.
Jeeeez Bellamy, don't drink the kool-aid FFS. 
And elsewhere in Arkadia….
Jasper eats Finn. I literally have nothing else to say. 
Things are pretty exciting at Polis, where Lexa is going to duel!
There's some political crap going on, and I won't bore you with the details. But basically, the situation is this: The stupid Ice Queen challenges Lexa, and commands her son (Roan) to fight for her. Lexa is like "fuck that noise, I fight for my own self", and does so. Clarke is scared shitless, because you know. And then Lexa says "nah, it's cool, I have this ten year old to take over in case I die! Hey kid, you'll honor the contract with Clarke, right?" Kid looks like he is going to wet himself, nods. 
Even Clarke is giving this the side-eye. 
Lexa is a badass though, through the whole fight. Exhibit A:
And as she's about to defeat Roan, spear to his prone body, she throws her spear at the Ice Queen, kills her, and proclaims "The Queen is dead, long live the King!". It. Was. Amazing. (And not just because she was channeling Katniss… though that never hurts in my book.)
 Another reason I am Team Clexa this season. Because of course. Lexa is showing how freaking amazing she is and Bellamy… is killing his friends and allies? Tough choice. ::Rolls eyes::
WHOOP no more Jaha again this week! No way we can make it three in a row. 
Who are you shipping? Do you think Bellamy's crap is justified? And I have plans for a QUIZ for next week, but time was not on my side this week, so stay tuned.
LET'S CHAT !!