Today is Valentine's Day. And since my Valentine is… well, myself I guess, I figured why not talk about meeee? This tag was created by Amber Elise @ Du Livre, and it is fun. I also stole her picture. I figured she's down, she can yell at me in the comments if not 😀
When did you start blogging and what was your first review? 
October 8, 2013. And my first review was Allegiant by Veronica Roth, because man did that shit piss me off.  Why did I link that, exactly? It umm, is not high quality.
Who/what inspired you to start blogging? 
Like everyone else, I started for the fame, the glory, and of course, the riches. 
What is a blog-related goal that you have? 
For a hot second, I wanted to be one of those people who arrive home to box after box of books. Actually, I don't think this is even a "thing" anymore, but back in the day, huge bloggers used to and I thought it looked pretty great. But imagine the responsibility!? So then I thought it might be cool to moderate an author panel or something. But THEN I remembered that I am not the biggest fan of public speaking. In reality, I probably just want to be famous like Cait when I grow up.
What is one thing you wish someone told you about blogging? 
Um. That it would consume my life and that I would be super overwhelmed for literal years? That I would be obsessed with things like "statistics" and "analytics"? That ARC jealousy is a straight up real thing, no matter how many people on Twitter tell you it shouldn't be?
What was your biggest blog-related accomplishment? 
Learning to chill the fuck out. Thanks, Bellamy.
What types of posts do you enjoy writing? 
Don't hate, but negative reviews. They're so freaking fun. I do feel like an asshole posting them, however. I also love writing discussions, whenever I can come up with an idea- which frankly, seems rare these days.
Where do you usually blog? What does your setup look like?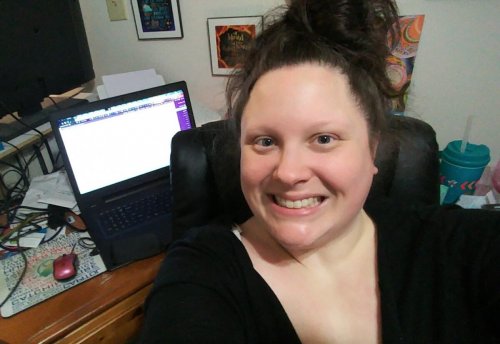 Looks like this! It's just a desk and a laptop, and though you can't see it because my chair is blocking it, I have a lovely key lime pie candle happening too. And it's best when coffee is involved.
What was your last 5-star read? 
Okay. This is tough because I didn't rate everything yet, and 
In Search Of Us
is going to be at least a 4.5, but I haven't decided? So for certain, I will say
Alex + Ada Vol. 2&3 
What was your last 1-star read? 
I do not give one-star lightly. I feel too guilty. Or something. Only 
two books
have earned that fate, actually. The most recent? 
The Traitor's Kiss 
by Erin Beaty.
What are three words that make you pick up a book? 
Apocalypse/Dystopia (yeah I know it's not 2009, shhh.)
Space
Dark/Gritty
Fluff need not apply, basically? And tbh, I think I like just knowing that there can still be fictional worlds more awful- we haven't reached that level of suck yet? ?
What is your Hogwarts House? 
I have never taken a quiz that has given me any other answer, tbh.
What is your favorite reading environment? 
My bed. That is the only place I like to read, and the only place I ever would if left to my own devices. I will read if I have a very long wait or travel, but as a rule… nope, just bed. In complete and total comfort.
What advice would you give to new bloggers? 
To just chill. None of this is life or death, despite what you might have heard from 2015-era Shannon. If you can't post, can't return a comment, whatever, the world will not, in fact, end. I super promise.
Consider yourself tagged, if you'd like! Answer me one or two or all of these, so we can chat! Oh, and Happy Valentine's Day!