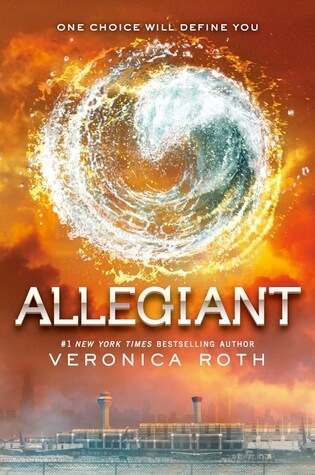 Allegiant
by Veronica Roth
Series: Divergent #3
Published by HarperCollins
on October 22nd 2013
Pages: 544
Source:Purchased
The faction-based society that Tris Prior once believed in is shattered--fractured by violence and power struggles and scarred by loss and betrayal. So when offered a chance to explore the world past the limits she's known, Tris is ready. Perhaps beyond the fence, she and Tobias will find a simple new life together, free from complicated lies, tangled loyalties, and painful memories.

But Tris's new reality is even more alarming than the one she left behind. Old discoveries are quickly rendered meaningless. Explosive new truths change the hearts of those she loves. And once again, Tris must battle to comprehend the complexities of human nature--and of herself--while facing impossible choices about courage, allegiance, sacrifice, and love.

Told from a riveting dual perspective, Allegiant, by #1 New York Timesbest-selling author Veronica Roth, brings the Divergent series to a powerful conclusion while revealing the secrets of the dystopian world that has captivated millions of readers in Divergent and Insurgent.

I am so utterly disappointed by this book that I am not even sure where to begin. I don't like to include any spoilers in reviews, but I have to say first that the ending basically ruined the first two books for me completely. Like, I wished I had never read them at all. I understand that things don't need to end with unicorns and rainbows, but this ending was dismal, harsh, and unnecessary. It didn't even have the proper emotion behind it, and fell kind of flat, completely negating the assumed purpose of doing such a harsh thing to begin with. 

Ending aside, the whole book felt very flat. The characters seemed "off" for lack of a better word. They weren't as likable, they weren't as deep, and there was little to no development for most of them. In addition, the plot wasn't terribly exciting either. A lot of the time, I felt myself forcing the reading in the hope of getting to a more exciting part that simply never came. From start to finish, it had such a depressing tone without the sparks of hope and humanity that the first two books had. 

The only reason that I am giving this a second star is because there were some really beautiful moments mixed in with the monotony. Every so often there would be a great piece of writing, or glimpse of a character that caught me off guard, and to be honest, didn't seem to fit in with the rest of the book. Had the whole book been more like those moments, this could have turned out a lot differently. Quite a shame to have what had been a great series end in such a lackluster manner.