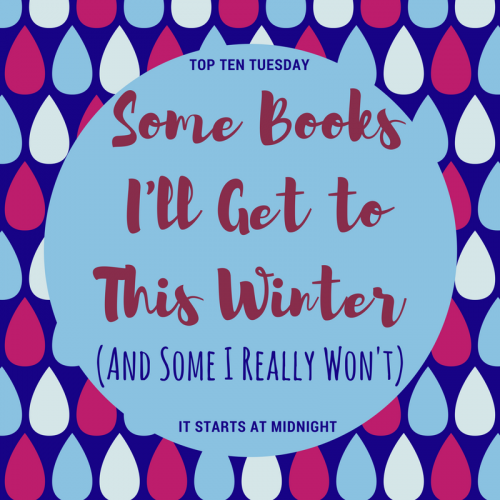 Top Ten Tuesday is a feature hosted by The Broke and the Bookish. This week's theme is: Top Ten Books On My Winter TBR
Oh, how cute, another TBR! I fail at these on the regular, but it still seems worth trying? Maybe? Let's check in on how I did on my fall TBR, shall we?
Frontlist: 6/10 Read. Well, that's a surprisingly high percentage, especially for me. Color me surprised!
Backlist: 3/12 Read. Ahhh yes, this sounds much more like me. Half of those books will probs be on this TBR too, let's be real.
The Books I Will Actually Definitely Read.
(Because they are review books)
---
The Books I Might Read One or Two Of
(But lie to myself and pretend I will read them all) 
I won't pretend that half of this weren't on my last list. Probably the list before that, if you check. And next time? Yep, probably will still be around. 
How do you guys do with TBRs? Do you find that ARCs help with the indecision?
I didn't have any ARCs for a second this fall, and I couldn't figure out what to read, so here we are.
Which ones should I read ASAP?