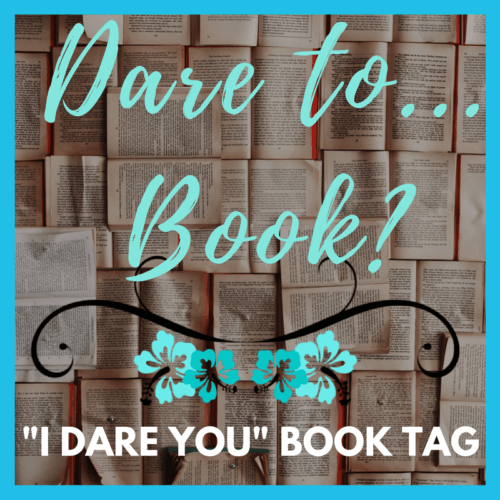 I was tagged to do the "I Dare You" book tag by Dina @ Dinosaur! And since I have not much else to share at the moment (I think I am caught up on reviews, and well, fine, I have been busy binge-watching The 100, obviously), this is a perfect time, and this one looks fun! So… let's do it!
Covers link to Goodreads because I am extra awesome.
1. What book has been on your shelves the longest?
Idk which one I have had the actual longest, but they've all been hanging around for a very long time.
2. What is your current read, your last read, and the book you'll read next?
3. What book did everyone like, but you hated?
OH! I wrote a whole post about this, so if you want to know lots of these books, you can find them here. But the one that will make you all hate me the most? Le sigh. I am sorry, guys. Please still like me?
::Ducks head from flying tomatoes and such::
4. What book do you keep telling yourself you'll read, but you probably won't?
Because tbh, I didn't love the first one, okay?
5. Which book are you saving for retirement?
None! I could be dead by then!
6. Last Page: read it first, or wait till the end?
WAIT, what is wrong with this question, who would do that!?
7. Acknowledgment: waste of paper and ink, or interesting aside?
I adore them, and I read them always. And I would hope that someone would read mine if I ever wrote a book? So yes, interesting! But even more than that- necessary.
8. Which book character would you switch places with?
Katniss Everdeen from The Hunger Games or Clarke Griffin from The 100
9. Do you have a book that reminds you of something specific in your life (a person, a place, a time)?
This was the first Baby-Sitters Club book I read, and really got me into reading- it like, defined my childhood.
10. Name a book that you acquired in an interesting way.
I worked very hard to get this book. Val can vouch for that. So can that guy at the SoHo booth who tried to deny me for three whole days 😉
11. Have you ever given away a book for a special reason to a special person?
Actually YES! I gave this to Holly because she wanted it forever and ever and it was her birthday and I love her ♥
12. Which book has been with you the most places?
I… don't really bring books with me places? I bring my Kindle, and then like… generally obtain books at the site of my journey?
13. Any "required reading" you hated in high school that wasn't so bad two years later?
Nah, they all still sucked years later 😉 I did like ONE at the time though, does that count?
14. Used or brand new?
I could pretend to not be snobby and prefer new, shiny books, but why lie? I mean, I will read used books as long as they aren't like… gross? But yeah, I prefer new. #NotSorry
15. Have you ever read a Dan Brown book?
And I really have no plans to, either.
16. Have you ever seen a movie that you liked more than the book?
This is the only one I can think of really. Maybe Allegiant, but who can tell because it never actually ended?
17. Have you ever read a book that's made you hungry, cookbooks excluded?
GAH so many amazing Japanese food descriptions!! 😀
18. Who is the person whose book advice you'll always take?
Cynthia @ Bingeing on Books! She is my book twinsie! Also, Holly has been really killing it with recommendations lately!
19. Tag (at least 4) friends
Must I? I have so very many friends I would like to tag! But I also don't want anyone to feel obligated so… if you feel like it, then doooo it, and then let me know and I shall visit it!
So my friends, answer one or two of these for me, pretty please? Especially curious about weird ways you obtained books because… that could be fun 😉