To intro a bit, these are books that I have not obtained for review. The bottom line is this: These are considered legitimate reviews by absolutely no one. Why? I don't feel like it, nor do I have to. But apparently, my ego dictates that I still think you care whether I liked them and/or I feel like shouting about them. And so, I shall.
I was coping and pasting into a new draft, as one does, when I realized that I hadn't done one of these since 2021. And before that I hadn't done one since 2019. Which, frankly, just tells you how few of my own books I ever actually read. This is two years' worth, friends. (Not all of them, just… most of them.)
Love and Other Human Errors
by Bethany Clift
Published by Hodder and Stoughton
on August 4, 2022
Pages: 480
Format:Hardcover
Source:Purchased

The convention of a book synopsis is fundamentally ridiculous. How can I adequately convey in 150 words the complexity and bewilderment of the past ten months and the effect those events have had on my perfectly regulated life?

One would need much longer to record in detail how I was blackmailed into demonstrating the efficacy of my own soulmate program and forced to participate in a series of dates. How my world has been forever altered as a consequence.

Prior to this I was driven and focused, consumed with completing my own projects, destined to change the world with my work. A woman with one goal. I had no family, no friends and no need for frivolous human connection. My life was structured and solitary.

I am that person no longer.

My name is Indiana Dylan and this is the story of how I fell in love.

There: 150 words.

As soon as I found out that Bethany Clift had another book coming out, I pre-ordered it. Because I fell wholly in love with The Last One At the Party, and I loved the concept of this one, too. And guess what, friends? Fell in love with this one, too! So could someone give Ms. Clift a big ol' contract so she can write all the books for me to devour? Great, thanks.
Bottom Line In a GIF:
---
The Only Girl in Town by Ally Condie
Published by Dutton Books for Young Readers on September 19, 2023
Format:ARC
Source:Won


What would you do if everyone you love disappeared? What if it was your fault? A biting and breathless contemporary novel from Ally Condie, #1 New York Times bestselling author of the Matched series.

For July Fielding, nothing has been the same since that summer before her senior year. Or that late-August night at the jump.

Before, she had Alex to be her loyal bestie, always up for playing endless rounds of mini golf or trying every ice cream flavor at local favorite Verity. She had Sydney, who pushed her during every sweaty and wonderful cross country run, and who sometimes seemed to know July better than she knew herself. And she had Sam. Sam, who told her she was everything and left her breathless with his kisses.

Now, July is alone. Every single person in her small town of Lithia has disappeared. No family. No Alex or Sydney. No Sam. July's only chance at unraveling the mystery of their disappearance is a series of objects, each a reminder of the people she loved most. And a recurring message that begins to appear all over town: GET TH3M BACK.

With sharp, poetically visceral prose that grabs you by the heart and refuses to let go, New York Times bestselling author Ally Condie makes her contemporary-YA debut with a searingly candid, breathless novel that perfectly distills the messy, beautiful realities of growing up, growing apart, and the courageous act of self-discovery.

I am a little torn on how to rate and review this one, if I am being honest. At the start, I was suuuper into it, especially because the chapters are nice and short, and it alternates between past and present, with some other snippets interspersed (like conversations July's therapist, lists she'd made, etc.). So it moves quickly, and obviously the whole mystery of where the heck everyone went is compelling! I enjoyed reading about what had happened to July, and the lengths she was going to find everyone now. But the turn that things took… well, it's hard to really say much without giving anything away, but I'll try. I appreciated what the author was doing with the story, it just seemed like the way it went, it needed more buildup perhaps? Or just something additional that the story didn't offer. So as the conclusion unfurled, I didn't feel completely satisfied by it? Maybe if there had been an epilogue or something? I mean it was still very readable, and I liked what the author was trying to do, I just don't know that it *fully* worked? Still a good book, though!
Bottom Line In a GIF:
---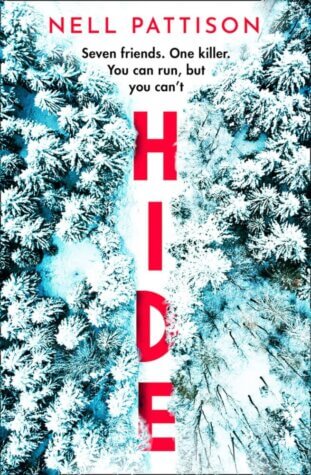 Nowhere to Hide by Nell Pattison
on December 9, 2021
Format:Paperback
Source:Purchased


Seven friends. One killer. You can run, but you can't hide…

The winter hike is meant to bring their nature group together.
Emily, the sister who never lets her hearing loss hold her back.
Lauren, the sister who always feels a step behind.
Morna, who doesn't get on with Lauren.
Ben, whose feelings for Emily border on obsession.
Dan, the quiet newcomer to the group.
Kai, who isn't just on the hike to enjoy the wildlife
.And Alec, the one who knows all their secrets.

As the sun sets, a gunshot rings out on the nature reserve.
One of the seven is dead. And one of their number killed them…

I did not remember that I read this book. Legit, no recollection. And usually, I can at least remember some stuff about a book. No, not usually- always. To the point where I wondered if I accidentally marked it as "read" on Goodreads when I actually hadn't. After reading a few reviews, I sort of remember it, but barely. You want to know what part made me remember? Birdwatching. You guys know how I feel about birds. Much more strongly than I did about this book, anyway. On the plus side, it wasn't bad either, because I always remember the shitty books!
Bottom Line In a GIF:
---
Aurora by David Koepp
Published by Harper on June 7, 2022
Pages: 289
Format:Hardcover
Source:Purchased


From the author of Cold Storage comes a riveting, eerily plausible thriller, told with the menace and flair of Under the Dome or Project Hail Mary, in which a worldwide cataclysm plays out in the lives of one complicated Midwestern family.

In Aurora, Illinois, Aubrey Wheeler is just trying to get by after her semi-criminal ex-husband split, leaving behind his unruly teenage son.

Then the lights go out--not just in Aurora but across the globe. A solar storm has knocked out power almost everywhere. Suddenly, all problems are local, very local, and Aubrey must assume the mantle of fierce protector of her suburban neighborhood.

Across the country lives Aubrey's estranged brother, Thom. A fantastically wealthy, neurotically over-prepared Silicon Valley CEO, he plans to ride out the crisis in a gilded desert bunker he built for maximum comfort and security.

But the complicated history between the siblings is far from over, and what feels like the end of the world is just the beginning of several long-overdue reckonings--which not everyone will survive . . .

Aurora is suspenseful storytelling--both large scale and small--at its finest.

I didn't feel much about this one either, if I am being honest. Well- I felt irritated, because I spent $30 on it at the beach, and the book was printed half-backwards. Like, if you open it to the supposed page 1, it is page 50, but upside down. So I had to go 50 pages in, find the real beginning, then turn the book upside down. Read to page 50, then go back to page 1, find page 51, flip again, and continue. Yes, I am aware that this is a first world problem, but I am allowed to be a little salty because thirty bucks is thirty bucks.
Proof that this inane story is actually true? Though who would make something so dull up, really?
I digress, that had literally nothing to do with the book. The book itself was… okay. It never really captured my interest wholly, but nor did I hate it. It was truly average for me in every way, so really, the most interesting part of this "review" was the story about the printing, wasn't it?
Bottom Line In a GIF:
Both mine and the book I guess?
---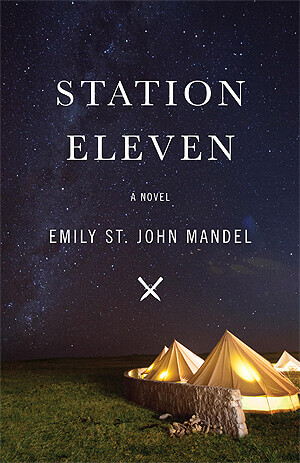 Station Eleven by Emily St. John Mandel
Published by Knopf on September 9, 2014
Pages: 333
Format:Paperback
Source:Purchased


Set in the days of civilization's collapse, Station Eleven tells the story of a Hollywood star, his would-be savior, and a nomadic group of actors roaming the scattered outposts of the Great Lakes region, risking everything for art and humanity.

One snowy night a famous Hollywood actor slumps over and dies onstage during a production of King Lear. Hours later, the world as we know it begins to dissolve. Moving back and forth in time—from the actor's early days as a film star to fifteen years in the future, when a theater troupe known as the Traveling Symphony roams the wasteland of what remains—this suspenseful, elegiac, spellbinding novel charts the strange twists of fate that connect five people: the actor, the man who tried to save him, the actor's first wife, his oldest friend, and a young actress with the Traveling Symphony, caught in the crosshairs of a dangerous self-proclaimed prophet.

Did I like this? Yes. Did I like the show a lot more? Also yes. So sue me. I read the book before the show, and I liked the concept and the world and all that jazz. But I found myself a bit disconnected from the characters. The show improved that tenfold. Loved the world though. Post-apocalyptic Midwest is a fan favorite, right? 🤷‍♀️
Bottom Line In a GIF:
---
Reign by Katharine McGee
Series: American Royals #4
Published by Random House Books for Young Readers on August 29, 2023
Pages: 425
Format:eBook
Source:Purchased


A queen's life hangs in the balance, and her siblings' decisions—about what to do, and most of all, who to love—could change the course of history. Romance. Duty. Power...only one can triumph in this stunning conclusion to the New York Times bestselling American Royals series.

America's royal family is in shambles. Queen Beatrice is in a coma and Princess Samantha has gone missing—from the look of things, she ran away with her boyfriend, Lord Marshall Davis. Which means that Prince Jefferson is currently on the throne. For some in America, it's exactly what they wanted: a King ruling the country. And for Daphne Deighton, who has tricked Jefferson into dating her again, it's the ultimate dream come true.

Surely this is all just temporary. Won't Beatrice wake up and reclaim her rightful place? Samantha can't really be gone…can she? And Prince Jefferson will never truly be over his childhood crush, Nina Gonzalez. Right?

For the Washington family, the stakes are higher than ever. Love might save the throne….if secrets don't destroy everything first.

I was a little gun shy after not loving the second book in this series, but the third definitely made up for it, and then the fourth gave me the conclusion I needed, so to say it's all been worth it is an understatement. I will miss these characters so much, but I am also so satisfied with this series, and I haven't been able to say that about a long-ish series in eons, so. I'll take it!
Bottom Line In a GIF:
---
Alone Out Here by Riley Redgate
Published by Disney-Hyperion on April 5, 2022
Pages: 400
Format:Hardcover
Source:Purchased


What do you stand for, when you're one of the last left standing?

The year is 2072. Soon a volcanic eruption will trigger catastrophic devastation, and the only way out is up.

While the world's leaders, scientists, and engineers oversee the frantic production of a space fleet meant to save humankind, their children are brought in for a weekend of touring the Lazarus, a high-tech prototype spaceship. But when the apocalypse arrives months ahead of schedule, First Daughter Leigh Chen and a handful of teens from the tour are the only ones to escape the planet.

This is the new world: a starship loaded with a catalog of human artifacts, a frozen menagerie of animal DNA, and fifty-three terrified survivors. From the panic arises a coalition of leaders, spearheaded by the pilot's enigmatic daughter, Eli, who takes the wheel in their hunt for a habitable planet. But as isolation presses in, their uneasy peace begins to fracture. The struggle for control will mean the difference between survival and oblivion, and Leigh must decide whether to stand on the side of the mission or of her own humanity.

With aching poignancy and tense, heart-in-your-mouth action, this enthralling saga will stay with readers long after the final page.

I was so sure this book was going to be my whole jam. It was okay, but it did let me down a little? The concept was awesome, and I did enjoy that part, but the characters at times felt a little flat, and I was not satisfied by the ending. I am having a hard time deciding what to rate this because it felt like a 3.5, but the ending pissed me off so I want to rate it lower? But I won't because I am nice, so do with that what you will.
Bottom Line In a GIF:
---
The Prince & The Apocalypse by Kara McDowell
Series: The Prince & The Apocalypse #1
Published by Wednesday Books on July 11, 2023
Pages: 320
Format:Paperback
Source:Purchased


An American teen stranded in London is forced to team up with the British crown prince if she wants to make it back home before the end of the world in this delightfully rompy high-stakes rom-com.

Wren Wheeler has flown five thousand miles across the ocean to discover she's the worst kind of traveler: the kind who just wants to go home. Her senior-year trip to London was supposed to be life-changing, but by the last day, Wren's perfectly-planned itinerary is in tatters. There's only one item left to check off: breakfast at The World's End restaurant. The one thing she can still get right.

The restaurant is closed for renovations—of course—but there's a boy there, too. A very cute boy with a posh British accent who looks remarkably like the errant Prince Theo, on the run from the palace and his controlling mother. When Wren helps him escape a pack of tourists, the Prince scribbles down his number and offers her one favor in return. She doesn't plan to take him up on it—until she gets to the airport and sees cancelled flights and chaos. A comet is approaching Earth, and the world is ending in eight days. Suddenly, that favor could be her only chance to get home to her family before the end of the world.
Wren strikes a bargain with the runaway prince: if she'll be his bodyguard from London to his family's compound in Santorini, he can charter her a private jet home in time to say goodbye. Traveling through Europe by boat, train, and accidentally stolen automobile, Wren finds herself drawn to the dryly sarcastic, surprisingly vulnerable Theo. But the Prince has his own agenda, one that could derail both their plans. When life as they know it will be over in days, is it possible to find a happy ending?

This is magical and adorable. And snarky and exciting and entertaining. Honestly I have no downsides, just upsides, and it is even getting a sequel with a somehow even prettier cover so yeah loved it and you should read it too.
Bottom Line In a GIF:
---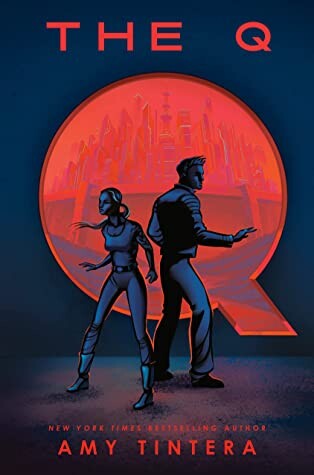 The Q by Amy Tintera
Published by Crown Books for Young Readers on November 8, 2022
Pages: 352
Format:Hardcover
Source:Purchased


Two teenagers from opposite worlds must fight their way through a vast walled quarantine zone in a dystopian America toward their only chance for survival.
Seventeen-year-old Maisie Rojas has spent her entire life in the Q—a post-pandemic quarantine zone that was once Austin, Texas. Born and raised behind the high security walls that sealed their fate, she's now a trusted lieutenant for one of the territory's controlling families.

Lennon Pierce, the charismatic son of a US presidential candidate, has just been kidnapped by his father's enemies and dropped out of a plane into the Q with nothing but a parachute strapped to his back. Lennon is given a temporary antidote to the disease and crucial intel for his father, but Maisie must get him out of the zone within forty-eight hours--or he will be permanently infected and forced to remain.

With unrest brewing both inside and outside the Q, reaching the exit is a daunting and dangerous task. But if Maisie and Lennon fail, it could mean disaster for the entire quarantine zone and its inhabitants—and could cost Lennon his life.

I loved this one. The world-building, the characters, the plot. I genuinely think my only minor qualm is that I could have read a bunch more books set in this world! And no one is giving them to me, which I find low key rude. It absolutely works as a standalone though, so don't let my greediness turn you off.
Bottom Line In a GIF:
---
Sea of Tranquility by Emily St. John Mandel
Published by Knopf on May 5, 2022
Pages: 259
Format:Hardcover
Source:Purchased


A novel of art, time travel, love, and plague that takes the reader from Vancouver Island in 1912 to a dark colony on the moon five hundred years later, unfurling a story of humanity across centuries and space.

Edwin St. Andrew is eighteen years old when he crosses the Atlantic by steamship, exiled from polite society following an ill-conceived diatribe at a dinner party. He enters the forest, spellbound by the beauty of the Canadian wilderness, and suddenly hears the notes of a violin echoing in an airship terminal--an experience that shocks him to his core.

Two centuries later a famous writer named Olive Llewellyn is on a book tour. She's traveling all over Earth, but her home is the second moon colony, a place of white stone, spired towers, and artificial beauty. Within the text of Olive's best-selling pandemic novel lies a strange passage: a man plays his violin for change in the echoing corridor of an airship terminal as the trees of a forest rise around him.

When Gaspery-Jacques Roberts, a detective in the black-skied Night City, is hired to investigate an anomaly in the North American wilderness, he uncovers a series of lives upended: The exiled son of an earl driven to madness, a writer trapped far from home as a pandemic ravages Earth, and a childhood friend from the Night City who, like Gaspery himself, has glimpsed the chance to do something extraordinary that will disrupt the timeline of the universe.

A virtuoso performance that is as human and tender as it is intellectually playful, Sea of Tranquility is a novel of time travel and metaphysics that precisely captures the reality of our current moment.'

Back for Emily St. John Mandel round two! I feel like I liked this one better in some ways, less in others? But overall maybe a little more? (Though that could be because I don't have a show to compare it to, whoops.) The concept was very cool, and I liked that there was a lot of stuff to figure out, but it did not make me feel stupid. There are a lot of interconnected stories, which was cool. And I liked the different time periods. It was good, though I gave it to my dad (he really liked Station Eleven) and he was not as charmed by this one, so I guess your mileage may vary.
Bottom Line In a GIF:
---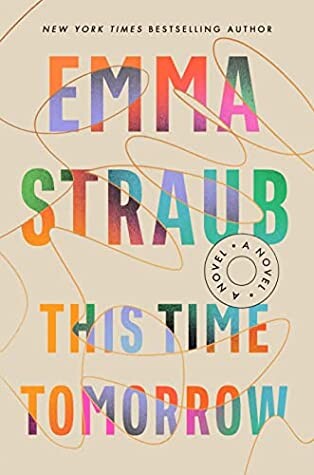 This Time Tomorrow by Emma Straub
Published by Riverhead Books on May 17, 2022
Pages: 310
Format:Hardcover
Source:Purchased


What if you could take a vacation to your past?

With her celebrated humor, insight, and heart, beloved New York Times bestseller Emma Straub offers her own twist on traditional time travel tropes, and a different kind of love story. On the eve of her 40th birthday, Alice's life isn't terrible. She likes her job, even if it isn't exactly the one she expected. She's happy with her apartment, her romantic status, her independence, and she adores her lifelong best friend. But her father is ailing, and it feels to her as if something is missing. When she wakes up the next morning she finds herself back in 1996, reliving her 16th birthday. But it isn't just her adolescent body that shocks her, or seeing her high school crush, it's her dad: the vital, charming, 40-something version of her father with whom she is reunited. Now armed with a new perspective on her own life and his, some past events take on new meaning. Is there anything that she would change if she could?

This book stole my damn heart. The main character and I were both approaching 40, and frankly I could not not put myself in her shoes- what would I do if I woke up at 16? (Like after doing a celebratory dance,  obviously?) It was just so thought provoking and emotive and I loved it so very much.
Bottom Line In a GIF:
Have you read any of these? Want to? Do you have trouble reading non-review books too? Let's chat!