Heh, get it? Anyway. These are books from late April/Early May!
Folklorn by Angela Mi Young Hur
Lucky Girl by Jamie Pacton
Sky Breaker by Addie Thorley
Meet Me In Another Life by Catriona Silvey
Last One at the Party by Bethany Clift

---
Folklorn by Angela Mi Young Hur
Published by Erewhon on April 27, 2021
Pages: 416
Format:eARC
Source:Copy provided by publisher for review, via Netgalley



A genre-defying, continents-spanning saga of Korean myth, scientific discovery, and the abiding love that binds even the most broken of families.

Elsa Park is a particle physicist at the top of her game, stationed at a neutrino observatory in the Antarctic, confident she's put enough distance between her ambitions and the family ghosts she's run from all her life. But it isn't long before her childhood imaginary friend—an achingly familiar, spectral woman in the snow—comes to claim her at last.

Years ago, Elsa's now-catatonic mother had warned her that the women of their line were doomed to repeat the narrative lives of their ancestors from Korean myth and legend. But beyond these ghosts, Elsa also faces a more earthly fate: the mental illness and generational trauma that run in her immigrant family, a sickness no less ravenous than the ancestral curse hunting her.

When her mother breaks her decade-long silence and tragedy strikes, Elsa must return to her childhood home in California. There, among family wrestling with their own demons, she unravels the secrets hidden in the handwritten pages of her mother's dark stories: of women's desire and fury; of magic suppressed, stolen, or punished; of the hunger for vengeance.

From Sparks Fellow, Tin House alumna, and Harvard graduate Angela Mi Young Hur, Folklorn is a wondrous and necessary exploration of the myths we inherit and those we fashion for ourselves.

Folklorn was quite a unique and emotive book, definitely unlike anything I'd read before. I don't think I really knew what to expect going in, so when the book opens in Antarctica, I really didn't predict the journey it would take from there! I think I will break it down into all the cool things you can expect from this one, and then the little stuff I had some trouble with!
What I Loved: 
There is such a focus on family here! And the thing is, it's messy. This isn't one of those families who sits around the fire singing Kumbaya. They have incredibly complex relationships within the family unit, much of which comes from the parents' experiences as immigrants, and as such, the children's experiences as first generation Americans, which is a whole positive in itself. Not only do we see these relationships as they are now, but we get many glimpses into how they became this way.
As I mentioned, the Korean cultural aspect is huge. The fact that they're immigrants, and especially how they're treated as immigrants, as well as their customs and values from home obviously shape the parents in a huge way. So, in turn, of course the children are influenced by it as well. Elsa has been dealing with her mother's warnings about Korean folklore translating to misfortune and grief for their family, and her father's straight up abuse. Her brother hasn't fared much better, as he's been stagnant through his entire adult life. Speaking of Elsa…
I loved how wonderfully complex Elsa was as a character. So, you have this woman, who to the outside world, probably appears to have it all together. She's studying some science that I can hardly wrap my head around with some of the most prestigious people in the world. She's earned the opportunity to study in Antarctica, for goodness sake! But she's anything but content. She has no idea what she truly wants to be, perhaps even who she wants to be, and she's quite alone. Her mother has been in a catatonic state for many years, and her father is abusive, both physically and emotionally. Her brother Chris is mentally ill, and when Elsa's "imaginary friend" returns to haunt her, she feels her own sanity slipping away. In the midst of all this, she must return home and face her demons- both literal and figurative- and decide once and for all who she is, who she wants to be, and where she sees her life leading her.
So much great social commentary. Especially in light of recent AAPI hate, the author showcases how difficult life can be for Asian folks, in this case, Elsa being Korean has not always been an easy path. She and her family obviously faced a lot of hate in their California home town, and it undoubtedly shaped who they became. But even in Sweden, hell, even in Antarctica, Elsa always felt "other".  When she meets Oskar, who is also Korean but who had a wildly different experience, he is able to shine more light on the conversation. (Also, he is awesome. Oskar. Is. Awesome.)
The Korean stories interspersed throughout were incredible! These folktales were dark, but I really enjoyed reading them, and I thought they were a great addition to the book as a whole.
What I Struggled With a Bit:
So look, this is a slower paced book. It just is. If you're heading into it looking for action and adventure, this is not that book. And while I generally didn't mind the slowness, as I appreciated the characters so much, there were times it felt a bit too long.
I don't know if I fully understand the magical realism part? But that is probably on me, if we're being honest, since I have some trouble with it at times.
Bottom Line: A gorgeous story with so much culture and grief and hope, it's one not to miss!
---
Lucky Girl by Jamie Pacton
Published by Page Street Kids on May 11, 2021
Pages: 240
Format:ARC
Source:Copy provided by publisher for review



A hilarious and poignant reflection on what money can and cannot fix

58,642,129. That's how many dollars seventeen-year-old Fortuna Jane Belleweather just won in the lotto jackpot. It's also about how many reasons she has for not coming forward to claim her prize.

Problem #1: Jane is still a minor, and if anyone discovers she bought the ticket underage, she'll either have to forfeit the ticket, or worse . . .

Problem #2: Let her hoarder mother cash it. The last thing Jane's mom needs is millions of dollars to buy more junk. Then . . .

Problem #3: Jane's best friend, aspiring journalist Brandon Kim, declares on the news that he's going to find the lucky winner. It's one thing to keep her secret from the town — it's another thing entirely to lie to her best friend. Especially when . . .

Problem #4: Jane's ex-boyfriend, Holden, is suddenly back in her life, and he has big ideas about what he'd do with the prize money. As suspicion and jealousy turn neighbor against neighbor, and no good options for cashing the ticket come forward, Jane begins to wonder: Could this much money actually be a bad thing

The premise for Lucky Girl is so fun. A girl wins the lottery, but whoopsie, she's not eighteen! So she's faced with some tough choices, all while her small town goes basically bananas with Lottery Fever™, trying to find out who bought the elusive ticket.
Jane has few options, and no good ones. Her bestie is also underage, so he's out. Her mom has a severe hoarding problem, so Jane figures her mom will probably spend all $58 million on storage units, used wedding dresses, and people's first grade class pictures. She's not wrong, but still. Grandma is trying to live more simply and off the grid, so she seems a bad choice. And the only actual eighteen year old she knows is her ex-boyfriend Holden, who she really doesn't wish to talk to again.
There is a lot to like about this one, but a few things that I didn't, so I shall break it down!
What I Liked:
Jane and Brandon's friendship was awesome. Always here for completely platonic besties where no one ends up jealous and hating the other. Brandon was a little obsessed with finding the lotto winner, but that wasn't really a bad thing- it isn't like he knew Jane's dilemma, after all. They just had a really healthy and wholesome friendship, Jane even being close with Brandon's girlfriend. Just wins all around.
I mean, I was excited to find out what would happen to the money! I won't lie, I was super afraid that this would end in a hokey "we don't need money to be happy" thing, but the author did not go there. Jane did need the money, and she didn't pretend otherwise, and I really loved the honesty about how actually, yeah, money can be life changing.
It's a quick and entertaining read. I mean, sometimes you just want to have a good time reading a book, right? This one delivers on that, for sure!
I did like that Jane had to come to terms with her familial relationships. Like I mentioned, Jane's mom is a bit of a mess at the moment, and has been since the unexpected death of Jane's father. She's poured her grief into hoarding, and drove Jane away in the process. Obviously, there must be some kind of reckoning to be had between Jane and her mother throughout the story, and I was glad that it was discussed in great length.
What I Didn't:
I wanted Jane's mom's issued to be addressed a bit more. Because look, this woman was in deep. And this part is maybe a little spoilery, but View Spoiler »she kind of decides to be a better mom and less of a hoarder pretty easily? Obviously that isn't how that works. Admitting a problem is awesome, but it is going to take a lot of intense therapy to even have a possibility of overcoming this, and I kind of wish that had been represented a bit more. « Hide Spoiler
Jane's ex-boyfriend. Again, I don't want to go into spoiler territory, but I didn't like him from the start. He treated Jane very poorly prior to their break up, and he rubbed me the wrong way. I get that I was supposed to feel that way, but he felt… extra, if that makes sense? View Spoiler »Like this dude was a straight up cartoon villain by the end, yeah? And maybe he is a legit sociopath or something, Idk, but I felt like it was maybe a bit much at times. « Hide Spoiler
Bottom Line: Overall it was a really cute story about a girl who wants to live her best life- and the winning money that just might help her do that, if she can find a way to keep it.
---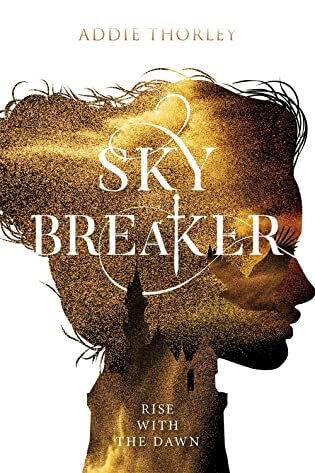 Sky Breaker by Addie Thorley
Series: Night Spinner #2
Published by Page Street Kids on May 4, 2021
Pages: 432
Format:ARC
Source:Copy provided by publisher for review



Enebish has been deceived by everyone she once considered a friend. On the run across the tundra, her only allies are her best friend Serik and a band of ill-tempered shepherds. Her only hope of bringing peace to Ashkar is to unite the people of the Protected Territories and make a stand against the tyrannical Sky King and the hostile nation of Zemya. But that's easier said than done. As supplies dwindle, the shepherds become far more desperate for food than freedom.

Meanwhile, Zemyan forces have stormed the Ashkarian capital. Imperial Army Commander Ghoa throws all of her power into a last-ditch effort to save her king, only to be abandoned by her fellow warriors. Held captive in a prison forged of magic and tortured by the zealous sorcerer Kartok, Ghoa learns his true ambitions lie far beyond the warring countries—he wants vengeance on the gods themselves.

The war between Ashkar and Zemya began centuries ago as a feud amongst the gods. Now it's up to the two most hated people on the continent—the monstrous outcast, Enebish, and the notorious war criminal, Ghoa—to heal that spiritual divide before Kartok brings the skies crashing down on all of them.

Wicked Saints meets the Grishaverse in this stunning and relentless conclusion to the Night Spinner duology.

Okay, so I may have not finished this one. However. I really think this might have been a case of me, and not the book? I just was having a really hard time, and rather than rate it lower than perhaps it deserved, I threw in the towel. Which, you know I don't do often, but I do in cases like this.
Anyway, I enjoyed the first book well enough, and was looking forward to seeing how the story wrapped up. Enebish is a really strong character, and she'd been through so much. So what made me stop? I was honestly just a little apathetic/bored, and like I said, it felt like it was much more a personal issue than a book issue. I will say, the pacing did feel slower to me, which may have played a role. But otherwise, I really think it was my problem. (As such, I am giving the series away, in hopes that it finds a loving home who will appreciate it!)
Bottom Line: It's not you, Sky Breaker, it's me. Probably.
---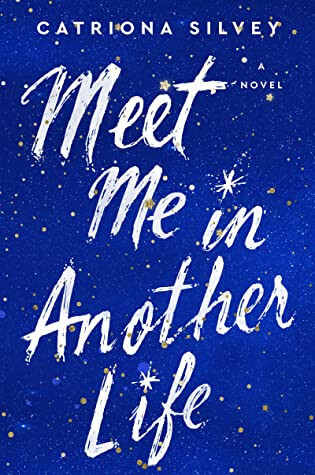 Meet Me in Another Life by Catriona Silvey
Published by William Morrow on April 27, 2021
Pages: 320
Format:eARC
Source:Copy provided by publisher for review, via Netgalley



Two people. Infinite lifetimes. One impossible choice.

Thora and Santi are strangers in a foreign city when a chance encounter intertwines their fates. At once, they recognize in each other a kindred spirit—someone who shares their insatiable curiosity, who is longing for more in life than the cards they've been dealt. Only days later, though, a tragic accident cuts their story short.

But this is only one of the many connections they share. Like satellites trapped in orbit around each other, Thora and Santi are destined to meet again: as a teacher and prodigy student; a caretaker and dying patient; a cynic and a believer. In numerous lives they become friends, colleagues, lovers, and enemies. But as blurred memories and strange patterns compound, Thora and Santi come to a shocking revelation—they must discover the truth of their mysterious attachment before their many lives come to one, final end.

Meet Me In Another Life was a very unique and thoughtful take on multiple lives. At first glance, I assumed it would be a romance, but it isn't. Or rather, it isn't always. There is love between Thora and Santi, that is undeniable. But the type of love they share varies from life to life. The constant is, they always find each other, somehow.
It's quite mysterious, because Thora and Santi don't know any more than the reader does why they keep reliving their lives, and how they manage to find each other no matter the circumstance. I was definitely eager to find those answers myself, and I found that when I did, the answer was quite satisfying to me.
This has to be a vague review, because some of the things I found most lovely about the book are spoilery, but I will say that I loved getting to know Thora and Santi, who were such a complimentary pair. A few of the lives they shared were perhaps not quite as enthralling as others, but I enjoyed most immensely. Their stories are, as real life is, often sad, especially at the end (again, as life's end tends to be). But they grow and learn so much, that it makes it hopeful, too.  And when we find out what it all leads up to, well, my mind was blown.
Bottom Line: A lovely, albeit melancholy tale of two people destined to meet in life after life.
---
Last One At The Party by Bethany Clift
Published by Mobius on May 11, 2021
Pages: 368
Format:eARC
Source:Copy provided by publisher for review, via Netgalley



THE END OF EVERYTHING WAS HER BEGINNING

It's December 2023, and the world as we know it has ended.

The human race has been wiped out by a virus called 6DM ('Six Days Maximum' - the longest you've got before your body destroys itself).

But somehow, in London, one woman is still alive. A woman who has spent her whole life compromising what she wants, hiding how she feels and desperately trying to fit in. A woman who is entirely unprepared to face a future on her own.

Now, with only an abandoned golden retriever for company, she must travel through burning cities, avoiding rotting corpses and ravenous rats on a final journey to discover if she really is the last surviving person on earth.

And with no one else to live for, who will she become now that she's completely alone?

I loved this book. This book scared the absolute bejeezus out of me. These things can coexist, right? See, what we have here is a post-COVID pandemic that does not play nicely. In fact, it kills everyone it comes into contact with in six days. (As such, it's called 6DM, or "six days max".) 6DM seemed to have originated in Kansas, and while other countries tried to get their shit together way better than happened with COVID, it just didn't work out. It so completely, eerily realistic that it truly haunted me.
We follow the journey of a woman, who watches as everyone she's known and loved dies. The entire city around her, falling victim to 6DM. Only… she is still somehow inexplicably alive. She waits for the symptoms to come, and they just never do. But this isn't a story of a plucky, strong woman who sets out to survive. This woman is all of us. She falls apart. She mourns. She drinks and does drugs to numb the pain and terror. She gives up for awhile, even contemplates suicide. But eventually, her survival instincts win out, and she is forced to face her new reality- all while recounting her messy past.
This is the kind of book that pulls you in wholly, and makes you question what you'd do in the main character's situation. It's beyond thought provoking, and quite chilling in the idea that this could be any of us, just by some random chance. The main character also struggles with mental health, both in the past and present, and I thought the author handled it brilliantly. Because even at the end of the world, mental illness doesn't cut you a break, and we see this woman go through the wringer in more ways than one.
Bottom Line: If I could have made a list of all the things that I'd want an apocalypse novel to include, this book would check off every single box.
Have you read any of these books? Plan to? Let us chat about them!