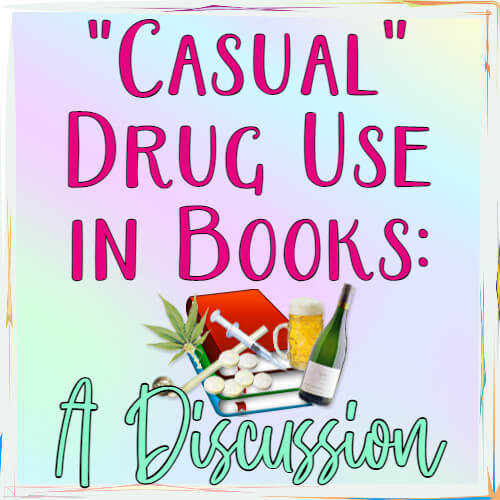 An actual discussion from me? Yep, apparently! This discussion was borne from a few books I have read recently, and had me wondering a few key things.
Is casual drug use in books- without some kind of greater message- ever acceptable? (Either to you personally, or on a global level?) Is there actually such a thing as "casual" when it comes to drugs?
Is casual drug use common? Am I impossibly sheltered?
Does the author have a responsibility to frame drug/alcohol/tobacco use in a certain way?
Does the age group make a difference when talking about this?
So, the idea for this post started when I mentioned to Amber that I felt a little squicky with the casual drug use in The Love Story of Ivy K. Harlowe. In fairness, I think it semi-resolved itself by the end, but not as much as I'd have liked? There are some cases of the characters, who, for reference, are between 17-20, doing ecstasy fairly casually, and even some mentions of things like cocaine. I did really enjoy the book, and like I said, there was some resolution to the issues I had, so please don't mistake this for my disliking the book- quite the contrary! But it did provoke this discussion.
This topic also came up in an adult book I've read recently (and loved!), The Last One at the Party. Here, the main character tries to drown out her problems (and mental health issues) with illegal drugs, but soon learns how unsustainable it would be. In The Girls Are All So Nice Here, drugs were rampant on the main character's campus, and everyone seemed very… cool with it, which was surprising to me.
I'm also not talking about books in which drug use is presented as a cautionary tale, or when the author highlights recovery from an addiction (Heroine immediately comes to mind).
So, let's go!
I mean, for me, personally? Not really? Or rather, nothing harder than say, alcohol or marijuana use (especially since the US is reaching legality of the latter, and our antequated views on the former lead to more problems than it solves). I'll also say that while I'm certainly no expert, nor do I profess to be, but becoming addicted to such things is way too easy- plus, who knows what could be in them? That in itself is a risk. Obviously, if the author is presenting it as a risky behavior, that is a different story altogether, and one I can tolerate.
It was risky, you see.
Okay guys seriously, am I hopelessly naïve? I know I am older than YA characters, but was around the same age as the characters in both The Last One At the Party and The Girls Are All So Nice Here. So I feel like my ancientness age cannot be the only factor at play. Look, I went to college, where obviously there was underage drinking (see last section on the US's absurd reactions to alcohol and how it just makes it more taboo). But drugs? I mean, there was one girl on my swim team who I heard rumors about doing cocaine. But she was kicked off the team, so who knows. The point is, the casualness of it kind of throws me because I literally have never encountered it. And that's a good thing, for me! But I guess I can't help but wonder if I am woefully out of touch? Are the books in which this is commonplace more accurate? I am just being out of touch?
And I don't want to be judgmental either! Which makes this seem like a very fine line. Am I being judgmental for finding drug use irresponsible? I am not sure. Maybe. But I also don't want to see anyone hurt, or worse. So I guess that is why I wanted to talk about it!
This admittedly is a loaded question. And my answer is both yes and no. Look, no author owes the reader anything. If someone wants to write about a protagonist who does drugs all week and still manages to fulfill their life's destiny, okay, you do you. But likewise, as a reader, I am also not compelled to like the story.
And it's a gray area indeed, because no character is perfect. We all have flaws, and perhaps someone's "flaw" is that they smoke, or chew tobacco, or pop pills. But I feel like there should be some concerted effort to show the negatives of these choices, at least. Obviously, we may not see a character thirty years in the future suffering the effects of their pack-a-day habit. But maybe show how it impacts the character on the daily? Alcohol is obviously going to be even more gray, because in moderation, I have really no issues with adult characters drinking. Even underage characters drinking, if they are doing so safely (not driving, in moderation/not to the point of blackout) I can live with it to an extent.
I mean. ?
Yeah, I think for several reasons age matters in this context. Obviously, legality (whether we think it absurd or not) plays into this. And unfortunately, I do think authors with younger characters face more scrutiny all around, not just when drugs or alcohol enter the mix. Plus, for better or worse, younger readers are more impressionable. Not to say they aren't smart enough to make decisions for themselves; they certainly are! But painting drug use as "casual" seems more irresponsible in a younger age group, perhaps because it isn't something that is (or should be) casual.
Look at Niylah, cautioning young Jasper on the effects of drugs! (She makes him the tea anyway, but… )
So, what is my bottom line? I suppose that my tolerance level decreases as the riskiness increases. Someone without addiction issues having a cocktail? Cool, can I join? Someone thinking they should take a fistful of drugs from some rando named Skeeter on the corner? I'm probably not loving it.
Where do you stand? Impressed that I managed to insert The 100 GIFs into a post about drugs? Let's chat!