This post will catch me up on reviews, woooo! Now granted, by next week it'll probably all be undone again, but alas. Actually, I think I like being a week behind because this means people can actually buy the books!! 
If You're Out There by Katy Loutzenhiser
The Pioneer by Bridget Tyler
Dealing In Dreams by Lilliam Rivera
Heroine by Mindy McGinnis

---
If You're Out There by Katy Loutzenhiser
Published by Balzer + Bray on March 5, 2019
Pages: 320
Format:eARC
Source:Copy provided by publisher for review, via Edelweiss


After Zan's best friend moves to California, she is baffled and crushed when Priya suddenly ghosts. Worse, Priya's social media has turned into a stream of ungrammatical posts chronicling a sunny, vapid new life that doesn't sound like her at all.

Everyone tells Zan not to be an idiot: Let Priya do her reinvention thing and move on. But until Zan hears Priya say it, she won't be able to admit that their friendship is finished.

It's only when she meets Logan, the compelling new guy in Spanish class, that Zan begins to open up about her sadness, her insecurity, her sense of total betrayal. And he's just as willing as she is to throw himself into the investigation when everyone else thinks her suspicions are crazy.

Then a clue hidden in Priya's latest selfie introduces a new, deeply disturbing possibility:
Maybe Priya isn't just not answering Zan's emails.

Maybe she can't.

This was such a fun, yet heartfelt book! I'll admit, I wasn't quite sure what to expect going in. The premise was great, but I could also see how it could get cheesy? Well, good news friends! It was unequivocally not cheesy, and instead full of fabulous! We meet Zan, who has a real case of the sads cause her best friend Priya has moved away. And that is not a fun situation, as I am sure most of us have experienced. Only instead of the long phone calls and non-stop texts and emails Zan assumed would be coming from Priya, there's radio silence. And Zan just knows deep down that Priya wouldn't just quit their friendship.
There are a lot of pros to this one, so let us start with all the stuff that made me happy!
The Things I Liked:
Female friendship rep was phenomenal. Because look, these two were just lifelong buds, there were no two ways about it. They trusted each other with everything, and while I don't want to get into spoiler territory, you'll really see how much Priya means to Zan.
The plot was really quite entertaining! So it's a contemporary, so obviously I wasn't expecting non-stop action, but it was completely engaging! And I truly didn't know how things were going to turn out for Zan or Priya. Was it going to be something sad? Sinister? Mundane? Miscommunication? Otherworldly? Supernatural? Occult? Who knows! I mean, okay, I do, but I am not telling you.
Friend/love interest Logan is so endearing. I ship it. He's just a really fun person to be reading about, and I was so incredibly glad that Zan found someone who would help her, and wouldn't just dismiss her love for her friend like so many other people in her life tried to.
I laughed a lot. I really enjoyed the sense of humor of both Zan and Logan, and their banter was phenomenal. Really, all the characters had such personality, it made for a story that it was easy to be invested in.
The Things I Didn't: 
The only thing I kind of wasn't sure about was some suspension of disbelief, though it definitely wasn't enough to outweigh all the good. Not even close, tbh.
Bottom Line: Completely charming and entertaining, this book that highlights the strength of friendship shouldn't be missed!
---
The Pioneer by Bridget Tyler
Series: The Pioneer #1
Published by HarperTeen on March 5, 2019
Pages: 368
Format:eARC
Source:Copy provided by publisher for review, via Edelweiss


Packed with action and unexpected twists, this addictive page-turner is perfect for fans of Illuminae and Defy the Stars!

When Jo steps onto planet Tau Ceti e for the first time, she's ready to put the past behind her and begin again. After all, as a pioneer, she has the job of helping build a new home away from Earth.

But underneath the idyllic surface of their new home, there's something very wrong. And when Jo accidentally uncovers a devastating secret that could destroy everything they've worked for, suddenly the future doesn't seem so bright.

With the fate of the pioneers in her hands, Jo must decide how far she's willing to go to expose the truth—before the truth destroys them all.

I love adventures in space! And I like new planets and such! Especially because this one kind of reminded me of… actually I won't say, for fear of spoiling stuff (for that, not this). But suffice it to say, good stuff! Anyway, some things were hit or miss, but overall I'd definitely say more hit!
The Things I Liked:
New planet! I mean, I guess we ruined the old one, no surprise there, so the folks on Earth have to go find new places to destroy inhabit. Jo and the others getting to discover all the new aspects of the place is so fun. Obviously there is good and bad to explore, and perhaps a few uhhh surprises that you'll have to read to find out about.
Huge focus on family. From the very first page, it's clear to see what a tight-knit group this family is. They have been through a lot together, and it's taken its toll, but they still care so deeply about one another.
There's adventure and action! As you can imagine, it's just all just a quiet planetary exploration. Stuff happens. You know, spoilery stuff. Sorry, not sorry, I shall tell you no more, but I promise it's not just plant identification and gazing at the moons or whatever.
But also, there is some planet identification and gazing at stuff? I mean, would you not want there to be? It's a new planet for goodness sake, we want to explore!!!
The Things I Didn't: 
I felt a bit of a disconnect with the characters. I just didn't have any kind of overwhelming feelings for anyone? Not even Jo, the main character. I mean she was fine, don't get me wrong. They all were fine. I just didn't emotionally connect very much.
Parts were a little… cheesy. At first, I thought it was super annoying when they'd say "Watsons do X" and "But Watsons never Y!" like do people actually speak like this? Please tell me no? But I chalked it up to a personal pet peeve. But some of the messages of the story to me felt delivered in a little bit of an obvious way that made me feel a wee bit eye-rolly.
Some of the stuff was predictable. Not everything! But some things I called way ahead of time. Again, my mouth (fingers?) is shut due to spoilers but… yeah. Not a dealbreaker-level of predictable, just a minor annoyance.
Bottom Line: Adventure time on a new planet is always fun! While I'd have liked more character connection and shock, it was definitely an enjoyable read.

---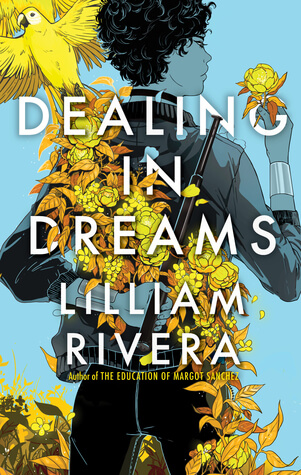 Dealing in Dreams by Lilliam Rivera
on March 5, 2019
Pages: 336
Format:eARC
Source:Copy provided by publisher for review, via Netgalley


At night, Las Mal Criadas own these streets.

Nalah leads the fiercest all-girl crew in Mega City. That roles brings with it violent throw downs and access to the hottest boydega clubs, but the sixteen-year-old grows weary of the life. Her dream is to get off the streets and make a home in the exclusive Mega Towers, in which only a chosen few get to live. To make it to the Mega towers, Nalah must prove her loyalty to the city's benevolent founder and cross the border in a search for a mysterious gang the Ashé Ryders. Led by a reluctant guide, Nalah battles other crews and her own doubts, but the closer she gets to her goal, the more she loses sight of everything—and everyone— she cares about.

Nalah must do the unspeakable to get what she wants—a place to call home. But is a home just where you live? Or who you choose to protect?

This started off… well, it was weird, okay? I hadn't a clue what was happening, where/when we were, or what the point even was. I won't lie, I almost quit. I tell you this so that I can also yell "don't give up!", because it gets so much better! This is one of those books that makes me never trust myself because had I given up, I feel like I would have missed a genuinely awesome story, just because I was a little frustrated by the beginning. And to be totally honest, I think my frustrations were on me more than the book? Like- I wanted answers, but maybe I hadn't earned them yet, you know?
The story follows Las Mal Criadas, a girl gang, and more specifically, their leader Nalah (aka, Chief Rocka). I love her. She is such a grumpy old man. "Get off my lawn", I imagine her yelling.  But it works, because all the girls have these strong personalities, and particular strengths that make the group cohesive. And Nalah being the consummate cynic is part of her role. She (and the others) grow so much during the story. Their bonds are tested, their allegiances questioned, their loyalty challenged.
"By what exactly?", you may be asking. And okay, this is the part that confused me when I started. There's a leader, Déesse, and she seems to be the motivating factor for Nalah. Oh and by the by, men mean nothing in this world. It's an interesting dynamic that is explored further. Anyway, as you can imagine, there's more than meets the eye to Déesse, which is easy for the reader to see, but less so for Nalah, who's been idolizing her for ages. There's an absurd gap between the elite and the masses (sound familiar?) and Nalah yearns to earn her place as an elite.
But she has a lot of journeying to do. Both in the literal and figurative sense, as Déesse sends Las Mal Criadas on a pretty harrowing mission. They cross some rough terrain with some even rougher adversaries facing them, and the whole thing becomes quite an adventure. One that you will not want to miss.
Bottom Line: After a slow/confusing start, I fell completely in love. And actually, can we maybe have a sequel please and thank you?
---
Heroine by Mindy McGinnis
Published by Katherine Tegen Books on March 12, 2019
Pages: 432
Format:eARC
Source:Copy provided by publisher for review, via Edelweiss


An Amazon Best Book of the Month! A captivating and powerful exploration of the opioid crisis—the deadliest drug epidemic in American history—through the eyes of a college-bound softball star. Edgar Award-winning author Mindy McGinnis delivers a visceral and necessary novel about addiction, family, friendship, and hope.

When a car crash sidelines Mickey just before softball season, she has to find a way to hold on to her spot as the catcher for a team expected to make a historic tournament run. Behind the plate is the only place she's ever felt comfortable, and the painkillers she's been prescribed can help her get there.

The pills do more than take away pain; they make her feel good.

With a new circle of friends—fellow injured athletes, others with just time to kill—Mickey finds peaceful acceptance, and people with whom words come easily, even if it is just the pills loosening her tongue.

But as the pressure to be Mickey Catalan heightens, her need increases, and it becomes less about pain and more about want, something that could send her spiraling out of control.

"When I wake up, all my friends are dead."
Well. That's how you start a book. I mean, talk about grabbing me from the start! Not that it even needed to, because I'd read Mindy McGinnis's shopping list, so. Okay look, I think it's pretty clear by the subject matter, synopsis, and first line that this book is going to be dark as hell. But also, most of Mindy's stuff is, so again, no surprise.
We meet Mickey, after that killer (ha, sorry, had to) opening, as her car crashes. And then we travel to actual hell and back with her. Mickey's life completely revolves around softball. This is something I wholly related to, as my entire world from the ages of 7-20 revolved around swimming. Mickey would have done straight up anything to keep playing softball, and I feel like I'd have done the same. I think a lot of athletes can relate to Mickey's situation- who among us hasn't pushed through injuries we shouldn't? Only, Mickey's is worse than tendinitis or some such problem, Mickey's is legit life-changing surgery.
So, she does what she has to. And this is where the author excels, at making it wholly believable that this kid who has spent her whole life otherwise on the straight-and-narrow is now a drug addict. Sure, it starts out as a prescription, which is often the case. And then… it morphs into something more sinister. Truly, it's such an important message. Drug addicts are often looked down upon, when in reality, it can happen to any of us. 
The book not only explores Mickey's addiction, but it explores every other aspect of her life.  Friendships (both her teammates pre-accident, and new friends post-accident), are incredibly fleshed out. And the drug-addicted friends, even the dealers, are as a whole a very likable bunch! The destruction of stereotypes here is not only refreshing, but incredibly important. None of these people are monsters, they have a legitimate illness. It also explores Mickey's family dynamics in-depth, in a way that feels incredibly honest and realistic.
I only had one issue that saved this from being a full five-star for me. 'Tis spoilery, so proceed with caution! View Spoiler »So we know from the first page that her friends are dead. But the book doesn't end at their death, it delves deeper into her recovery. And while I fully understand why she is in panic/self-preservation mode at the time of their death (this isn't a spoiler by the way- it's in the first chapter) why she never fully seems to like, grieve them confuses me. Like- she feels bad, yes. Survivor's guilt, yes. But the actual feelings for them seem missing, and I feel like as she recovered, she'd have to deal with a LOT of residual feelings? But anyway, yeah, after spending a huge chunk of the book caring for these young people taken from the world too soon, I wanted Mickey to care as much as I did, I suppose. « Hide Spoiler
Bottom Line: Dark, compelling, timely, and wholly necessary, this is a book that will break your heart as you weave your way through Mickey's life- and start to care for all the players.
Also, Mindy (and some other authors!) are coming here next weekend and WHOA no one ever comes here and I am too excited to function, which has nothing to do with this book, but here we are.
Have you read any of these books? Planning on it? Let's talk about them!