May is a busy book month, so here's another batch of reviews of books, this time for Mid-May!
We Are Satellites by Sarah Pinsker
When the World Was Ours by Liz Kessler
Fix by J. Albert Mann
Don't Breathe a Word by Jordyn Taylor
Off the Record by Camryn Garrett

---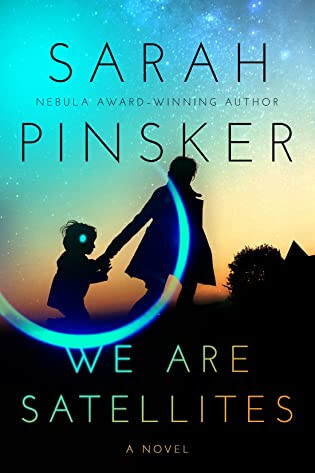 We Are Satellites by Sarah Pinsker
Published by Berkley Books on May 11, 2021
Pages: 368
Format:eARC
Source:Copy provided by publisher for review, via Netgalley



From award-winning author Sarah Pinsker comes a novel about one family and the technology that divides them.
Everybody's getting one.

Val and Julie just want what's best for their kids, David and Sophie. So when teenage son David comes home one day asking for a Pilot, a new brain implant to help with school, they reluctantly agree. This is the future, after all.

Soon, Julie feels mounting pressure at work to get a Pilot to keep pace with her colleagues, leaving Val and Sophie part of the shrinking minority of people without the device.

Before long, the implications are clear, for the family and society: get a Pilot or get left behind. With government subsidies and no downside, why would anyone refuse? And how do you stop a technology once it's everywhere? Those are the questions Sophie and her anti-Pilot movement rise up to answer, even if it puts them up against the Pilot's powerful manufacturer and pits Sophie against the people she loves most.

We Are Satellites is both thought provoking, and incredibly family focused, and I loved both of those elements! It's set in a reasonably near future, where brain implants, known as Pilots, are gaining popularity. They are supposed to help users multi-task and use their brain more efficiently, so of course people are signing up for them left and right. Parents Val and Julie are divided on whether to let their teen son David get one.
Julie can understand the potential benefits of them, and even toys with it herself. Val, and their other daughter Sophie, won't be partaking (Val's because of choice, and Sophie because she has epilepsy and is ineligible). Soon, the women relent, and grant David permission to get the thing, and Julie soon joins him. It draws a bit of a line, so to speak, in the family. While they still love each other very much, this technology has put a strain on things.
And as you may surmise, the Pilot isn't all it's cracked up to be, at least for some people. David has problems from the start with his, but no one will give him straight answers or solutions, so instead he enlists in the military, which promises to help him navigate Pilot life (the implant, not planes). As the story progresses, we see the family grow up (in Sophie's case, quite literally) and change along with the Piloted world.
Reading about the family children growing into adulthood, and the parents having to navigate that and their evolving relationship with each other, well that hit me right in the feels. Obviously there is a huge mystery element behind the Pilot, but the family stuff just blew me away. That isn't to say I didn't also enjoy finding out what the heck was up with the Pilot, because I sure did! At times the pace was maybe a bit slow, but for the most part, I was too invested to be bothered. The reader knows that something is going on with the Pilot company, but it's so fun to go on the ride to uncover exactly what is happening- and if it can be fixed. Add to it, navigating it all within this lovely, ever-evolving family unit was an absolute joy.
Bottom Line: With a thought provoking premise and an incredible family unit of characters, this one made me think- and unexpectedly gave me a lot of feels!

---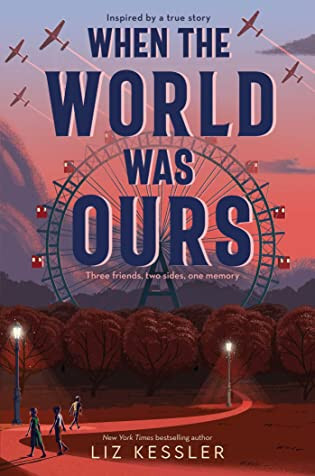 When the World Was Ours by Liz Kessler
Published by Aladdin on May 18, 2021
Pages: 352
Format:eARC
Source:Copy provided by publisher for review, via Netgalley



From the New York Times bestselling author of the Emily Windsnap series, Liz Kessler, comes a poignant and harrowing story of three young friends whose fates are intertwined during the devastation of the Holocaust—based on a true story.

Three friends. One memory. Vienna. 1936.

Three young friends—Leo, Elsa, and Max—spend a perfect day together, unaware that around them Europe is descending into a growing darkness and that they will soon be cruelly ripped apart from one another. With their lives taking them across Europe—to Germany, England, Prague, and Poland—will they ever find their way back to one another? Will they want to?

Inspired by a true story, When the World Was Ours is an extraordinary novel that is as powerful as it is heartbreaking and that shows how the bonds of love, family, and friendship allow glimmers of hope to flourish, even in the most hopeless of times.

Oof, this book hurt. In fairness, I knew it would. And the author's note, which was beautiful, definitely warns you that you're about to feel some next-level pain. Via the author in an uncorrected proof:
This story contains mature themes and depictions of violence and cruelty related to the Holocaust and we advise readers to be aware of difficult content that may cause distress. A list of resources with more information on the Holocaust and this period in history can be found at the end of this book.
So yeah, we're not in for a load of laughs, is the point. But the story was beautiful, nonetheless. I think it's also the kind of story that spans many age groups. It's listed as YA, but I could see myself giving this to my daughter who reads middle grade as well. The characters start out young, when their friendship was simple, uncomplicated by the political world and expectations of adults around them. It was bittersweet to see their happiness, for we know that it won't last.
We follow Max, Elsa, and Leo, from their favorite memory together, straight through their teen years/WWII. Elsa and Leo are Jewish, and as such, obviously in great peril during the war. Max, on the other hand, has a father who is not only unsympathetic toward his friends, he's a straight up Nazi. The book does an unbelievably great job of illustrating how frighteningly fast and unfortunately, easy, it is for some people to end up on the wrong side.
This book will pull at your heartstrings. Hell, it'll rip them right in half. But it's also hopeful, even while it's crushing your soul. There's hope that there are good people, that good can sometimes win, even if it doesn't always. And please, do yourselves a favor, and read the author's note. It's gorgeous, just like the book.
Bottom Line: This book gutted me, from start to finish, but did so beautifully, and with a hopeful spirit.

---
Fix by J. Albert Mann
Published by Little Brown Books for Young Readers on May 11, 2021
Pages: 288
Format:eARC
Source:Copy provided by publisher for review, via Netgalley



A gritty, moving story of friendship, loss, pain, and addiction.

Everything was fine before. When Eve and Lidia could hide their physical differences inside goofy Burger Hut costumes. When Lidia shook Eve up and Eve made Lidia laugh. When Lidia was there

Everything is different now. Cut open . . . rearranged . . . stapled shut, Eve is left alone to recover in a world of pain and a body she no longer recognizes. Her only companions being a bottle of Roxanol and an infuriating (but cute) neighbor, Eve strikes up a relationship—and makes a pact—with the devil. Sacrificing pieces of a place she doesn't know to return to a place she does. What will she discover when she unravels her past? And is having Lidia back worth the price?

In verse and prose, Fix paints a riveting picture of a teen struggling to find herself and move forward with her life in a sea of opioids, regret, grief, and hope.

Fix presents as a story of a young woman recovering from what sounds like the most painful surgical procedure ever invented, becoming dependent on painkillers to function, and trying to navigate the demise of her best friendship. Some parts worked for me, and some parts did not, so we'll talk about all of that!
What I Liked:
It's impossible not to root for Eve. This girl has been through it. The description of her pain alone had me near tears, because wow. Obviously I know Eve is fictional, but the thought of any human being having to go through that kind of pain is just… heartbreaking. Plus, it wasn't like life before the surgery had been easy peasy. From what Eve tells us, people have been downright cruel when it comes to her scoliosis.
Fabulous that it followed characters with some pretty serious medical conditions. Not only did Eve have scoliosis, but it's clear that it was a very severe case that was impacting her life. Lidia was without one of her hands, and it was also really affecting her. I like how the author covered both the physical and emotional manifestation of both girls' situations.
The tone/feeling of the book was spot on. I absolutely was able to feel Eve's pain, her desperation, and later, her dependence on pills. The author did a great job of making the reader feel as Eve fell deeper and deeper into a really confused and isolated state. It was really impressive, frankly.
What I Didn't:
It felt a bit… all over the place? And I suppose some of that may have been because Eve was all over the place, but there was just a lot going on without a lot of it being resolved, I guess. I can't elaborate too much about these, because I don't want to go into spoiler territory, but there were a lot of side stories. There was the ex-best friend debacle, a boy who was maybe a love interest, problems with Eve's relationship with her mom, some thing where she thought she was annihilating Minnesota every time she took a pill, etc. And I just didn't feel that it tied them together enough, is what I am trying to say.
Idk if I was supposed to want Lidia and Eve to be friends again but wow I did not. True story, View Spoiler »I genuinely thought that Lidia was dead for most of the book, and this was going to be really heartbreaking. But she wasn't dead and these two were just crappy, crappy friends to each other. « Hide Spoiler These two… well they weren't great to each other. Not before, and really not after.
Eve's mom is trash. And look, I am all for a healing family story, but I had no faith that her mom would ever change, and just continue to be a selfish piece of work, which ultimately just made me sad. (And yes, I know that in life this happens. But man, I just wanted Eve to like, have someone who would put her first, help with recovery, etc.)
Bottom Line: Fix is emotional and emotive, with a lot of important and relevant topics, but fell a bit short in wrapping them all up.
---
Don't Breathe a Word by Jordyn Taylor
Published by HarperTeen on May 18, 2021
Pages: 352
Format:eARC
Source:Copy provided by publisher for review, via Edelweiss



Present Day:Eva has never felt like she belonged... not in her own family or with her friends in New York City, and certainly not at a fancy boarding school like Hardwick Preparatory Academy. So when she is invited to join the Fives, an elite secret society, she jumps at the opportunity to finally be a part of something.

But what if the Fives are about more than just having the best parties and receiving special privileges from the school? What if they are also responsible for keeping some of Hardwick's biggest secrets buried?

1962:There is only one reason why Connie would volunteer to be one of the six students to participate in testing Hardwick's nuclear fallout shelter: Craig Allenby. While the thought of nuclear war sends her into a panic, she can't pass up the opportunity to spend four days locked in with the school's golden boy. However, Connie and the other students quickly discover that there is more to this "test" than they previously thought. As they are forced to follow an escalating series of commands, Connie realizes that one wrong move could have dangerous consequences.

Separated by sixty years , Eva's and Connie's stories become inextricably intertwined as Eva unravels the mystery of how six students went into the fallout shelter all those years ago . . . but only five came out.

Much like the author's debut, Don't Breathe a Word is told in dual perspectives from two different time periods. In this novel, we first meet Eva, who is feeling pretty lost in her current situation. She feels like an outcast in her new school, but she felt like one before, too. In the past time period, we meet Connie, who attends the same boarding school, only sixty years earlier.
I really loved both women's stories, frankly! They are connected by a mystery, one that unravels in Connie's time, but that Eva is trying to get to the bottom of. There are some things happening at the school that simply aren't sitting well with Eva, and I loved that she was willing to investigate, even if the cost could come to her personal happiness. Much of what Eva uncovers leads us to Connie's story, which took place during the Cold War, amidst some pretty serious paranoia.
I'm going to keep this very vague because it is, after all, about uncovering a decades long mystery! But I love how both women had to make some very serious, often uncomfortable decisions, and then had to deal with the fallout from said decisions. It was incredibly thought provoking, and I loved seeing how the stories came to connect so perfectly!
Bottom Line: An incredibly strong sophomore offering, Don't Breathe a Word pulled me in to both the mysterious circumstances and incredible characters from the start.

---
Off the Record by Camryn Garrett
Published by Knopf Books for Young Readers on May 18, 2021
Pages: 320
Format:eARC
Source:Copy provided by publisher for review, via Netgalley



The behind-the-scenes access of Almost Famous meets the searing revelations of #metoo in this story of a teen journalist who uncovers the scandal of the decade.

Ever since seventeen-year-old Josie Wright can remember, writing has been her identity, the thing that grounds her when everything else is a garbage fire. So when she wins a contest to write a celebrity profile for Deep Focus magazine, she's equal parts excited and scared, but also ready. She's got this.

Soon Josie is jetting off on a multi-city tour, rubbing elbows with sparkly celebrities, frenetic handlers, stone-faced producers, and eccentric stylists. She even finds herself catching feelings for the subject of her profile, dazzling young newcomer Marius Canet. Josie's world is expanding so rapidly, she doesn't know whether she's flying or falling. But when a young actress lets her in on a terrible secret, the answer is clear: she's in over her head.

One woman's account leads to another and another. Josie wants to expose the man responsible, but she's reluctant to speak up, unsure if this is her story to tell. What if she lets down the women who have entrusted her with their stories? What if this ends her writing career before it even begins? There are so many reasons not to go ahead, but if Josie doesn't step up, who will?

From the author of Full Disclosure, this is a moving testament to the #MeToo movement, and all the ways women stand up for each other.

Oh, how I fell in love with Josie and her story in Off the Record! I think a list will do it more justice, frankly, so I shall tell you every single thing that I loved about this story, and why it should be in your life!
Josie! I loved her. Loved. Her. She was so incredibly relatable and likable and I just clicked with her from the start. I think she's just written so well, that she felt like I was reading about an actual friend, you know? A character so fully fleshed out that you could truly understand what made them tick. I related to a lot of Josie's internal dialogue, too, which made me connect to her even more. Josie struggles with anxiety, which is likely another reason I identified with a lot of her thought processes. I thought the author did an incredible job putting Josie's anxiety into words, which is no easy feat!
The story is very writing-centered which is fun. Josie is an incredible writer, and she wins an opportunity to write a profile on the star of an upcoming movie. It's so cool because talk about an awesome opportunity! And she's so great that you are thrilled that she is chosen, of course. And obviously, she feels a little out of her element at times because so many of the people she encounters are straight up famous, but I love how she held her own even when she was super nervous on the inside!
Family stuff is complex and real. Wow did I feel Josie's relationship with her mom! Mine with my dad was so freaking similar, the comments about food and weight and clothes, ugh. So I felt that so hard. Josie also has some complex feelings about her sisters. She's much closer to her eldest sister, but finds her only way to go on this multi-city trip to be with her other sister. They don't always see eye to eye, but you can feel the love there. This whole family is just so awesome, frankly. They're absolutely flawed, but they love each other fiercely, and most importantly, they begin to communicate and grow. It's awesome, and exactly what I love from a family plot!
The romance is *chef's kiss*. Marius himself is just kind of the best. Like, it's super easy to see why Josie fell for him, he's just a great guy. Thoughtful, kind, funny, charming, smart, and yes, quite handsome. He's the whole package. But I loved that their relationship had tests along the way. Josie had her own internal struggles with insecurity, and Marius has a lot of his own demons to face. They also have to figure out how to communicate and grow, both together and on their own. I swooned.
The sexual assault piece was very timely and handled well. So, as you can imagine, it's a big part of the story. Imagine a Harvey Weinstein-type, who Josie uncovers has been assaulting and harassing one of the stars of the movie- among many, many others. Lots of people try to discourage Josie from going public with the story- and even Josie understands why they're saying it. Hollywood has turned a blind eye for a century plus, what's going to change? But Josie refuses to accept that, which is all the more reason to love her. A lot of people have a lot of awful stories to share along the way, but it's very worth it.
Bottom Line: I legit wished I owned a physical copy of this book so I could hug it when I was done. Is that weird? Maybe, but I'm okay with it. It made me happy, and hopeful, and tomorrow I can buy it and make my mom read it.
**TW for sexual abuse, assault and harassment 
Have you read any of these books? Plan to? Let us chat about them!