Here are the rest of my May (and apparently one August) books! Most were really awesome!
Breath Like Water by Anna Jarzab
I Am Here Now by Barbara Bottner
The Paper Girl of Paris by Jordyn Taylor
Unreconciled by W. Michael Gear

---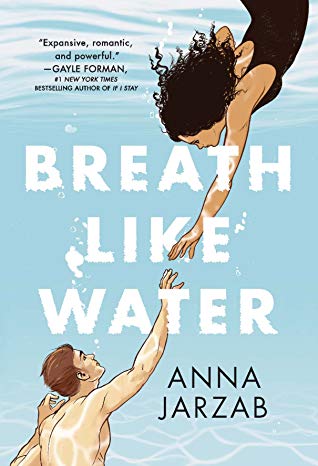 Breath Like Water by Anna Jarzab
Published by Inkyard Press on May 19, 2020
Pages: 416
Format:eARC
Source:Copy provided by publisher for review, via Netgalley


"Expansive, romantic, and powerful." —Gayle Forman

Susannah Ramos has always loved the water. A swimmer whose early talent made her a world champion, Susannah was poised for greatness in a sport that demands so much of its young. But an inexplicable slowdown has put her dream in jeopardy, and Susannah is fighting to keep her career afloat when two important people enter her life: a new coach with a revolutionary training strategy, and a charming fellow swimmer named Harry Matthews.

As Susannah begins her long and painful climb back to the top, her friendship with Harry blossoms into passionate and supportive love. But Harry is facing challenges of his own, and even as their bond draws them closer together, other forces work to tear them apart. As she struggles to balance her needs with those of the people who matter most to her, Susannah will learn the cost—and the beauty—of trying to achieve something extraordinary.

"It's just me and the water, the truest love story I have ever known."
So I really enjoyed this story! As many of you know, I have a pretty hardcore swimming background, and I get giddy excited for a swimming book! In Breath Like Water, the story is a swimming one for sure, but it also deals a lot with mental health and just growing up in general. So let me tell you all the great stuff about it, and maybe the one thing I had some issues with!
What I Loved:
Swimming, swimming, so much swimming! I adore swimming books! And the author did get quite a bit of the feelings part down! It's such a different kind of sport, and I think the author does that justice. It occupies such a huge part of Susannah's life, which is so accurate for any serious swimmer. You don't see the sunlight in the winters, basically, which the author even mentions! And I appreciated seeing Susannah's commitment to it, because there is just not enough of that in books, especially books with women characters.
Talking about body change impact. This never impacted me personally, but I know so many female athletes who struggled with this, especially in swimming. I was never long nor lean, and at 37 I still have no actual "womanly curves" to speak of, but so many swimmers in their youth have the long, lithe frame that is so easy to get through the water. And as they grow older, things change. And try as they may, their bodies just don't react the same way they used to. This is a huge thing for Susannah, and I loved that the author not only addresses it, but the steps to overcoming it. There's also talk about injury and pushing our bodies too hard, which is a big thing as well.
Sometimes you need to throw the whole coach away. I have said it before, and I'll say it again: I am so, so lucky to have had incredible youth coaches. My age group, high school, and summer coaches were some of the most incredible human beings I have ever had the pleasure of knowing. My college coach was… problematic. Much less problematic than Susannah's coach, but when I look back at why I didn't do as well in college as in high school, it's not a big shock as to part of the problem. Susannah thinks she needs this guy at first, can't be a champion without him, and the trajectory the story takes is quite positive in that regard.
Susannah's family is so supportive! They can clash at times because they don't really understand why Susannah is so all-in to swimming. And this frustrates Susannah, which is understandable. But I couldn't help but think about the flip side- when your parents are over-involved and even though they're coming from a good place, it's stifling. So I really enjoyed seeing this other side of the coin! But they have sacrificed over and over to help Susannah's career, and they are always 100% in her corner, which is kind of the best part. I also love how close she is with her mom!
Big focus on mental health, and being a good support. Susannah's boyfriend is going through some really rough stuff, and I thought the author handled it very delicately and appropriately. This storyline also illustrates how to be a good support system for someone who needs you to be there for them at a low point, and I think that is a lesson many more people need to hear.
The One Thing I Had Issues With:
Oddly enough… the swimming! Not that it was a huge focal point, goodness no! And look-

I will say upfront that if you didn't live and die by the water, you're probably not going to notice or care about this whatsoever.

But I'd be lying if I said it didn't bug me a bit. I also did read an uncorrected proof, so my hope is that it IS corrected, and this is moot! But since I cannot leave my house to check… here we are. Susannah's main event is the 200 and 400 I.M. Which is the 200/400 (yards or meters, depending on the pool/event) Individual Medley. The book, however, keeps calling it an "Intermediate Medley" and that is just not a thing. It also calls the Medley Relay an "I.M Relay" which isn't a thing because by definition, the I.M. is Individual. Then Susannah says "one thing I refuse to do is grow out my leg hair for the ritual shave before big meets". Okay first of all, that isn't why you do it. It's the whole regular season drag versus reduced drag and increased skin sensitivity taper meet  Second, it isn't optional! Especially for an Olympic-caliber athlete. My high school coach made us sign a straight up contract that we would abide by this stuff. Also you cannot put bubbles in a pool, you will ruin the filter. This I know from personally watching some incredibly uninformed people using shampoo in the pool when the showers broke. Just… you can't.
Bottom Line: A lovely story about perseverance, hope, and discovering who we are and who we want to be, I definitely recommend!
---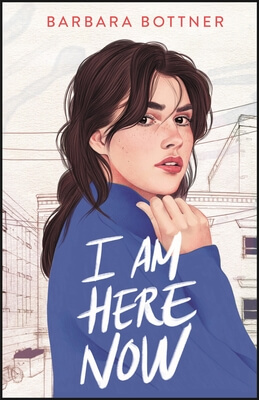 I Am Here Now by Barbara Bottner
Published by Imprint on August 4, 2020
Pages: 352
Format:ARC
Source:Copy provided by publisher for review


Set in the 1960s, Barbara Bottner's I Am Here Now is a beautiful novel in verse about one artist's coming of age. It's a heartbreaking, powerful and inspiring depiction of what it's like to shatter your life―and piece it all back together.

You can't trust Life to give you decent parents, or beautiful eyes, a fine French accent or an outstanding flair for fashion. No, Life does what it wants. It's sneaky as a thief.

Maisie's first day of High school should be exciting, but all she wants is to escape.

Her world is lonely and chaotic, with an abusive mother and a father who's rarely there to help.

So when Maisie, who finds refuge in her art, meets the spirited Rachel and her mother, a painter, she catches a glimpse of a very different world―one full of life, creativity, and love―and latches on.

But as she discovers her strengths through Rachel's family, Maisie, increasingly desperate, finds herself risking new friendships, and the very future she's searching for.

This book was supposed to come out in May, but is now scheduled to publish in August. Since I wasn't a fan and this is not exactly a glowing recommendation, I figured it didn't much matter if I posted early. I considered not bothering, but then kind of felt like if I slogged through, I might as well.
This is a very character-driven story, and I didn't like the main character from the start.  I had hoped she'd grow a lot during the course of the book, hence the character-drivenness. Unfortunately, that didn't really happen. She became a bit more self aware, but only after making people loathe her so much they screamed her faults at her. And here's the thing: Her life is fairly awful. Her parents are complete trash (her mom is absolutely abusive) and she's wildly unpopular, and so you do feel sorry for her. But then at some point, we're all responsible for our own actions, right? Being from a bad home doesn't really give you license to treat others terribly.
The story is set in the 1960s, but aside from some historical mentions, feels like it could be anywhen. Perhaps that's the point, but I would have enjoyed more of a 60s feel personally. The main plot is Maisie meeting Rachel at school, and becoming enamored with both Rachel and her artist mom and finding that she herself is quite interested in art. Only… they're all awful. Like yes Maisie is a mess, and she treats Rachel quite poorly, but let me assure you, Rachel isn't exactly Miss Congeniality either. And Rachel's mom acts more like a child than the children in the story, so she's a mess. So to recap, every single person Maisie has contact with is awful, Maisie included. I do like Maisie's brother, though that kid doesn't stand a chance being cooped up with these messes. Ditto Maisie's friend Richie. He was actually sympathetic and liked Maisie for whatever reasons I cannot fathom. But his father was also abusive, and again, he seemed to be trapped in a terrible situation.
The art plot also takes a huge backseat to the messiness of Rachel and her mom. Where you see that there is a glimmer of hope that Maisie may find a mentor, a passion… well, let's just say she finds more tragically awful people. Also, full disclaimer, I don't really care too much about art so that is probably more on me, not the book. A lot of other messy character stuff happens but it would be spoilery to tell you, and I think you all get the gist.
Bottom Line: I know people can be messy, but not everyone is awful, right? But this book says they are, and left me with a very unhealthy feeling of pessimism about the decency of humanity in general. Oh and also nothing really happened.

---
The Paper Girl of Paris by Jordyn Taylor
Published by HarperTeen on May 26, 2020
Pages: 368
Format:eARC
Source:Copy provided by publisher for review, via Edelweiss


Now:

Sixteen-year-old Alice is spending the summer in Paris, but she isn't there for pastries and walks along the Seine. When her grandmother passed away two months ago, she left Alice an apartment in France that no one knew existed. An apartment that has been locked for more than seventy years.

Alice is determined to find out why the apartment was abandoned and why her grandmother never once mentioned the family she left behind when she moved to America after World War II. With the help of Paul, a charming Parisian student, she sets out to uncover the truth. However, the more time she spends digging through the mysteries of the past, the more she realizes there are secrets in the present that her family is still refusing to talk about.

Then:

Sixteen-year-old Adalyn doesn't recognize Paris anymore. Everywhere she looks, there are Nazis, and every day brings a new horror of life under the Occupation. When she meets Luc, the dashing and enigmatic leader of a resistance group, Adalyn feels she finally has a chance to fight back. But keeping up the appearance of being a much-admired socialite while working to undermine the Nazis is more complicated than she could have imagined. As the war goes on, Adalyn finds herself having to make more and more compromises—to her safety, to her reputation, and to her relationships with the people she loves the most.

This was such a sweet, inspiring story! It starts with a young woman inheriting her grandmother's apartment (and apparently, her secrets!) in Paris, and weaves through an incredible tale about standing up against an oppressive regime (1940s) and finding out who you are, where you came from, and just generally speaking up for yourself (present).
Alice's story is sweet, and I enjoyed watching her sleuth all over Paris with a very lovely Parisian fellow. I also really liked how the author delved into her family life a bit, and how that was clearly a focus of the story overall. I didn't connect totally to Alice, but I enjoyed her nonetheless.
For me, the absolute bread and butter of this story was Adalyn's perspective. She's incredibly privileged and knows it, but uses it for good during the Nazi invasion of France. Without giving too much away, Adalyn refuses to just sit around while people are tortured and killed, but of course it must be kept a secret. And now, many years later, it's up to Alice to unravel this history of secrets.
I really don't want to say much else, because I fear it'll ruin the story which would be a shame. But it is absolutely one worth reading, as you'll no doubt be inspired by Adalyn's story, and probably wish you were Alice having coffee and being a detective in adorable Parisian cafes.
Bottom Line: A lovely story about families, secrets, and standing up for what's right no matter the cost.
---
Unreconciled by W. Michael Gear
Series: Donovan #4
Published by Daw Books on May 12, 2020
Pages: 496
Format:eARC
Source:Copy provided by publisher for review, via Netgalley


The fourth book in the thrilling Donovan sci-fi series returns to a treacherous alien planet where corporate threats and dangerous creatures imperil the lives of the colonists.

Where does one put a messianic cult of practicing cannibals? That becomes the question when Ashanti appears in Donovan's skies. She was designed for no more than four years in space. It's taken ten. The crew has sealed the transportees onto a single deck--and over the years, the few survivors down there have become monsters. Lead by the messiah, Batuhan, they call themselves the Unreconciled.

Supervisor Kalico Aguila settles them at remote Tyson Station. With the discovery of a wasting disease among the Unreconciled, it's up to Kalico, Dya Simonov, and Mark Talbot to try and deal with the epidemic. Only Batuhan has plans of his own--and Kalico and her people are to be the main course.

Talina Perez has brokered an uneasy truce with the quetzal molecules that float in her blood. Now, she, young Kylee Simonov, a quetzal named Flute, and a clueless nobleman named Taglioni rush to save Kalico's vanished party.

But as always, Donovan is playing its own deadly game. Lurking in the forest outside Tyson Base is an old and previously unknown terror that even quetzals fear. And it has already begun to hunt.

Just when I think I can't be more in love with the Donovan series than I already am, W. Michael Gear goes and kicks it out of the park again. This latest installment is far and away my favorite, each book adding so much complexity and depth to this incredible world that the author has created. Obviously, it's complicated when reviewing a fourth book in a series, so I am just going to tell you all the things I loved since there legit isn't a thing I didn't like!
Holy high stakes! Look, the stakes have been high since the moment these characters stepped foot on Donovan. That's not a spoiler, that's just the synopsis. Donovan literally will kill you if you hang out too long. But in this book? They're off the charts.
Grayer gray morality than ever! Is it okay to do the awfullest things if you're just trying to survive? Are there limits? If so, who decides them? And on and on and on. Because there are absolutely no clear cut answers, or "right" answers.
As such, it's beyond thought-provoking. I could not stop asking myself how I would handle the situations. What I would do, who I would become under similar circumstances. And more so, asking myself what is the closest to "right" answer when it came to some of these huge decisions.
The characters are more developed than ever. Because it's a larger cast, it took me a book or two to really get to care about them. I liked them from the start, but to be really invested. Now, I am all-in. They've all become so real and multi-faceted, and the fact that the stakes are so high obviously means none of your faves will ever be safe so that's scary.
Bottom Line: Gear continues to create plots and characters that are both eerily plausible and wildly entertaining. If you haven't started the series, do. If you have, continue, because this one is the best of them all!
Have you read any of these books? Plan to? Let us chat about them!