It's not a Shattering Stigmas post, it's just some awesome November releases that are happening that I have promised to review, yay! Also, did I mention they're awesome? I liked every one of these woooo!
These Violet Delights by Chloe Gong
Songs of Autumn by Lauren Sevier
Soulswift by Megan Bannen

---
These Violent Delights by Chloe Gong
Series: These Violent Delights #1
Published by Margaret K. McElderry Books on November 17, 2020
Pages: 464
Format:eARC
Source:Copy provided by publisher for review, via Netgalley


Perfect for fans of The Last Magician and Descendant of the Crane, this heart-stopping debut is an imaginative Romeo and Juliet retelling set in 1920s Shanghai, with rival gangs and a monster in the depths of the Huangpu River.

The year is 1926, and Shanghai hums to the tune of debauchery.

A blood feud between two gangs runs the streets red, leaving the city helpless in the grip of chaos. At the heart of it all is eighteen-year-old Juliette Cai, a former flapper who has returned to assume her role as the proud heir of the Scarlet Gang—a network of criminals far above the law. Their only rivals in power are the White Flowers, who have fought the Scarlets for generations. And behind every move is their heir, Roma Montagov, Juliette's first love…and first betrayal.

But when gangsters on both sides show signs of instability culminating in clawing their own throats out, the people start to whisper. Of a contagion, a madness. Of a monster in the shadows. As the deaths stack up, Juliette and Roma must set their guns—and grudges—aside and work together, for if they can't stop this mayhem, then there will be no city left for either to rule.

1926. Shanghai. Debauchery. You hooked yet? I was. The premise for this book was beyond outstanding, and wow did it deliver! I'll get the only minor flaw I had with the book out of the way: It took me a hot second to get into the story. I think that is maybe more on me, and my own trouble wrapping my head around complex situations. But it didn't take long for me to fall into this world and these characters wholly and completely.
As if warring gangs killing each other in the streets wasn't treacherous enough, a plague has befallen the city, and neither group is immune from its wrath. So to say the least, the stakes are sky high. Juliette has just returned from overseas and is poised to lead her family's Scarlet Gang, and is of course hoping to help them live through this plague. Her rival (and former lover) Roma's family are leaders of the White Flowers, a Russian gang, and neither group is feeling like playing nice with the other, even for the greater good.
But Juliette and Roma are a bit more sensible than their older counterparts, and are at least willing to try to defeat the problem together. Joining them is a wonderfully developed cast of characters from their individual families (and Families, of course). I loved the complex relationships that each character had with their respective groups, and obviously with each other. I felt so invested in them, and hoped of course that they'd survive to see another fight.
I'll say no more for fear of spoiling anything, but if you are like me and find the premise fascinating, you must give it a try. It's dark, deliciously so, and the atmosphere for exploring the city in such harrowing times is completely on point. I am eagerly awaiting the sequel, as I cannot wait to see if the fates of our beloved characters will match those of their characters of inspiration.
Bottom Line: Between getting a glimpse of 1920s Shanghai, a very high stakes situation for not just our main characters but the city at large, and wonderfully complex and equally flawed characters who will own your whole heart, These Violent Delights mustn't be missed.

---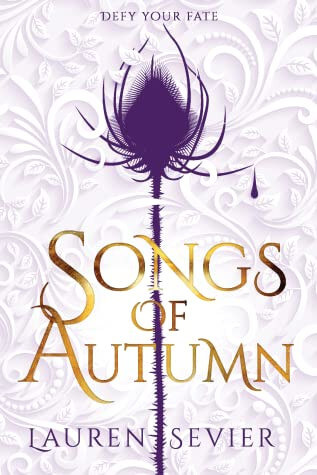 Songs of Autumn by Lauren Sevier
Series: Songs #1
Published by Lauren Sevier on November 21, 2020
Pages: 260
Format:eARC
Source:Copy provided by author for review


What if your entire life you knew the exact day you were going to die?

​Liz does.

​Magick in the Kingdom of Aegis has almost run out. When that happens, the seasons will stop changing, the tides will cease to turn, and the sun will no longer be able to rise and set. The only way to save the lives of her people is if Liz agrees to be a blood sacrifice in a brutal ceremony that will take her life.

​The problem is... Liz isn't ready to go.

​With the help of a mischievous wanna-be soldier, Matioch Steele, Liz dares to take her fate into her own hands. Defying a blood-thirsty sorcerer, her desperate flight teaches her how to truly live while Mat finds out what's worth dying for. Each other.

​Love, Death, Magick, and Mystery come together to weave one girl's epic tale of self-discovery.

​Her song will echo within us all.

This was such a fun and fast book! I quite enjoyed it, and figured I would do a nice breakdown of what I liked (which was a lot!) and what I didn't (which is really just two things, and one of them is pretty minor). Let's get to it!
The Yays:
I felt for Liz immediately. I mean, talk about no good choices! She basically has to die for her people, in a way that she doesn't even really believe will save them, or run for her life but in doing so, having her people lose faith in her. You cannot help but cheer for Liz. She doesn't deserve to die because of some (possibly bogus) prophecy, but we all know how absurd unreasonable people can be. Especially when Liz dying is the "easy" solution for them. Which, to me as a reader, made me want Liz to run to safety even more, of course!
It's a wonderfully paced adventure! I can't help it, I love when characters have to go on the lam. I love a good survival travel story, and this book has it for sure. The stakes are so high, because obviously Liz cannot be captured. But also, there are all kinds of other things at play. People hunting her, and political issues that she's been kept in the dark about.
Loved the other characters just as much! Matioch is a sympathetic character as well, though at first perhaps less than Liz. He's flawed, no doubt, acting with self-preservation in mind, but as the story goes on we begin to see who he really is. Tia, Liz's best friend, is another wonderful bright spot in the story. She grounds Liz, and gently but firmly reminds Liz who she needs to be. I adored their friendship so much.
The Nays:
The romance felt a little insta-lovey. It wasn't like, eye-roll worthy or anything, I just kept getting a nagging feeling. Especially since at the start of the story, Matioch was very not ready to settle down. I think it's supposed to show how special Liz is to him, which I understand, but it was just a little quick for me- especially considering that they both had to give up a lot.
There is a part of the story where Matioch says he won't "ruin" Liz. And that irked me. I am hoping that this is to highlight the awfulness of the patriarchal society that thinks this way of thinking is acceptable, but it just wasn't clear enough. And so it made me a bit stabby.
Bottom Line: A fast paced, high stakes story with enjoyable characters, I will definitely be picking up the next book to find out what will become of Liz and Mat!
---
Soulswift by Megan Bannen
Published by Balzer + Bray on November 17, 2020
Pages: 480
Format:eARC
Source:Copy provided by publisher for review, via Edelweiss


A dark, epic fantasy about a girl who must reevaluate everything she believes after she is betrayed and hunted by the religion that raised her—from Megan Bannen, author of The Bird and the Blade. Perfect for fans of The Winner's Curse and The Girl of Fire and Thorns.

Gelya is a Vessel, a girl who channels the word of the One True God through song. Cloistered with the other Vessels of her faith, she believes—as all Ovinists do—that a saint imprisoned Elath the Great Demon centuries ago, saving humanity from earthly temptation.

When Gelya stumbles into a deadly cover-up by the Ovinists' military, she reluctantly teams up with Tavik, an enemy soldier, to survive. Tavik believes that Elath is actually a mother goddess who must be set free, but while he succeeds in opening Her prison, he inadvertently turns Gelya into Elath's unwilling human vessel.

Now the church that raised Gelya considers her a threat. In a race against the clock, she and Tavik must find a way to exorcise Elath's presence from her body. But will this release stop the countdown to the end of the world, or will it be the cause of the earth's destruction? And as Tavik and Gelya grow closer, another question lingers between them: What will become of Gelya?

Megan Bannen enjoys making readers suffer. That's just a fact. Another fact? She can destroy me any day of the week, because her books are just that fabulous. I fell wholly in love with The Bird and the Blade, and you can imagine that my expectations for Soulswift were high. But they were met and exceeded, of course.
Gelya was raised in a religious sect, told she was special, but also was completely at the disposal of those around her. The society was extremely patriarchal, and Gelya had known nothing else, so she accepted her lot in life. Until she finds herself in an unimaginable nightmare of violence and upheaval, throwing her faith into question.
To survive, she must trust the jarring, seemingly heretical final words of her mentor and friend and follow Tavik, the man she was told was her enemy to safety. They face a long  journey (both physically and emotionally) to attempt to save both Gelya and the world at large, struggling the whole time with who to trust, which version of the story is closest to correct, and how to balance the loss of everything they've known. This of course falls much harder on the long-sheltered Geyla, who finds that she perhaps doesn't know the half of what has been going on outside of her convent.
Gelya's learning about the world around her and making up her own mind about who and what to trust was so lovely. Tavik obviously wished her to see things as he did, but he let her figure it out on her own time, even if that was risky. Tavik, while not having quite as dramatic of revelations, still had to grapple with plenty of betrayal and fallacies of his own. And quietly, unexpectedly, their feelings about each other begin to transform.
This story is completely beautiful and heart wrenching at once. It explores faith so well, and makes the reader ask questions just as Gelya does. And in the process, Geyla and Tavik still have to survive, relying on the kindness of strangers, and hope in humanity.
Bottom Line: Just like its predecessor, Soulswift was gorgeously written, completely compelling, and owned my full heart from the first page.
Have you read any of these books? Plan to? Let us chat about them!