Hello, chums! Today I am super excited to share with you some info about a book you should definitely add to your TBR! ARCs weren't available so I don't have a review for you, but I can tell you that I adored its companion, Fear the

Drowning

Deep! So I shall share an excerpt,  then a chance to win your own copy of the book!!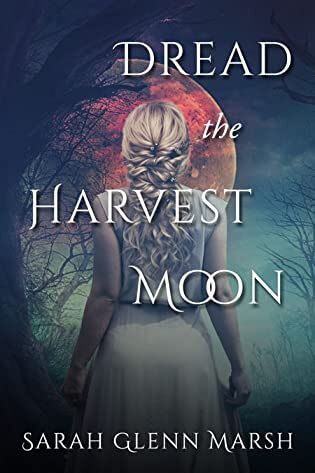 Dread the Harvest Moon
by Sarah Glenn Marsh
Published by Ivy Press
on October 13, 2020
Pages: 354

A companion novel to Fear the Drowning Deep, an NPR Great Read of 2016.

Three tasks. Two worlds. One deadly queen.

Always follow the rules.

That's what seventeen-year-old barmaid Liss Corkill does. She's never cursed or kissed a boy, and until two years ago, when a mythical serpent kidnapped her, she was never late to anything. She knows that if she were like her free-spirited older sister Bridey who sailed to America just before the Great War, her mother would be devastated. Liss is determined to be what everyone expects, even if that means giving up her dreams.

Unless the faeries make you break them.

When Liss accidentally interferes in a fairy queen's quest for true love, she's pulled into the vast and dangerous world of Un-Mann, a magical realm as old as the Isle of Man itself. As punishment for her mistake, Liss must complete three tasks for the queen by the night of the Great Harvest Moonlight, the fairies' biggest yearly celebration.

Or you find something worth dying for.

Liss's attempts to complete her tasks are met with constant misfortune, as if someone doesn't want her to win. But she has powerful friends: the town witch, Morag, and her sister's best friend, Cat, who she's secretly falling for as they hunt sea monsters by night to protect their home. Sensing a need for inspiration as the final gruesome task draws near, the queen marks Liss's little sister for death unless Liss succeeds.

Her sister. Her town. Her dreams. If she can't own who she is and make some new rules, Liss will lose it all.
Dread the Harvest Moon
My feet mindlessly following the well-worn path to home, I thought of the post-hunting ritual I would soon begin: sneak down the hall into my bedroom; tuck my spear alongside the slats in my bed frame; strip off my soaked, muddy, or bloody skirt—and the pants worn underneath—and stuff it all in the bottom of my wardrobe until I could wash them myself; put on my nightgown; and last, tiptoe to the front door to add an extra splash of milk to the fairies' bowl, paying my respects to Them before finally falling into the dreamless sleep of the permanently exhausted.
Mam thought I was putting in late shifts at the tavern to set aside a savings for myself, since I put all my regular wages toward the family's needs. I'd catch her glancing at me sometimes, when she thought I wasn't looking, her eyes narrowed like she was trying to decide if I was planning to run away to America after you, Bridey. Of course, she didn't need to worry. I had no savings, and even if I did, I couldn't possibly go anywhere. It would break Mam's heart even worse than if she found out I was lying about the extra tavern shifts, and I couldn't do that to her. You and Mally had your adventures and went away, and everyone expects Grayse will do the same one day, when it's her turn. That left me to be the responsible one. The one who stayed on the isle forever. But that was all right with me. Everything I wanted was here, even if it all seemed destined to remain a dream.
Something drew me from my thoughts. Something—I wasn't sure what.
There was a nagging at my senses that I couldn't quite place, and stopping made me realize how much I needed to catch my breath and rest my leg. Planting my spear on the ground and leaning against it, I ran my fingers over the scarred white flesh of my calf, over the old wounds that reminded me every day that I was stronger than my nightmares.
There was nothing out of the ordinary about my surroundings, nothing that should have put me on alert. Ahead, white clapboard houses with thatched roofs huddled low together like a flock of sheep, their respectable owners already abed. A few lean trees, their spines crooked after decades of being pushed in every direction, swayed with the shifting wind. Farther off and out of sight were the cliffs and the waves beneath, where the siren's corpse was, no doubt, being picked apart by tiny greedy mouths.
Overhead, a gull screeched mournfully.
A baby cried for milk in a nearby cottage, and a lamp flickered to life in an upstairs window almost at once.
All of this was regular as the tides, and yet—the hair on my arms stood on end.
I turned my back on town and glanced to my right, beyond a few scattered stone houses to the fields and glens that stretched inland for several untamed miles. Still, I saw nothing. I took a bracing breath of salt air and closed my eyes.
The faint whine of a fiddle made them snap open.
I'd heard this sort of music once before, on a night quite like this one. I braced my spear between my feet and hastily shoved the cotton balls back in my ears. Music like this had sent several innocent people to their deaths two summers ago, following an unseen fiddler's phantom strings to a watery grave.
Music like this had killed my grandfather.
Music like this had almost killed me.
#
I should have gone home. I should have turned my back on that melody and run, or as close to running as I could manage, to check on Grayse and Mam.
But I didn't, because the music made me feel like singing.
Between washing dishes at the Sailor's Rest, running errands for Morag, helping with chores at home, assisting Mam with her dressmaking, and hunting monsters, I couldn't remember the last time I had done anything just for me. Not for my family, not for a friend, not for the good of our town—but for me alone.
And while the serpent had swallowed some small part of who I used to be along with bits of my flesh, it hadn't taken my love of music. If it weren't for the fiddles and the drums that made up the lively heartbeat of Ms. Katleen's tavern, I would have stopped working there two years ago. Because the thing about music is, if it's in your blood, if you feel it right down to your bones, no one can ever truly steal it from you. It will draw you, time and again, like the moon tugs at the mighty ocean.
So I picked up my spear, changed direction, and followed the sound. Even though Mam would worry. Her little brother disappeared not far from here, on a misty night many years ago, never to be seen again. Even though this was the hour when They entered our world, the cruel and mischievous fairies of the isle I'd been warned about since I could crawl.
The last time I thought I knew better than Mam, I wound up nearly losing a leg.
But this melody wasn't like the fossegrim's, nor was it like the serpent's illusions, compelling my feet against my will. This song was a private, sacred thing between me, the dark, and the mysterious musician.
I would only listen for a few minutes, I promised myself. Then I would hurry home and return to being a hard worker and a dutiful daughter, go back to being everybody else's girl, the one they all needed me to be.
Winner will receive  signed copies of FEAR THE DROWNING DEEP and DREAD THE HARVEST MOON. (US only, I'm afraid!)

-Signed Bookplate
-Bookmark
-4×6 art print
-Short story taking place between the two books (emailed to you)
Preorder Goodies Form Link: https://docs.google.com/forms/d/18tnXTk6uXDffiSfa84K3yblc0XouwONGp0gDdjbkshE/viewform?edit_requested=true
So, what do you think, dears? Are you excited for this one?