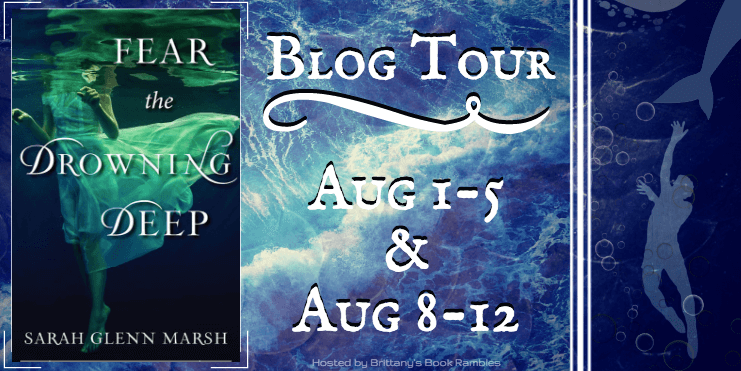 Welcome to my stop on the blog tour for Fear the Drowning Deep by Sarah Glenn Marsh, hosted by Brittany's Book Rambles!! I am super excited to be part of this one, because I adored this book, and can't wait to share my thoughts with you! 
Fear the Drowning Deep
by Sarah Glenn Marsh
Published by Sky Pony Press
on October 4th 2016
Pages: 304
Format:eARC

Witch's apprentice Bridey Corkill has hated the ocean ever since she watched her granddad dive in and drown with a smile on his face. So when a dead girl rolls in with the tide in the summer of 1913, sixteen-year-old Bridey suspects that whatever compelled her granddad to leap into the sea has made its return to the Isle of Man.

Soon, villagers are vanishing in the night, but no one shares Bridey's suspicions about the sea. No one but the island's witch, who isn't as frightening as she first appears, and the handsome dark-haired lad Bridey rescues from a grim and watery fate. The cause of the deep gashes in Fynn's stomach and his lost memories are, like the recent disappearances, a mystery well-guarded by the sea. In exchange for saving his life, Fynn teaches Bridey to master her fear of the water — stealing her heart in the process.

Now, Bridey must work with the Isle's eccentric witch and the boy she isn't sure she can trust — because if she can't uncover the truth about the ancient evil in the water, everyone she loves will walk into the sea, never to return.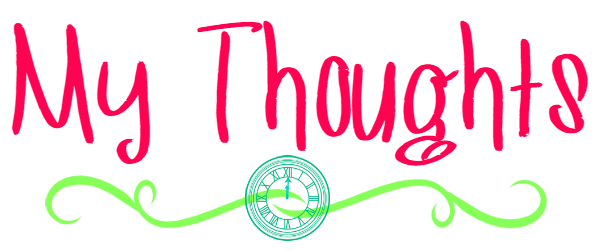 First thing you need to know about this book: the atmosphere is incredible. Like, I could feel the eerie, unsettling vibe of a sea town in distress. The story is set in 1913, which totally adds to the ambience- obviously no one can call for help, transportation is minimal, etc. It created a sense of urgency and isolation, and I loved it so much!
The setting was obviously perfect for strange disappearances at sea. Bridey is all too familiar with this, since she lost her beloved grandfather to one such incident, and has never been able to venture near the sea since. But as the stakes get higher and higher, Bridey gets bolder and bolder. It makes sense to the story, because Bridey cares deeply about her family and friends, which was another huge plus to this book. Bridey's family plays a huge role in the story, which is incredibly refreshing. And while they had their moments of butting heads, it was quite clear that they were a close, loving family. Bridey also had some close friendships, which had their ups and downs as typical friendships do. The family and friend relationships in the book seemed incredibly relatable and realistic. There is a romance, and I was a fan for sure. The synopsis tells you a bit about Fynn, but there is so, so much more to it than that, so I will just let you discover this for yourself.
The plot had me hooked, too. I wasn't sure at first, because I will fully admit that I get wary of mythical creatures and such, but there was no need to worry because it all felt very authentic, especially since the townspeople were so skeptical too. That made me feel like the whole situation was more realistic, because of course the town would not believe in magic and sea creatures without some serious proof!
The story is about the perilous situation for Bridey and her town, yes. But it is also a story of Bridey overcoming her own fears and demons, of growing up, and of navigating relationships and life in general. Add to that, it's incredibly well written, it makes for a huge win.
My only real qualm with the book is that I had hoped that the ending would have been a bit more wrapped up- there were a few open ends, which some people will probably be fine with, but worth a mention!
Bottom Line: Fear the Drowning Deep is a haunting, atmospheric tale of a young woman trying to save her loved ones while discovering her strength. Beautifully written, and not one to miss!

The Isle of Man
I love to travel. Like, a lot. I have an insatiable wanderlust, and the Isle of Man is my newest victim, after reading Fear the Drowning Deep! Yes, I know that it was set 100 years ago, and I mean, I'm a little skeptical of the sea thanks to Sarah, but everything about it just screams gorgeousness! So I decided to do a little looking around and give you guys a peek into the setting of this book, Isle of Man!
---
Open INTL, the winner will be given an ARC of Fear the Drowning Deep, plus the tote bag designed by Evie Seo!
a Rafflecopter giveaway
Follow the Tour!

Week 1: 

8/1 –   Bookish Lifestyle – Excerpt + Tote Design

8/2 –   A Perfection Called Books – Review + Pinterest Board

8/3 –   Booknerd Addict – Review

8/4 –   Caught Read Handed – Review + Interview

8/5 –   Dana Square – Review

Week 2: 

8/8 –   Alexa Loves Books– Bookish Style Files

8/9 –   It Starts at Midnight– Review

8/10 – The YA Book Traveler – Interview

8/11 – Brittany's Book Rambles – Review + Playlist

8/12 – Stories & Sweeties – Bonnag Recipe + Excerpt
So, what do you guys think? Are you fascinated by the Isle of Man? By the sea in general? Are you excited for Fear the Drowning Deep?