These books come out on September 1st! Along with like, a million other books, so this isn't even all the books I have to review that come out that day, whoopsie! But good news, I liked every last one of these, yay!
Road Out of Winter by Alison Stine
Fable by Adrienne Young
Save Steve by Jenni Hendriks & Ted Caplan
As the Shadow Rises by Katy Rose Pool
Not Your #LoveStory by by Sonia Hartl

---
Road Out of Winter by Alison Stine
Published by MIRA on September 1, 2020
Pages: 320
Format:eARC
Source:Copy provided by publisher for review, via Netgalley


In an endless winter, she carries seeds of hope

Wylodine comes from a world of paranoia and poverty—her family grows marijuana illegally, and life has always been a battle. Now she's been left behind to tend the crop alone. Then spring doesn't return for the second year in a row, bringing unprecedented extreme winter.

With grow lights stashed in her truck and a pouch of precious seeds, she begins a journey, determined to start over away from Appalachian Ohio. But the icy roads and strangers hidden in the hills are treacherous. After a harrowing encounter with a violent cult, Wylodine and her small group of exiles become a target for its volatile leader. Because she has the most valuable skill in the climate chaos: she can make things grow.

Urgent and poignant, Road Out of Winter is a glimpse of an all-too-possible near future, with a chosen family forged in the face of dystopian collapse. With the gripping suspense of The Road and the lyricism of Station Eleven, Stine's vision is of a changing world where an unexpected hero searches for a place hope might take root.

I read Road Out of Winter during an incredible heatwave, and remember saying that I really don't love the idea of the heatpocalypse. It just doesn't sound fun. But then reading this book, I realized I would also not love the coldpocalypse. So basically, no apocalypse will be great, which… I guess I should have already known but here we are. So let us talk about what I liked and what left me wanting more!
The Things I Loved:
Felt so realistic! Things start out messed up and then…. slowly devolve into complete anarchy. Sounds legit, right? At first, it felt eerily similar to the pandemic response: people were buying out stores, panic hoarding, etc. But then when all the stocks were depleted, they started fully panicking and running for… well, who knows what a person runs from when the end is near, but run they do. In this case, I suppose the hope of a more temperate climate, but I assume that would present its own problems? There's the fun though, right?
Loved the characters. Not a one of them was perfect. They all had a ton of baggage and flaws, and that is what made me appreciate their end of the world struggles. Because you still have to deal with your actual life crap while trying to survive, and I love that the author highlighted that through family and relational issues, stereotypes that were still going strong even as the world collapsed, and past mistakes.
I love a road trip! I mean, this wasn't a happy time adventure, but it was still a road trip. And they brought a tiny house along! I have a real thing for tiny houses, so this was just extra fun. Plus I love the extra excitement that a road trip brings to a book. Especially in an apocalyptic situation.
It was absolutely a high stakes adventure. Speaking of, there was a lot going on in this book! The gang met some unsavory folks along the way, and things got pretty chaotic. I loved it both for plot purposes, and the fact that there will undoubtedly be a lot of terrible people at the end of the world, and I liked that this book highlighted that.
The One Thing I Struggled With:
The ending was kind of open and I wanted to know more stuff! Because the perspective was limited to Wil's knowledge, it made sense that we didn't have much of an idea what was going on outside of her area. Which was fine, I enjoyed finding out as she did! But gosh, I want to know more, so much more! I am really keeping my fingers crossed for a sequel.
Bottom Line: Coldpocalypse is a mess and so are humans. An exciting adventure that feels eerily plausible, I definitely recommend!
---
Fable by Adrienne Young
Series: Fable #1
Published by Wednesday Books on September 1, 2020
Pages: 368
Format:eARC
Source:Copy provided by publisher for review, via Netgalley


As the daughter of the most powerful trader in the Narrows, the sea is the only home seventeen-year-old Fable has ever known. It's been four years since the night she watched her mother drown during an unforgiving storm. The next day her father abandoned her on a legendary island filled with thieves and little food. To survive she must keep to herself, learn to trust no one and rely on the unique skills her mother taught her. The only thing that keeps her going is the goal of getting off the island, finding her father and demanding her rightful place beside him and his crew. To do so Fable enlists the help of a young trader named West to get her off the island and across the Narrows to her father.

But her father's rivalries and the dangers of his trading enterprise have only multiplied since she last saw him and Fable soon finds that West isn't who he seems. Together, they will have to survive more than the treacherous storms that haunt the Narrows if they're going to stay alive.

Welcome to a world made dangerous by the sea and by those who wish to profit from it. Where a young girl must find her place and her family while trying to survive in a world built for men.

Fable kind of sucked me in, especially once it got going! So let us break down the stuff I really loved versus the stuff I maybe wanted some more of!
What I Loved:
I could really feel for Fable. Girl has had a really rough go of things, and I feel like if I was her, I'd have collapsed in a corner somewhere, crying and rocking back and forth in the fetal position. But nope, not Fable. She keeps on keeping on. And I loved that!
Just as I loved Fable, I loved the crew of the Marigold. I think this is, in general, my favorite thing about seafaring books- they come with such a tight knit crew, and the author ensured that this one was no different! One thing I liked was that we find out who they are very slowly, as they've all been through so much that they're wary of letting strangers too close. Honestly, it felt realistic, especially in this world.
The world is dark. Oy, I'd not want to live here, frankly. You know, places where it seems totally legit for dads to drop their kids off on creepy islands for years on end, places where getting robbed and attacked is more the norm than the exception… hard pass. But I do love reading about it! Plus, it makes for extra high stakes!
Family secrets! I love a good family secret mystery, and they were aplenty! And look, you can tell that Fable wanted her relationship with her dad to be more, but I think that sometimes it's necessary to acknowledge that it won't be- both in life and in fiction- so I was kind of glad that it wasn't all puppies and rainbows. There were some other secrets too, but I'll leave those alone because… well, spoilers!
It moved quickly and was so readable! I just kind of found myself in it, you know? And didn't really want to put it down! I immediately added the sequel to my TBR!
What I Would Have Liked More Of:
World-Building. I just wanted to know a bit more about this place, frankly. Like okay it's kind of a mess, but why? I couldn't really get a good feel for the places or if they were supposed to be different, etc.
It's a little predictable. Look, it wasn't like, annoyingly so or anything, so I don't want to scare anyone off. But I also gotta be honest ha. And I don't mean that the whole plot was easy to predict, just… a few bigger points.
Bottom Line: So entertaining and a dark, fun ride, I will absolutely be reading the sequel!
---
Save Steve by Jenni Hendriks, Ted Caplan
Published by HarperTeen on September 1, 2020
Pages: 320
Format:eARC
Source:Copy provided by publisher for review, via Edelweiss


Steve Stevenson is an asshole. That might not be a cool thing to say about someone with cancer, but it's true. Yeah, he throws legendary parties and is the most popular guy in school, but he also loves humiliating pranks, Cardi B, and doesn't recycle. Worst of all, he's dating Kaia—the girl of nice guy Cam's dreams.

But when a desperate Kaia asks Cam to help her raise money to pay for Steve's experimental treatment, Cam offers to organize the biggest, most viral fundraising campaign—SaveSteve.com. Maybe then Kaia will finally see Cam as the perfect, thoughtful, altruistic, good guy for her. But Steve's no fool. He's totally on to Cam's plan. And to stop him from stealing his girlfriend, he's going to do whatever it takes to make Cam's life as miserable as his own.

From Jenni Hendriks and Ted Caplan, authors of Unpregnant, comes a quirky, funny story about the pressures of who others expect you to be and what it really means to do the right thing.

After reading this author duo's lovely debut, Unpregnant, last year, I added this book to my TBR basically immediately. And it had the same humor mixed with important lessons and character development that its predecessor had! So, what did I like and what did I not enjoy as much? Read on!
Yays:
There were lots of funny moments! This is definitely what I expected from this writing duo, and it didn't disappoint. Especially considering that it's a fairly serious premise (young person with cancer is always rough!), the dark humor was just really on point. Is it absurd at times? Sure, but that's part of the fun!
I liked that Cam was really close with his mom! I'll get to that more later (yes, it happens to be a part of my "nays" as well, but that's okay!), but I really admired that they both worked at their relationship. Cam really did embrace a lot of the (very important, tbh) lessons that his mom tried so hard to impart on him, even if he slipped up (and he did, again, see below).
I 100% liked the will-they-won't-they bromance more than the actual love interest. Kaia was fine, but she wasn't what propelled me forward. I kept hoping that Steve would come around, and that Cam's motives would become purer. I wanted these two to be besties, forever. I won't tell you what happens and whether they do, but it was so fun to read!
All of the characters do grow and learn a lot. They might start out pretty questionably, but everyone starts to engage in some much needed self-reflection, yay!
Nays:
This is completely a personal thing, but Cam's cringiness got to me. See, Cam's mom is a single mom trying to raise him to be… not a typical white guy jerk. Which is admirable! And like, same! It is my whole life's goal that my son is not a white guy jerk too! Which is why, when Cam is so, it just… ouch. But like, he did eventually realize it, which is why I still enjoyed the book so much.
Bottom Line: Save Steve is… look, it's a funny yet heartfelt cancer book. And yes, those things can coexist, and they do so beautifully here!
---
As the Shadow Rises by Katy Rose Pool
Series: The Age of Darkness #2
Published by Henry Holt and Co. (BYR) on September 1, 2020
Pages: 496
Format:eARC
Source:Copy provided by publisher for review, via Netgalley


Six of Crows meets Graceling with a dash of Winter is Coming in this second installment of the action-packed and swoon-worthy Age of Darkness series!

The Last Prophet has been found, yet he sees destruction ahead.

In this sequel to the critically-acclaimed There Will Come a Darkness, kingdoms have begun to fall to a doomsday cult, the magical Graced are being persecuted, and an ancient power threatens to break free. But with the world hurtling toward its prophesized end, Anton's haunting vision reveals the dangerous beginnings of a plan to stop the Age of Darkness.

As Jude, Keeper of the Order of the Last Light, returns home in disgrace, his quest to aid the Prophet is complicated by his growing feelings for Anton. Meanwhile, the assassin known as the Pale Hand will stop at nothing to find her undead sister before she dies for good, even if it means letting the world burn. And in Nazirah, Hassan, the kingdom-less Prince, forms a risky pact to try to regain his throne. When the forces of light and darkness collide in the City of Mercy, old wounds are reopened, new alliances are tested, and the end of the world begins.

The Age of Darkness trilogy, which the Amazon Book Review called "the next big fantasy series," is perfect for fans of Throne of Glass, Children of Blood and Bone, and An Ember in the Ashes.

I read and really fell in love with There Will Come a Darkness last year, especially the characters. So I was super excited to join back up with the gang in this sequel! (To be wholly honest, I thought this was a duology. I have no idea why I thought that, but I did. It isn't, there is definitely a third book!) Anyway, I am going to get my only negative out of the way first: I did have a bit of trouble getting back into it, remembering who/what/where everyone was, etc. There are quite a few main characters, and they ended up all over the place, and I did struggle a little at the start. But it was totally worth it, because once I got into it, I really got into it!
The characters, as in the first book, are just the best. They are all so incredibly well-developed, with such complex personalities and story arcs, yet still it doesn't feel overwhelming. Their relationships with each other are equally complex, and so well done. I loved wondering who was going to meet up with who, and whether they'd fight or join forces!
As for the stakes, they're sky high. We learn in book one that there is a doomsday prophecy of sorts, and so you can imagine that everyone is on edge, and rightfully so. There are factions who want the prophecy to come to fruition, those who don't, and those who have their own agendas entirely. It's good stuff, especially when you grow to care about the characters so much that you can kind of see everyone's points of view. Makes for some awesome gray morality, which I love! And frankly, the whole thing was just plain entertaining!
Bottom Line: A very solid sequel that features all the characters we've grown to love, along with an exciting morally gray plot. Looking very forward to the next book!
---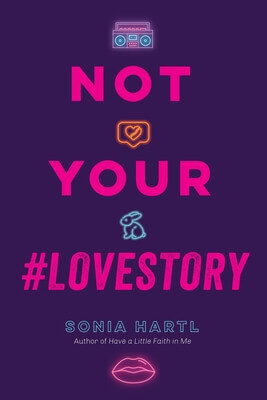 Not Your #Lovestory by Sonia Hartl
Published by Page Street Kids on September 1, 2020
Pages: 288
Format:ARC
Source:Copy provided by publisher for review


#PlaneBae meets Gilmore Girls in this hilarious and heartfelt story about the addictiveness of Internet fame and the harsh realities of going viral.

Macy Evans dreams of earning enough income from her YouTube channel, R3ntal Wor1d, to leave her small, Midwestern town. But when she meets a boy named Eric at a baseball game, and accidently dumps her hotdog in his lap, her disastrous "meet-cute" becomes the topic of a viral thread. Now it's not loyal subscribers flocking to her channel, it's Internet trolls. And they aren't interested in her reviews of VHS tapes—they only care about her relationship with Eric.

Eric is overly eager to stretch out his fifteen minutes of fame, but Macy fears this unwanted attention could sabotage her "real-life" relationships—namely with the shy boy-next-door, Paxton, who she's actually developing feelings for. Macy knows she should shut the lie down, though she can't ignore the advertising money, or the spark she gets in her chest whenever someone clicks on her videos. Eric shouldn't be the only one allowed to reap the viral benefits. But is faking a relationship for clicks and subscribers worth hurting actual people?

I loved Sonia Hartl's debut, Have a Little Faith in Me, and was so excited to read her sophomore follow up. And it was awesome. Like, I probably won't be able to put into words how completely I fell in love with this thing, but I'll go ahead and give it a shot.
Gotta admit, I was in love with the characters from the actual first chapter. No lie, first note I made on my phone. That is remarkable, frankly, because usually it takes me a hot second to warm up. But nope. And while I absolutely adore Macy, the whole gang was perfect. From Macy's friends to her family, they were just *chef's kiss*.
Speaking of family, can we talk about how awesome Macy's was? It's a three-generational household full of the best, feistiest, badassiest women ever. Macy's mom had her very young (and fine, maybe I had a wee mental breakdown over the fact that a parent in a YA book was younger than me, but shh), but the book totally shatters "teen mom" stereotypes because Macy's mom is the best. And yeah sometimes she's worried that Macy will repeat her mistakes, but that feels only natural! And don't even get me started on my love for Macy's grandma! She has a quilting group and they are an absolute riot. She reminded me of my grandma, also my mom's mom (who incidentally was also a teen mom and rocked it), and I miss her so much, this just warmed my heart.
It's super sex-positive, and full of feminist messages. I mean, what else is there to say, it's perfect!
The romance owned me. Truly, the love interest was kind of awesome. I am a complete sucker for the nice guy (who is an actual nice guy) and this whole romance was awesome.
Macy's friends were fabulous too. Like I want to hang out with them too! And frankly, I was so glad that Macy had so, so many amazing people in her corner, because she deserved it.
The whole "viral meet-cute" was a complete comedy of errors, in the best way. I cackled, not going to lie, because it was just so…. honest. This is absolutely the kind of absurdity you'd find on the internet, especially social media, and I think that it's also a good message about the perils of getting too caught up in views and followers and such.
Bottom Line: I truly don't have the words to express how much this book owns my heart. But it does, so you should give it a go.
Have you read any of these books? Plan to? Let us chat about them!