These are some early September books that I have read. I have enjoyed them all, which is kind of a rarity tbh. Some of them, I loved. It's probably my first post with two new faves! Read on to see which ones!
The Lady Rogue by Jenn Bennett
Serpent & Dove by Shelby Mahurin
Unpregnant by Jenni Hendriks & Ted Caplan
American Royals by Katharine McGee

---
The Lady Rogue by Jenn Bennett
Published by Simon Pulse on September 3, 2019
Pages: 384
Format:eARC
Source:Copy provided by publisher for review, via Netgalley


The Last Magician meets A Gentleman's Guide to Vice and Virtue in this thrilling tale filled with magic and set in the mysterious Carpathian Mountains where a girl must hunt down Vlad the Impaler's cursed ring in order to save her father.

Some legends never die…

Traveling with her treasure-hunting father has always been a dream for Theodora. She's read every book in his library, has an impressive knowledge of the world's most sought-after relics, and has all the ambition in the world. What she doesn't have is her father's permission. That honor goes to her father's nineteen-year-old protégé—and once-upon-a-time love of Theodora's life—Huck Gallagher, while Theodora is left to sit alone in her hotel in Istanbul.

Until Huck arrives from an expedition without her father and enlists Theodora's help in rescuing him. Armed with her father's travel journal, the reluctant duo learns that her father had been digging up information on a legendary and magical ring that once belonged to Vlad the Impaler—more widely known as Dracula—and that it just might be the key to finding him.

Journeying into Romania, Theodora and Huck embark on a captivating adventure through Gothic villages and dark castles in the misty Carpathian Mountains to recover the notorious ring. But they aren't the only ones who are searching for it. A secretive and dangerous occult society with a powerful link to Vlad the Impaler himself is hunting for it, too. And they will go to any lengths—including murder—to possess it.

We all know how much I adore Jenn Bennett, yeah? I have raved a time or two. So when I found out that she was writing a historical fantasy? Oh sign me up! I figured this was going to completely win me over and it did, friends. It really did. It's full of adventure and romance and legends of Vlad the Impaler, honestly what's not to like? Let's talk about all the awesomeness.
Theo is kind of the best. She just won my heart from the very beginning. She's a fighter, this one, and she isn't willing to sit back and wait while her father is missing, especially when some shady folks get in the action. She has no intention of acting like society wants her to, like a damsel waiting for someone to save her father, and ultimately her. And her voice in general just appealed to me, frankly.
Speaking of characters I love, I beyond adore Huck. Oh Huck, he and Theo had a rocky past, and the last time they saw each other was painful at best. You can tell that Huck is one of the good guys, and his banter with Theo is A+, I loved every minute.
All the adventure! These two wacky kids ended up basically taking a road trip- nay, a train trip- around Eastern Europe and wow was I here for it. It's like all of the best parts of a road trip, but on a train which is infinitely cooler. I loved seeing all these European locales too! The settings were cities that I have not read many, if any, books set in, so that was extra great.
Juuuust the right amount of magic. So you guys know I am a little weird about magic, which was the one thing that had me nervous about the book. But it ended up being a great addition to the story without being confusing or consuming.
So, so much historical charm! I already mentioned Dear Old Vlad, but he's not the only bit of history we dabble in! First, the 1937 Eastern Europe/Turkey story? Oh I am in love. Not enough books set in both the time period or the part of the world. And I thought the author did a phenomenal job of making it feel authentic.
Bottom Line: Honestly, this is just the tip of the iceberg. It's definitely one of my favorite books of the year, and perhaps of ever. So read the thing.
---
Serpent & Dove by Shelby Mahurin
Series: Serpent & Dove #1
Published by HarperTeen on September 3, 2019
Pages: 528
Format:eARC
Source:Copy provided by publisher for review, via Edelweiss


Bound as one to love, honor, or burn.

Two years ago, Louise le Blanc fled her coven and took shelter in the city of Cesarine, forsaking all magic and living off whatever she could steal. There, witches like Lou are hunted. They are feared. And they are burned.

Sworn to the Church as a Chasseur, Reid Diggory has lived his life by one principle: thou shalt not suffer a witch to live. His path was never meant to cross with Lou's, but a wicked stunt forces them into an impossible union—holy matrimony.

The war between witches and Church is an ancient one, and Lou's most dangerous enemies bring a fate worse than fire. Unable to ignore her growing feelings, yet powerless to change what she is, a choice must be made.
And love makes fools of us all.

I had been having a hard time with fantasy when I picked this one up, so I was a bit… nervous, to say the least. But I must say, I was pleasantly surprised by the way it went down! (Actually, it was the first in a line of Good Fantasies™ so let's credit S&D for getting my groove back, shall we?)
I don't actually have a ton to say here, because it was pretty good. I enjoyed it- it seemed much shorter than its 528 pages, which is always a plus. It flew by, frankly. The characters were awesome, and I really enjoyed their ever-changing relationship. The whole enemies-to-lovers thing is always a fan favorite, right?
There's a big focus on friendship too, which I loved. And the whole "church versus witches" thing brings up a lot of questions, many of them very relevant to today's society. Like do you really know who/what you're mindlessly fighting against? Very thought provoking!
Bottom Line: It was entertaining and engaging, I enjoyed the characters, and I'll definitely be grabbing the sequel!
---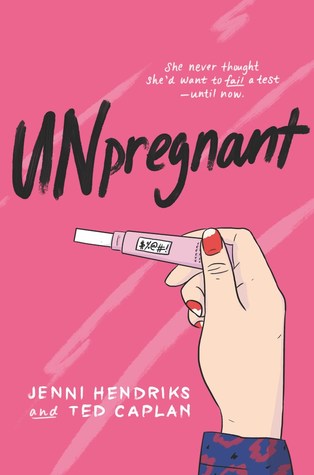 Unpregnant by Jenni Hendriks, Ted Caplan
Series: Unpregnant #1
Published by HarperTeen on September 10, 2019
Pages: 320
Format:eARC
Source:Copy provided by publisher for review, via Edelweiss


Seventeen-year-old Veronica Clarke never thought she'd want to fail a test – until she finds herself holding a thick piece of plastic and staring at two solid pink lines. How her boyfriend managed to get her pregnant, even with the most consistent use of condoms, is a mystery–but with a college-bound future now disappearing before her eyes, Veronica considers a decision she never imagined she'd have to make: an abortion.

Except the closest place to legally get one is nine hundred miles away in New Mexico–and Veronica doesn't have a car. Desperate, she turns to the only person who won't judge her: Bailey Butler, Jefferson High's own little black cloud of anger and snark–and Veronica's ex-best friend.

The plan is straightforward: a thirty-hour drive to the clinic and back. What could go wrong? Not much, apart from stolen cars, a crazed ex-boyfriend, truck stop strippers with pro-life agendas, ferret kidnapping, and aliens. Plus, the pain of a broken friendship that can't be outrun, even when speeding down a highway. Soon, Veronica must risk everything to repair the hurt she's caused. Under the starlit skies of the Southwest, Veronica and Bailey discover the road to adulthood isn't easy–but it's better with a friend by your side.

Honestly what else do you need to know? It was endearing and obviously entertaining, since I read it non-stop, and the messages were very positive. It did remind me quite a bit of Girls on the Verge, but definitely was different enough to stand apart. And I will always be here for strong female friendships and an overall message that the patriarchy can kindly go fuck itself. Oh, and it's funny. Like I laughed a lot, which is good because it is a genuinely heavy topic all around. There were a few parts that I suppose were a little "out there", but in context with the book, it worked. And I'll absolutely be reading the sequel!
Bottom Line: It's funny and full of heart, while still tackling some incredibly tough topics in a very respectful way.
---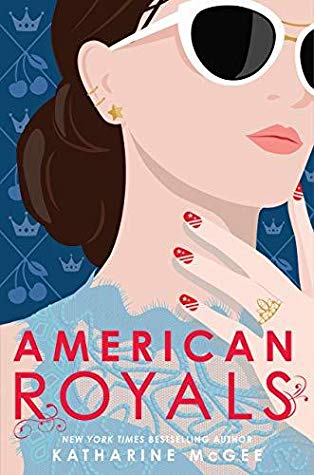 American Royals by Katharine McGee
Series: American Royals #1
Published by Random House Books for Young Readers on September 3, 2019
Pages: 448
Format:ARC, eARC
Source:Copy provided by publisher for review, via Netgalley, ALA


What if America had a royal family? If you can't get enough of Harry and Meghan or Kate and William, meet American princesses Beatrice and Samantha.

Two princesses vying for the ultimate crown. Two girls vying for the prince's heart. This is the story of the American royals.
When America won the Revolutionary War, its people offered General George Washington a crown. Two and a half centuries later, the House of Washington still sits on the throne. Like most royal families, the Washingtons have an heir and a spare. A future monarch and a backup battery. Each child knows exactly what is expected of them. But these aren't just any royals. They're American. And their country was born of rebellion.

As Princess Beatrice gets closer to becoming America's first queen regnant, the duty she has embraced her entire life suddenly feels stifling. Nobody cares about the spare except when she's breaking the rules, so Princess Samantha doesn't care much about anything, either . . . except the one boy who is distinctly off-limits to her. And then there's Samantha's twin, Prince Jefferson. If he'd been born a generation earlier, he would have stood first in line for the throne, but the new laws of succession make him third. Most of America adores their devastatingly handsome prince . . . but two very different girls are vying to capture his heart.

The duty. The intrigue. The Crown. New York Times bestselling author Katharine McGee imagines an alternate version of the modern world, one where the glittering age of monarchies has not yet faded--and where love is still powerful enough to change the course of history.

I loved every freaking minute of this book. It's one of the most fun and compulsively readable books I've had the pleasure to read. It's full of heart, and full of the best kind of drama. It's basically a well-written soap opera, and I am not mad. I am just going to gush about all the reasons I love it, yeah?
Family (and friends) first. There is just such an incredible focus on family and friend dynamics. And don't get me wrong, there is a lot going on, and it's not always happy. But it felt very authentic, because of that. The thing that mattered most at the end of the day? These people genuinely loved each other.
All the romance! Oh, this was fun. Who is going to end up with who? Idk, your guess is as good as mine! But I shipped so. many. couples. Even some of the "bad guys"! And the way the relationships were written… it draws you in, and makes you root for the pairs. SO many swoons!
The alternate US History is just so fun. And honestly, it's very believable! How far could we have been from this type of governance? I have no idea, but it's certainly something that I could see! And imagining us having a similar political landscape as the British is just plain interesting. Especially seeing how much everyone enjoys following the Royal Family, this works so well.
It's beyond charming, well-written, and frankly just plain entertaining. It's probably not going to provide life-changing insight, but it's full of wonderful characters and relationships, so there you go.
Bottom Line: If this doesn't become a legitimate TV drama, I'm suing. It's a new favorite, no question. Need. Sequel. Now.
Have you read any of these books? Plan to? Let us chat about them!