Remember that time I had a bunch of book birthday books in May? But some of them were moved to August and I was glad because procrastination? Well. Time has caught up with me, and here we are to celebrate some more book birthdays, yay!
Seven Devils by Laura Lam & Elizabeth May
The Dark Tide by Alicia Jasinska
Set Fire to the Gods by Sara Raasch & Kristen Simmons
The First Sister by Linden A. Lewis
The Space Between Worlds by Micaiah Johnson

---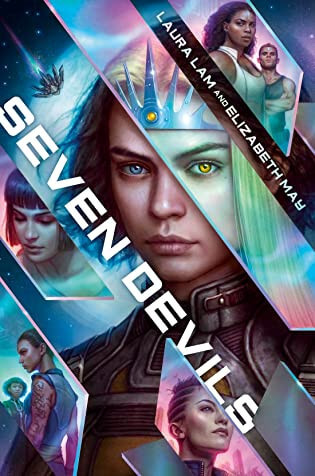 Seven Devils by Laura Lam, Elizabeth May
Series: Seven Devils #1
Published by DAW on August 4, 2020
Pages: 448
Format:eARC
Source:Copy provided by publisher for review, via Netgalley


This first book in a feminist space opera duology follows seven resistance fighters who will free the galaxy from the ruthless Tholosian Empire -- or die trying.

When Eris faked her death, she thought she had left her old life as the heir to the galaxy's most ruthless empire behind. But her recruitment by the Novantaen Resistance, an organization opposed to the empire's voracious expansion, throws her right back into the fray.

Eris has been assigned a new mission: to infiltrate a spaceship ferrying deadly cargo and return the intelligence gathered to the Resistance. But her partner for the mission, mechanic and hotshot pilot Cloelia, bears an old grudge against Eris, making an already difficult infiltration even more complicated.

When they find the ship, they discover more than they bargained for: three fugitives with firsthand knowledge of the corrupt empire's inner workings.

Together, these women possess the knowledge and capabilities to bring the empire to its knees. But the clock is ticking: the new heir to the empire plans to disrupt a peace summit with the only remaining alien empire, ensuring the empire's continued expansion. If they can find a way to stop him, they will save the galaxy. If they can't, millions may die.

A group of incredibly strong women on a space adventure to defeat the awful empire? Do you even need to know anything more? I guess you might want to but honestly you should probably just read the thing!
The Things I Loved:
Such an incredible cast of characters! Oh how I loved them! They're all so very different, but their goals are the same, especially once they band together and realize how much stronger they can be together. At the start, they are mostly strangers (and a few borderline enemies), but as the story unfurls, you'll see the connections that the women make with each other, and frankly, that is my favorite part.
I love overthrowing The Man™, don't you? Ugh, the things this empire has done… wow. They control minds, which is awful in itself, but then they wipe people too, and turn them into unthinking, unfeeling soldiers. Good times. I mean, who wouldn't be cheering for them to be overthrown?
There are moments of levity and romance in the darkness. Yeah, this world is rough. And the things the women have to face are harrowing and brutal. But there are great little bits thrown in to remind us (and them) what they're fighting for. The lives the deserve, with love, and friendship, and happiness. And, it makes the rough stuff more bearable of course.
So much intensity and action! But not in an overwhelming way. Just in a good, high stakes adventure way!
The One Thing I Struggled With:
Okay, it was a bit of a slow start for me. And a lot of backstory, which I do think was necessary, but I wasn't invested yet, you know? Regardless, don't let that stop you, because it picks up soon!
Bottom Line: Come for the incredible characters. Stay for the epic war.
---
The Dark Tide by Alicia Jasinska
Series: The Dark Tide #1
Published by Sourcebooks Fire on August 4, 2020
Pages: 336
Format:eARC
Source:Copy provided by publisher for review, via Netgalley


A fast-paced, well-plotted fantasy retelling of an ancient Scottish fairy tale ballad, this exciting debut will appeal to fans of Stephanie Garber's CARAVAL, Shea Ernshaw's THE WICKED DEEP, and Kendare Blake's THREE DARK CROWNS.

Every year on Walpurgis Night, Caldella's Witch Queen lures a young boy back to her palace. An innocent life to be sacrificed on the full moon to keep the island city from sinking.

Convinced her handsome brother is going to be taken, sixteen-year-old Lina Kirk enlists the help of the mysterious Tomas Lin, her secret crush, and the only boy to ever escape from the palace. Working together they protect her brother, but draw the Queen's attention. When the Queen spirits Tomas away instead, Lina blames herself and determines to go after him.

Caught breaking into the palace, the Queen offers Lina a deal: she will let Tomas go, if, of course, Lina agrees to take his place. Lina accepts, with a month before the full moon, surely she can find some way to escape. But the Queen is nothing like she envisioned, and Lina is not at all what the Queen expected. Against their will, they find themselves falling for each other. As water floods Caldella's streets and the dark tide demands its sacrifice, they must choose who to save: themselves, each other, or the island city relying on them both.

The Dark Tide was an atmospheric seaside fantasy that was enjoyable, if a bit predictable. It's very atmospheric, which is a huge plus! I mean, it was indeed a dark situation, in which witches had to sacrifice a boy to save the island. And it was with a sort of perverse pleasure that the island's inhabitants treated it as a celebration. The witches seemed a bit more somber about their murdery ways, which was cool.
I did have a feeling I knew where the story was going (and I did) from fairly early on. And while I enjoyed Lina as a character, and thought she was a decent person, I didn't fully understand why she was so willing to die for this dude she liked. I mean, they didn't even know each other, and you're going to charge a witch's lair? Is lair even the right word? I don't know.
It was definitely a fast read, and kept me entertained even if I wasn't completely blown away. The characters, like the plot, were fine, though I didn't fall in love with any of them. The world itself was intriguing, as I wondered what exactly made the witches have to sacrifice just for the island to stay afloat. I could have used more world-building, but perhaps that will be coming in the sequel!
Bottom Line: Basically, my thoughts on the book as a whole are of the "it was good, not great" variety, and hey, that's okay sometimes!
---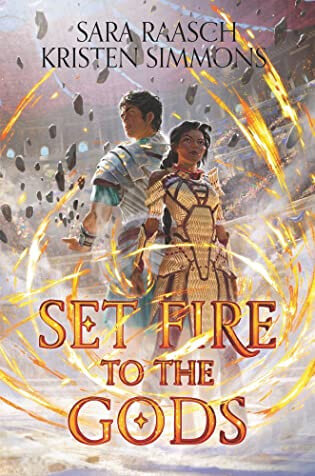 Set Fire to the Gods by Sara Raasch, Kristen Simmons
Series: Set Fire to the Gods #1
Published by HarperCollins on August 4, 2020
Pages: 432
Format:eARC
Source:Copy provided by publisher for review, via Edelweiss


Ash is descended from a long line of gladiators, and she knows the brutal nature of war firsthand. But after her mother dies in an arena, she vows to avenge her by overthrowing her fire god, whose temper has stripped her country of its resources.

Madoc grew up fighting on the streets to pay his family's taxes. But he hides a dangerous secret: he doesn't have the earth god's powers like his opponents. His elemental gift is something else—something that hasn't been seen in centuries.

When an attempted revenge plot goes dangerously wrong, Ash inadvertently throws the fire and earth gods into a conflict that can only be settled by deadly, lavish gladiator games, throwing Madoc in Ash's path. She realizes that his powers are the weapon her rebellion needs—but Madoc won't jeopardize his family, regardless of how intrigued he is by the beautiful warrior.

But when the gods force Madoc's hand, he and Ash uncover an ancient war that will threaten more than one immortal—it will unravel the world.

Set Fire to the Gods was a bit of a mixed bag for me. While I enjoyed the gladiator aspect and eventually the characters, I felt that the plot was a bit stale in places. So let's break it down!
Yays:
I did become quite invested in the characters as the book went on. Especially once I understood them and their motives, I grew to care for them, and wanted to know how their story would play out. And with gladiator pits, you really never know.
It picked up around the middle of the book. For the first half, I might have been yelling about how I didn't know what anyone was talking about, but it did get more exciting around the halfway point.
Can I mention the characters again? I don't really know what else to say, but I feel like I need another bullet point 😂
Nays:
The world building confused the heck out of me. Look, I still don't fully get it even after reading the whole thing. My eyes started to glaze over when they'd intro some new kind of magic, or some new powerful entity. I'm not even sorry. There were a lot of different magical properties to juggle, and all of those had their own leaders and terms and stuff and wow I can't even keep track of my own life, so yeah.
I feel like the "rescue and/or avenge" plot is just a little tired? Maybe this qualm is on me, but I am just so over them lately. Maybe it was just that I didn't get the sense of urgency for the rescue, but it just didn't do it for me. Nor did the "you killed my mother; prepare to die" thing.
The first half felt like a slog. I really almost called it quits a few times, but we all know I hate to do that, so I persevered.
Kinda insta-lovey. That isn't to say I didn't like the relationship, I just thought it was kind of quick, especially for two people who claim they have a ton to lose.
Bottom Line: Cool premise and likable characters, but lacking in world building and plot/pacing.
---
The First Sister by Linden A. Lewis
Series: The First Sister #1
Published by Skybound Books on August 4, 2020
Pages: 352
Format:eARC
Source:Copy provided by publisher for review, via Netgalley


First Sister has no name and no voice. As a priestess of the Sisterhood, she travels the stars alongside the soldiers of Earth and Mars—the same ones who own the rights to her body and soul. When her former captain abandons her, First Sister's hopes for freedom are dashed when she is forced to stay on her ship with no friends, no power, and a new captain—Saito Ren—whom she knows nothing about. She is commanded to spy on Captain Ren by the Sisterhood, but soon discovers that working for the war effort is so much harder to do when you're falling in love.

Lito val Lucius climbed his way out of the slums to become an elite soldier of Venus, but was defeated in combat by none other than Saito Ren, resulting in the disappearance of his partner, Hiro. When Lito learns that Hiro is both alive and a traitor to the cause, he now has a shot at redemption: track down and kill his former partner. But when he discovers recordings that Hiro secretly made, Lito's own allegiances are put to the test. Ultimately, he must decide between following orders and following his heart.

First Sister is one hell of a space adventure, no question about it. We get two stories in one for most of the book, in First Sister's perspective and that of soldier Lito. While their paths start off separately, we can assume from the start that they'll converge at some point, so I don't think that's particularly a spoiler. But at the start, these two couldn't be farther apart (physically and mentally speaking).
First Sister is, well, as the title suggests, a quasi-nun. The Premier Quasi-Nun, if you will. She's earned some favor among the powers that be, and as such, she's tasked with spying on new captain Saito Ren. Only, she finds that perhaps the Sisterhood isn't what she has thought it was, and maybe Saito Ren isn't the villain they're making her out to be.
Lito is having a rough time soldering on (pun absolutely intended) without his partner and incredibly close friend Hiro. Hiro's been missing since a big battle ensued, and Lito has basically been ordered to kill Hiro if he encounters them. I'm sure that will go well. The reader also gets little morsels of information from Hiro themselves, as they've left behind an audio recording for Lito to try to explain what has happened to them.
As you can see, the book is full of twists and excitement, and nothing is as it first appears. Therefore, I'll tell you no more. Best to go into this one not having any preconceived notions, just a basic understanding of who's who at the start. Then, you'll be in for quite the treat as the stories unfold and you begin to fall in love with the characters as I did.
There will be incredibly difficult choices, and a ton of character growth, and I loved watching it play out! My only minor qualms were a bit of a lull in the beginning-middle bit, but it was certainly not a huge deal considering I was already quite invested in the characters.
Bottom Line: I adored the characters and adventure in this wonderful first installment. Exciting and meaningful, The First Sister is a win all around.

---
The Space Between Worlds by Micaiah Johnson
Published by Del Rey Books on August 4, 2020
Pages: 336
Format:eARC
Source:Copy provided by publisher for review, via Netgalley


An outsider who can travel between worlds discovers a secret that threatens her new home and her fragile place in it, in a stunning sci-fi debut that's both a cross-dimensional adventure and a powerful examination of identity, privilege, and belonging.

Multiverse travel is finally possible, but there's just one catch: No one can visit a world where their counterpart is still alive. Enter Cara, whose parallel selves happen to be exceptionally good at dying—from disease, turf wars, or vendettas they couldn't outrun. Cara's life has been cut short on 372 worlds in total.

On this Earth, however, Cara has survived. Identified as an outlier and therefore a perfect candidate for multiverse travel, Cara is plucked from the dirt of the wastelands. Now she has a nice apartment on the lower levels of the wealthy and walled-off Wiley City. She works—and shamelessly flirts—with her enticing yet aloof handler, Dell, as the two women collect off-world data for the Eldridge Institute. She even occasionally leaves the city to visit her family in the wastes, though she struggles to feel at home in either place. So long as she can keep her head down and avoid trouble, Cara is on a sure path to citizenship and security.

But trouble finds Cara when one of her eight remaining doppelgängers dies under mysterious circumstances, plunging her into a new world with an old secret. What she discovers will connect her past and her future in ways she could have never imagined—and reveal her own role in a plot that endangers not just her world, but the entire multiverse.

As usual, I have saved my favorite for last! Oh, how I loved this book! It was the perfect high stakes/high reward caper all over the multiverse, featuring a character that I grew to absolutely love. So let us discuss all the things that made The Space Between Worlds such a huge win for me!
I mean, 380 Earths! Some were very similar to ours, and some were quite different. The larger the Earth's number, the greater the difference from our Earth, Earth 0. I loved this concept! Like the Butterfly Effect, some of the Earths were changed in such small, but ultimately significant ways, and that is beyond fascinating to me. The author did a wonderful job with world-building so that it was exciting, but not overwhelming, which struck a perfect balance for me.
It's a dark, dark world(s). None of the Earths are great, really. People mainly live in walled cities, and if you're not lucky enough to get into one of those, you're on the outskirts, trying to stay alive. And because it is so rough, it clearly shapes the characters and their choices, which I'll get into more.
I loved Cara for the flawed but fierce character that she was. She never tried to portray herself as a hero, even though I started to see her as such. She was incredibly loyal to those who'd earned her loyalty, she was determined, and always willing to fight for what she wanted or what she thought was right. She knew she'd made mistakes and bad choices, and some she wasn't even apologizing for. In such an aforementioned harsh reality, you have to do what you have to do sometimes.
Speaking of, the gray morality was strong. Look, sometimes all the choices suck, and you have to make the best decisions with the information that you have (straight from the mouth of Thelonious Jaha, but whatever) and hope for the best.  I loved watching Cara figure out that hey, maybe she was one of the good guys, as she struggled to make some really tough choices.
The book features some incredible relationships. Oh, how I long to tell you more about all of them, but by doing so I'd spoil something that I personally hadn't seen coming. But there are a lot of people in Cara's life who care deeply for her, and she for them, though I think in this world it's hard to admit when you care for someone, for fear they'll be lost.
Honestly I just couldn't put the thing down. I was immersed in this book from start to finish, full stop. I was legit carrying it around with me because I didn't want to have to pause to do anything else. Cara and her story captivated me from the first page, and learning more about both her and the worlds she lived in was just too exciting to take breaks.
Bottom Line: I fell fully into The Space Between Worlds, and never stopped. I cared deeply for Cara and those she cared about in turn, and the world-building was so fun, the premise so unique, that I positively devoured this book.
Have you read any of these books? Plan to? Let us chat about them!