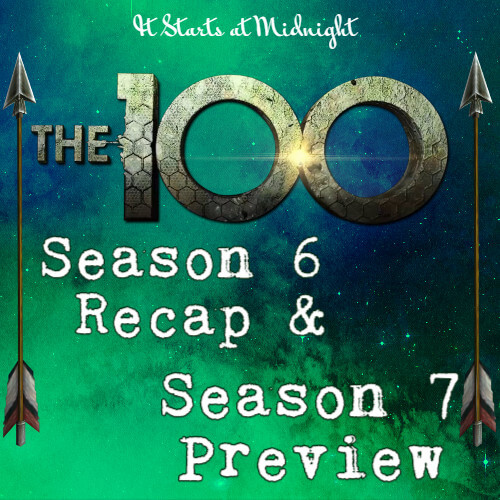 And here we are, at the precipice of the final season of The 100. It pains me to write that. I shan't be okay. But instead of wallowing in this knowledge, let's use the last of this final hiatus to recap Season 6, and chat about what is on the horizon for Season 7! I've even brought a few chums in to share their thoughts, since it's more fun than just reading mine!
Season Six Recap/Thoughts
This season was scary out of the gate, honestly. Because change is hard! And I worried, as I always do, that it would be too different. Marper was gone, we met their son 125 years later, for goodness sake! But it isn't. Because while time did move on, (most of) our darlings spent the time in cryo, to wake as though they just left Shallow Valley. And yikes, things aren't looking good for so many folks. Let's catch up with them!
Clarke has to live with the fact that she very nearly sided with McCreary, and was the cause of a lot of bloodshed, albeit indirectly. She knows now that McCreary was the wrong choice, and she has rectified the situation, but Wonkru and Spacekru aren't going to be so willing to forgive and move on. Plus, Monty and Harper and Earth are all dead and that's just a lot to take in.
Bellamy just lost a big chunk of his family, but then met their offspring. His sister is still high key dead to him, and now he has to help figure out what to do about this new world that Monty and Harper gifted them. Echo is apparently still a thing, but there is definitely trouble there, too.
Octavia is not quite Blodreina anymore, but neither is she Octavia. Most of her people despise her, if they're lucky enough to still be alive after the battle in the gorge. She hates herself, which is plain is day, and is actively trying to get awake members of Wonkru to kill her, so.
Raven is pissed at Clarke, super pissed at Abby, and in a blissful state with her new beau, Shaw. But then Shaw dies in the first episode and we know Raven's got yet another long row to hoe.
Murphy and Emori are still pissed at Clarke too. Which is a little bit of a reach, but alas. They're also the levity we need.
Kane is still in dire straights in cryo, and Abby is hoping something on the ground will help her revive him from Vinson's attack. But wait, Jordan has another parting gift from Monty, some algae to I guess keep Kane asleep? Who knows, but Abby operates! Kane wakes up! And then fights with Octavia and dies again five minutes later. Whoopsie. But little does Abby know, the ground does provide an option!
Diyoza is still bananas pregnant, and awoken by Raven only when some unknown randos jump aboard Eligius. So, they also wake Madi to help fight them off. After the ladies take off to the ground, Gaia is woken up to join the band/help Madi master the flame. Only a past commander, Sheidheda, is trying to take over the flame and Madi.
Miller and Jackson make up the final two on the first trip to the ground. Miller is still feeling very responsible for Blodreina, and Jackson is the only doc on the ground at the moment.
So now that you're caught up, what the heck happens on Sanctum? Oh please, what doesn't happen!? I am going to break down the major storylines so you're all caught up! Obviously I can't delve too much because time, but I'll do my best for a quick refresher!
The Children of Gabriel Versus The Primes
The main conflict our Earthers walk into is that of the Sanctumites. The people of Sanctum bend to Russell and the rest of the Primes; The Children of Gabriel follow "disgraced" thirteenth Prime (and master of immortality himself) Dr. Gabriel Santiago. The CoG don't want the Primes to keep stealing bodies to live forever, and I can't say I blame them. They try to steal Jordan's girlfriend, Delilah, before she can be turned into Priya VII, but they fail, thanks to Clarke "saving" her and guaranteeing her people a place in Sanctum (also, because she is a Natblida and Russell needs her, but we'll get there). Diyoza and Octavia, stranded out in the forests, end up first trying to kill, then joining, Gabriel. Meanwhile in Sanctum, Russell gets a new, fun idea.
The Primes Versus Earthkru
Russell clearly had plans for Clarke when he saw her blood. Was it to take her from the beginning? I like to think not, but in the back of his mind, probably. So he does! Mind wipes her and brings back Josephine. Only… didn't quite take. Luckily, Clarke and Monty (yes, Monty) are able to get a Morse Code ala Pike message to Bellamy who figures it out, then sets the plan in motion to save Clarke. Loads of fun Mindspace shenanigans ensue. Josephine could give Clarke her body back but she just doesn't want to, which tells you a few things about Josephine. Eventually, Bellamy gets her to Gabriel, and Gabriel makes the difficult choice to bring Clarke back. Josephine uses a last-ditch effort and locks onto Clarke's neural mesh, leaving her minddrive empty and so that's (maybe) the end of that.
Russell doesn't go down easy though, so while Clarke is faking being Josephine, he forces Abby to make Nightblood. This is after she tries to make it in space like Becca, lets Marcus Kane I die, and puts him into Marcus Kane II, a young man named Gavin. Kane cannot live with this, and with the help of Raven and Indra, floats himself and the serum, without which no more blood can be made. Russell almost burns all our faves at the stake, but then Murphy remembers bone marrow, so they get a pass. Unfortunately, he turns Abby into his wife Simone, ultimately killing Abby, and Murphy and Emori become Fake Primes.
Adjustment Protocol
With Gabriel infiltrating the palace, Abby dead/hosting Simone, Madi in the throws of Sheidheda domination, at least half the Primes dead, Russell decides to basically poison the whole place to escape. He grabs "Josephine", Abby-Simone, and the Earthkru prisoners and takes off to space. The remaining Earthkru on the ground (including Fake Primes Murphy and Emori) work with Gabriel to get all their people out of Sanctum without more death. A Prime believer has other thoughts, self-immolates, and our darlings escape unscathed, except probably for all the nightmares.
Back on EIV, Russell finds out that Clarke is not Josephine when she refuses to mindwipe all of Wonkru, and he kidnaps Madi/Sheidheda. Meanwhile, Clarke floats Abby-Simone and the remaining Primes, while Raven tries to figure out how to get rid of Sheidheda without killing Madi. Clarke is able to bring Madi back for a second by threatining to kill herself (problematic much?) and they have to save her posthaste. Raven does manage to save Madi, but she somehow uploads Sheidy in the process. Earthkru heads back to Sanctum, and I guess Russell and Sheidheda are now bonding on EIV. They meet back up with the Sanctum people, including Jordan who seems to be a Prime sympathizer, or even a Prime maybe how should I know.
The Anomoly
Aside from stopping the Primes, Gabriel has been high key obsessed with the Anomaly. When Octavia gets an old-lady hand and starts drawing symbols with rocks, he decides to take her and Diyoza to the Anomaly to maybe cure her. Diyoza sees an image of Hope, throws herself in the Anomaly, and is never seen until the trailer again. O runs in after her, but pops back out, which Gabriel said has never happened before (an anomaly, anyone? 😂) So he gives her some red sun toxin to try to get her to figure out what happened. She just has a fun lesson with Pike and comes back knowing exactly what she needs to do: Make amends with Bellamy, save Clarke, and probably more junk we'll find out soon.
When they're in Sanctum fighting, Gabriel notices that O has a full-blown Anomaly tattoo, and since O doesn't remember her trip to the Sanctum Bakery and Tattoo Parlor™, everyone is curious. So back they go, to the Anomaly and the even curiouser Anomaly Stone! Shenanigans ensue, and out pops Hope Diyoza, a fully grown adult who wishes to stab Octavia who also seems down with the stabbing. Octavia disappears, leaving everyone confused and Bellamy screaming and that's where we pick up with Season 7, friends!

Hugest of thanks to my faves, Amber and Beth for joining me in the fun!!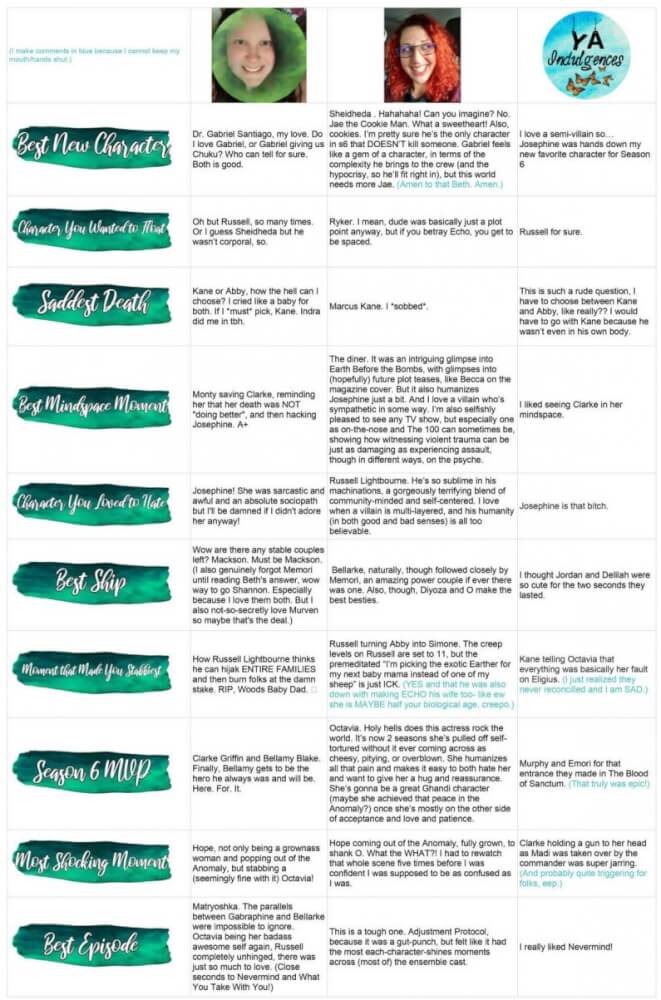 Season Seven Preview!
Just for the record, this song has been my inspiration through doing this post, if you so desire!
Well, a lot happened in Season 6 that is going to lead to a very bananas Season 7.  Sanctum is in complete and utter chaos. Who leads them now? Who will the people who devoted their lives to the Primes become? What the heck happened to Octavia and just what is the Anomaly? Where/when did Hope come from, twenty odd years later? So many questions! Let us address some of the ones I am most dying to know!
How will Clarke cope with losing her mother? It won't be pretty, I imagine. She's always had Abby in her corner, no matter what, and now she's flying solo, genuinely the adultiest adult in the room. That is terrifying even if one isn't in Sanctum with a bunch of former cultists, half of whom will be out for blood.
What will Gaia and Madi turn to in the absence of the Flame? The Flame has, by and large, defined these women's young lives. While both had a six year reprieve from its immediacy, it was never gone before.
No for real where is Octavia? We want to know, Bellamy wants to know, and you bet your sweet ass that Gabriel wants to know. Why did Hope just pop the heck out of the Anomaly, aged 20+ years, and sans Diyoza? And why is she stabbing O?! These are important questions.
Mackson is fine right? They're all we have left and I swear to god if either of them is harmed… Obviously Jackson is going to be taking on a huge new role. He's no longer the backup doc when Abby's on a pill jag unavailable, he's it. Jackson has never had to make the tough calls before. That has been on Abby. And now, it's his turn. He also has to cope with being the adultiest adult in the room, and without his mentor and closest connection outside of Miller, he is going to be hurting. Miller, for his part, seems to have faced the demons he was battling from bowing to Blodreina. So I hope and am excited for him to step up a lot this season.
Is Jordan okay? No really, are we sure he isn't Ryker or something? You know I'll riot. I promised to riot. But he is certainly not himself, so let's just hope he was brainwashed. The thing I cannot wrap my head around is how he was so staunchly anti-Primes because of Delilah, but then somehow seems cool with them, hence the worry.
Sheidheda and Russell are going to become pals, aren't they? This means nothing good will be coming for Sanctum or any other world, nothing good at all.
Who is going to be Indra's new best friend? Also I am going to need a lot more Indra this season.
Who is going to be Diyoza's new quasi-boyfriend? I guess Octavia, tbh.
I miss Kane. Did he have to be on MacGyver? I don't care about that show!

So much to unpack here! Obviously we see a very alive Diyoza, thank the Primes. Jordan is still not doing well, wonder if he is Jordan, an unpopular theory I had and no one, present company included, likes. Russell clearly parts ways with Sheidheda at some point, and everyone seems to part ways with Sanctum, via Anomaly. I am so here for it. I oddly love the idea of Echo and Gabriel joining forces. Clarke mourning Abby is not okay in any way. But she and Raven teaming up? Oh hell yes. More self-immolation, it seems, and the most important question of all: #WhereIsBellamyBlake?
What say we? What are you most excited about seeing in Season 7? And um, anyone want to form a withdrawal support group with me? I am legit not okay.