Here's the final batch of my February books!
We Unleash the Merciless Storm by Tehlor Kay Mejia
Bent Heavens by Daniel Kraus
The Last Day by Andrew Hunter Murray
The Shadows Between Us by Tricia Levenseller

---
We Unleash the Merciless Storm by Tehlor Kay Mejia
Series: We Set the Dark on Fire #2
Published by Katherine Tegen Books on February 25, 2020
Pages: 400
Format:eARC
Source:Copy provided by publisher for review, via Edelweiss


In this nail-biting sequel to Tehlor Kay Mejia's critically acclaimed fantasy novel We Set the Dark on Fire, La Voz operative Carmen is forced to choose between the girl she loves and the success of the rebellion she's devoted her life to.

Being a part of the resistance group La Voz is an act of devotion and desperation. On the other side of Medio's border wall, the oppressed class fights for freedom and liberty, sacrificing what little they have to become defenders of the cause.

Carmen Santos is one of La Voz's best soldiers, taken in when she was an orphaned child and trained to be a cunning spy. She spent years undercover at the Medio School for Girls, but now, with her identity exposed and the island on the brink of civil war, Carmen returns to the only real home she's ever known: La Voz's headquarters.

There she must reckon with her beloved leader, who is under the influence of an aggressive new recruit, and with the devastating news that her true love might be the target of an assassination plot. Will Carmen break with her community and save the girl who stole her heart—or fully embrace the ruthless rebel she was always meant to be?

We Set the Dark on Fire was quite good, and I was definitely looking forward to this sequel/finale. Especially after hearing that it would be told from the other side's perspective, and ultimately finding out it would be in Carmen's point of view. Nothing wrong with Dani's, but it can be fun to change things up! So let us talk about what I enjoyed and what fell a bit short!
The Good:
Like I mentioned, Carmen's POV was a great choice. I'm sure it would have been fine from Dani's too, but I loved getting to see the other side of the war. Especially since we kind of knew from the first book (and this isn't a spoiler) that the world Dani was living in was kind of terrible.
It reminded me of 3%. I think it was probably the setting near the water paired with a rebellion against the people trying to pretend that their little city was some kind of utopia. Also, 3% is awesome and so having that vibe is just always a really good thing, end of story.
Snippets into Carmen's past were great. And not just Carmen, but the history of the rebellion. It was great to see that they cared so deeply for each other, and their cause.
I loved the strength that Carmen and Dani possessed, each in her own way. Can't go too deeply into this because spoilers, but each woman had to be bananas tough to get through the crap they'd been through.
I definitely loved Carmen and Dani together, and hoped they'd find their way to each other. I loved them in the first book, and now that they knew that they cared for each other… what would happen when they were separated?
The Not As Good:
Some things seemed rather… obvious to me. I mean, I could tell from fairly early on what was going to happen to who to a pretty high degree. Maybe I am just really intuitive, but probably not.
Being inside Carmen's head a lot meant a lot of repetitive themes. Girl is worried about whether Dani will be able to give her transgressions, worried about her friends, etc, and I totally get it! But there are phrases that kept being repeated and I just… I mean, I get it, she is brutal and worried about what Dani will think. Plus, I think had it been in first person in Carmen's head would have helped me connect to her and these feelings a lot better. Third person narrative in one character's head can be… a lot. Especially when said character spends a ton of time by herself throughout the story.
Some threads just got dropped without resolution or mention. Nothing major-major. The main plot is resolved, I assure you. But I had some questions at the end like "oh hey what happened to those folks?" or "but wait why didn't anyone mention that thing"? You know, the questions we ask when trying to be vague and ward off spoilers.
The pacing felt a bit off. Some parts of it seemed a little draggy, while the end bits seemed too fast and/or easy.
Bottom Line: A decent sequel that wrapped up the duology nicely, I definitely look forward to whatever the author does next!
---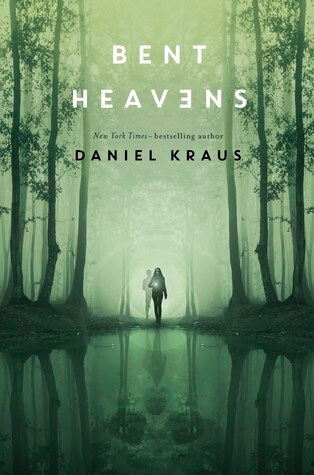 Bent Heavens by Daniel Kraus
Published by Henry Holt and Co. (BYR) on February 25, 2020
Pages: 304
Format:ARC
Source:Copy provided by publisher for review


Liv Fleming's father went missing more than two years ago, not long after he claimed to have been abducted by aliens. Liv has long accepted that he's dead, though that doesn't mean she has given up their traditions. Every Sunday, she and her lifelong friend Doug Monk trudge through the woods to check the traps Lee left behind, traps he set to catch the aliens he so desperately believed were after him.

But Liv is done with childhood fantasies. Done pretending she believes her father's absurd theories. Done going through the motions for Doug's sake. However, on the very day she chooses to destroy the traps, she discovers in one of them a creature so inhuman it can only be one thing. In that moment, she's faced with a painful realization: her dad was telling the truth. And no one believed him.

Now, she and Doug have a choice to make. They can turn the alien over to the authorities...or they can take matters into their own hands.

This is such a wonderfully bizarre book. Dark at times, and absolutely strange, it will leave you stunned in the best of ways. So let's chat about what was great and what was less so!
The Good:
This is absolutely unlike anything else I have read. The unique genre mashup just works, somehow, even though I'll fully admit that I was skeptical.
The ending is perfect. You know how I talked about when endings ruin books? Well, what about when endings make books? For me, the ending made me adore this book! I obviously cannot talk about it other than to say I thought it was phenomenally done, and it made me appreciate the book a lot more.
It's incredibly dark. But please note, that some of the stuff is absolutely triggering, in the form of some really messed up torture/abuse. But if you are down with dark, it's really quite messed up, especially the way that some of the characters justify their actions. (And frankly, it says a lot about current societal issues and people overlooking and/or justifying monstrous acts,  just my two cents.)
There's no doubt it will provoke all the thoughts. Oh yes, this one is going to make you think, and wonder how you'd react to a lot of various scenarios. Many are spoilery, but one that is in the synopsis sparks questions: What would you do if your beloved family member claimed to be kidnapped by aliens? Is there any way you'd believe them? And that's just the beginning!
The Not-As-Good:
I felt almost no connection to the main character. And the connection I did feel, I didn't really like her? I mean, I understand that she's flawed and trying to get through a lot of junk so I was able to cut her some slack, but I think that had I felt a little better connection, I would have been able to overlook some of her more unpleasant qualities.
The pacing is a little messy. When it picks up, it's quite good, but in the slower moments, it's definitely a bit of a slog. I still think it is worth reading, and dealing with the slower bits though.
Bottom Line: Unique and full of surprises, it's definitely worth the ride.
---
The Last Day by Andrew Hunter Murray
Published by Dutton Books on February 4, 2020
Pages: 384
Format:eARC
Source:Copy provided by publisher for review, via Netgalley



A visionary and powerful debut thriller set in a terrifyingly plausible dystopian near-future--with clear parallels to today's headlines--in which the future of humanity lies in the hands of one woman, a scientist who has stumbled upon a secret that the government will go to any lengths to keep hidden

THE WORLD HAS STOPPED TURNING. THE HUNT HAS JUST BEGUN.

It is 2059, and the world has crashed. Forty years ago, a solar catastrophe began to slow the planet's rotation to a stop. Now one half of the globe is permanently sunlit, the other half trapped in an endless night. The United States has colonized the southern half of Great Britain--lucky enough to find itself in the narrow habitable region left between frozen darkness and scorching sunlight--where both nations have managed to survive the ensuing chaos by isolating themselves from the rest of the world.

Ellen Hopper is a scientist living on a frostbitten rig in the cold Atlantic. She wants nothing more to do with her country after its slide into casual violence and brutal authoritarianism. Yet when two government officials arrive, demanding she return to London to see her dying college mentor, she accepts--and begins to unravel a secret that threatens not only the nation's fragile balance, but the future of the whole human race.

What happens if the world literally stops spinning? Well, The Last Day posits that question, and ventures a guess at the aftermath. The scenario appealed to me at once, as I absolutely adore stories like this. I will say that for me, the one negative was that this focused less on rebuilding the world and more on a bit of a mystery at how/why/at whose hand the world was falling deeper into an abyss. As such, it lent to some draggier bits, at least for me personally.
Overall though, I quite enjoyed the story. The world-building was great; the author did a wonderful job incorporating knowledge of the whole Earth (not just England), while explaining gaps in the knowledge base of the characters. Honestly, it's what I beg for from every similar book and rarely get. Hopper.. she's bitter, jaded, and leery. And it makes complete sense for her to be such. She's lost her parents and lives fairly reclusively on a rig until an old college mentor seeks her out on his deathbed.
And sure, I wanted more rig (guess I'll just have to write that one myself!), but I loved seeing what was going on in London and its outskirts. At first glance, it seems somewhat close to "normal". But when you look deeper, things are not going great. People are starving, and there simply isn't enough arable land to support the population. And so, with a final clue from her mentor, Hopper goes off in search of answers. Can anyone be trusted? Can the world, humanity, be saved? These are the questions Hopper seeks to solve, and in doing so she'll find out exactly who she can- and more likely, can't- trust.
Bottom Line: While it has a few slower bits, I enjoyed Hopper's journey so much that I was eager to find the answers with her.
---
The Shadows Between Us by Tricia Levenseller
Published by Feiwel and Friends on February 25, 2020
Pages: 336
Format:ARC
Source:Copy provided by publisher for review


Alessandra is tired of being overlooked, but she has a plan to gain power:

1) Woo the Shadow King.
2) Marry him.
3) Kill him and take his kingdom for herself.

No one knows the extent of the freshly crowned Shadow King's power. Some say he can command the shadows that swirl around him to do his bidding. Others say they speak to him, whispering the thoughts of his enemies. Regardless, Alessandra knows what she deserves, and she's going to do everything within her power to get it.

But Alessandra's not the only one trying to kill the king. As attempts on his life are made, she finds herself trying to keep him alive long enough for him to make her his queen—all while struggling not to lose her heart. After all, who better for a Shadow King than a cunning, villainous queen?

There is something about the way Tricia Levenseller writes that just sucks me into the book every single time. And this one was no exception! In fact, I have but one qualm about this one, and that is that the plot was just… somewhat unsubstantial? Like Alessandra wanted to be queen, and also someone else wanted to kill the king, but I maybe wanted a bit more plot? That said, it was still completely entertaining, so let me tell you what I loved!
Alessandra is such a mess of a person! Is she a sociopath? Is she just straight up a terrible person? Is she actually just a little damaged? I have no idea but wow girl is a disaster. I mean, she killed her lover for leaving her, which should tell you plenty. And now, she's planning to do it again, only more sneakily! Okay so I am now leaning toward sociopath, but anyway. I know it sounds weird to list this as a positive, but it was fun to read, and how often do you read about protagonists who are so unapologetically awful? Like, never! Also, she was pretty funny, and I dig it.
I absolutely shipped the romance. I mean, the chemistry was undeniable. And I am not even going to tell you who I shipped with who. Because what fun is that?
Alessandra made friends! Honestly, this might have been my favorite part of the story. Her mom is gone, her dad sucks, her sister is a clueless dolt, and I was thrilled for Alessandra to finally make a place for herself. Also, made me think that maybe she wasn't a total sociopath, since she seemed to genuinely care about her friends.
It was quick, fun, and compulsively readable. Despite my aforementioned lack of substantial plot, it was just plain entertaining. And frankly I could use more enjoyable, entertaining things in my life.
Bottom Line: It's fun, it's wholly entertaining, and I just liked it plain and simple.

Have you read any of these books? Plan to? Let us chat about them!