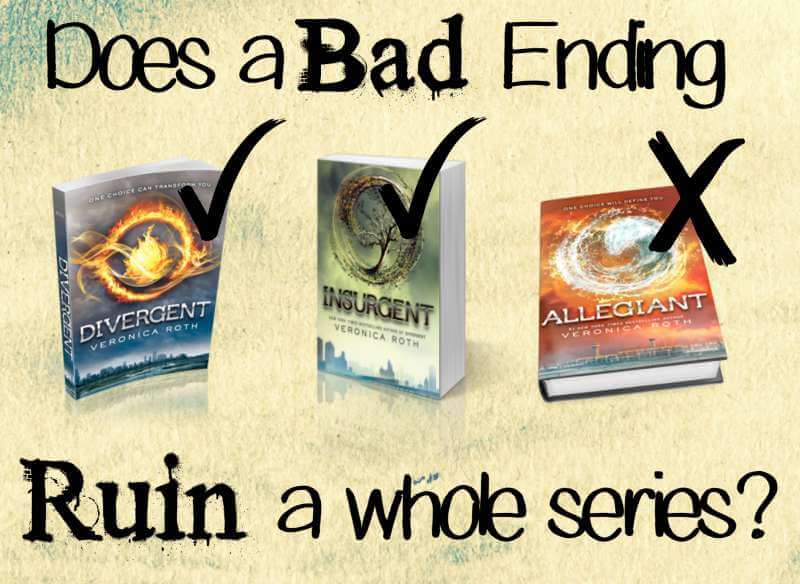 I was thinking about this last week while responding to Cait's comment on my Top Ten post about picking books. She'd mentioned that she didn't really love the second two Daughter of Smoke and Bone books, and it got me thinking about how people don't even bother with certain series if they've heard the end is bad. I am guilty of this too, and I have even said to others that maybe a series isn't worth it because the last book wasn't great.
So, I figured this needed to be a discussion post. How do you guys feel when a series starts off really strong, but ends with you throwing the book into oncoming traffic? Does it even matter how good the first book is if you hated the last one with the heat of a thousand suns?
Now, I am going to do my best to keep this spoiler free, but just by saying I hated the end of a few of these might be spoilery? I don't know, so just… proceed with caution if you haven't read them- they are all older series though!
These series endings made me weep, and not in the good way.  Did they change my mind on the series as a whole? Let's see!
Yes, these are only two books in the seemingly never-ending series. I loved these books. No, they weren't exactly the fodder of classics, but they were fun as hell. Until around book 10, when things started to get… boring. Filler-ish, if you will. By book 13? What happened?! I am pretty sure some person who hates this series and its fans wrote the last book because it didn't even make any sense! 
Was this series a wasted read because of the ending? A resounding YES. Sookie might has well have been back in the beginning of book one by the end. Reverse character development? Pass.
Come on, you knew this was coming. Unless you happen to be one of the five or six people who liked Allegiant, you feel my pain. What was that!? It wasn't just the ending that was a hot mess, but the whole book seemed off, forced almost, and bored me to tears. Yawn. Which is so unfortunate, because I absolutely adored the first two books! I reviewed it, and was sad the whole time.
Was this series a wasted read because of the ending? I can't decide on this, which is why I never quite know what to tell people. I really did adore the first two books but… Ugh, Allegiant. I am on the fence.
I cannot even explain how much I loved this series. Cannot. I bought the third book in hardcover, and am now convinced that if I buy only the last book in physical form, it is a huge jinx. Here's the thing: I liked every minute of this series. What is my problem then? It ended. Without warning, mid-shenanigans, BOOM, bye. I still hold out hope that one day, Lauren will spill and let me know what happened in her head.
Was this series a wasted read because of the ending? Nope. I feel in absolute love with Lauren Oliver because of the writing in this series, and I think when I find the other two humans on earth who are staunchly Team Julian, we will become forever friends. I am glad I read this one, even if the ending infuriates me. I even found an ARC of Pandemonium (my favorite!) on #booksfortrade!
Admittedly, I wasn't in love with this series. But it started out decently, if not completely originally. But as it progressed… well things got so mind-numbingly ridiculous and bothersome that I could barely finish. You can read my review of Graduation Day here… but it isn't nice.
 Was this series a wasted read because of the ending? Well, yeah. There wasn't really any point to the series, I didn't feel like I gained anything by reading it, even if the first one (and even some of the second one) was fun.
 Well, now I feel like a huge buzzkill. 
SO- I will cheer you up with some series whose endings make me feel like the whole amazing journey was absolutely, unequivocally worth it.

So, what say you? Do you worry about series endings ruining the whole thing? Are there any series ending soon that you are terrified of? What are some of your favorite and least favorite series enders? Let's talk about this, people!!