Here's the last batch of January reviews! There are more here and here. Now read on about these books, yay!
Riot Baby by Tochi Onyebuchi
Wildfire by Carrie Mac
Blood Countess by Lana Popović

---
Riot Baby by Tochi Onyebuchi
Published by Tor.com on January 21, 2020
Pages: 176
Format:eARC
Source:Copy provided by publisher for review, via Netgalley


"Riot Baby bursts at the seams of story with so much fire, passion and power that in the end it turns what we call a narrative into something different altogether."—Marlon James

Rooted in foundational loss and the hope that can live in anger, Riot Baby is both a global dystopian narrative an intimate family story with quietly devastating things to say about love, fury, and the black American experience.

Ella and Kev are brother and sister, both gifted with extraordinary power. Their childhoods are defined and destroyed by structural racism and brutality. Their futures might alter the world. When Kev is incarcerated for the crime of being a young black man in America, Ella—through visits both mundane and supernatural—tries to show him the way to a revolution that could burn it all down.

Riot Baby is powerful, raw, heartbreaking, and an absolute must read. I am going to try to give as little away as possible for two reasons: One, I think you need to read it for yourself; and two, I genuinely don't think I could do an explanation justice. The story primarily centers around siblings Ella and Kev, and their experiences as young black Americans. At pretty much every turn in their lives, their trajectories become shaped by the brutal and racist treatment of black people, often by police and others in power positions.
You will be filled with rage as you read this book. Not only for our main characters, but because it's true. While Kev and Ella are fictional, the riots are not. The experiences of young black people in this country are not.  The author makes the reader care about not only the main characters, but the manages to elicit strong feelings for even the most minor, even nameless characters. And every single thing about this story made me think about the real human beings subjected to these atrocities (and more) every day.
Bottom Line: In addition to the importance and emotional pull of Riot Baby, it's also just a damn good story. So do yourself a favor and grab it asap.

---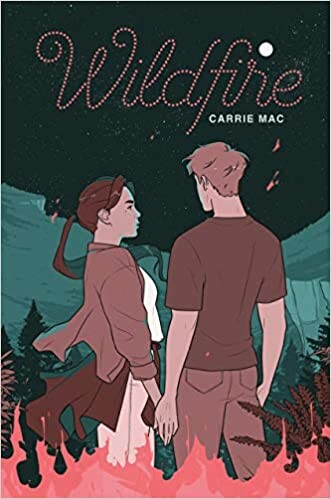 Wildfire by Carrie Mac
Published by Alfred A. Knopf Books for Young Readers on January 28, 2020
Pages: 272
Format:eARC
Source:Copy provided by publisher for review, via Netgalley





Into the Wild

meets

The Serpent King

in this story about Annie and Pete, two best friends on a dangerous and emotional trek through the woods.

Annie and Pete have been best friends since they were little. They know each other better than anyone, and they've been on more adventures than they can count--they even have a notebook filled with all the times they've almost died. But they always survive, because together, they're invincible.
And they've always been just friends. But lately, Annie has been thinking that maybe friendship is just the beginning, and she's been mentally replaying all the times they were almost something more.
Now they're heading out on their next great quest: a ten-day backpacking trip through the mountains of Washington State, ending at Fire Camp, where they'll learn to fight the area's growing wildfire problem. The woods spark with the promise of adventure, but a freak climbing accident interrupts their progress, and as the wildfires close in and smoke envelops them, Annie and Pete wander farther from the trail. Carrie Mac's gripping story of the power of unrequited love and the danger of the elements is harrowing, beautiful, and unforgettable.

Wildfire and I had a very tumultuous relationship. I fell in love, deeply and quickly. And when the love ended, it, like its name suggests, crashed and burned. My problems may not be a problem for you though, and there are things to love about this one, which leaves me incredibly conflicted. I'll do my best to sort it out.
The First Half
First and foremost, I am a sucker for a survival story, so when we open lost in the forest in the middle of an actual wildfire needing to escape, I was hooked. Annie had been through so much, which we learn almost immediately. She'd lost her mom awhile back, and her beloved grandmother had just passed away from a pretty brutal bout of cancer. As I had just lost my own beloved grandmother (who actually had a ton in common with Annie's, personality-wise) this hit extra hard and Annie won me over.
Add to it that she and Pete are besties, but she's secretly holding a torch for him, and hello, so relatable! Regardless of whether their relationship ever progressed beyond friendship, I loved their bond. They shared so much together- stories, secrets, memories, love. And his presence was exactly what Annie needed to get her through this difficult time.
The story alternates between action/adventure scenes and flashbacks from moments they shared together, and I found it was the perfect balance between character development and plot. I was pretty sure this was going to be a five-star read for me, tbh.
The Second Half (Fine, the last 20%)
Okay. Remember how we had that discussion about whether an ending of a book/series can ruin the whole thing? Turns out yes, it totally can. The worst part is, I can't even explain why without ruining the whole book! So. Look at your own risk, though I know that most of you can't help yourselves ? View Spoiler »Killing Pete off just… okay, it honestly felt gratuitous and unnecessary. It seemed akin to killing off a main character for shock value, even though I truly don't think that was the author's intent.

In fact, I'm quite certain that her intent was to show Annie as a strong young woman who can overcome anything, but it didn't translate for me. And it made every bit of Annie and Pete's past seem meaningless to me. Because for so much of the story, it felt like this strong relationship, be it friendship or more, was going to be her shoulder to lean on as she rebuilt from her most recent tragedy. But now you're going to tell me that she lost him, too? Nope. I am not the kind of reader who needs an HEA, but this was too much for me. I ragequit for a few hours, then finished just to see if maybe it could be redeemed. It couldn't, for me. And frankly, it seemed emotionally underwhelming compared to the rest of the book but that could have just been my blind, fiery anger at play, who can tell. ?‍♀️ « Hide Spoiler
Bottom Line: After such an incredible start, I am extra sad to be so let down by the last 20% or so. But maybe you will appreciate the things I didn't, and it was great until then, so.
---

Countess Elizabeth Báthory is the worst. Anna isn't. What happens when Anna falls under Elizabeth's spell? That's the crux of this story. How far will we go, what atrocities will we commit? Who, if anyone, can we truly trust? Anna ending up caught in Elizabeth's debauchery is really no shock. She's desperate to help her family, and certainly a welcome addition to any household. She's a talented healer, and a caring sister and daughter.
But we all know this isn't going to be a cute, cozy story. Elizabeth is going to kill plenty of folks, but the question the reader is going to want answered is why? I adored the 16th century Hungarian setting, in part because the setting itself evokes feelings of dread (no plumbing and extra-awful patriarchy has that effect). And while there's no moral grayness surrounding Elizabeth (remember, she's trash), there are loads of other morality questions asked throughout the book.
My only real qualm was that certain bits seemed quite predictable (and no, not just because it's historical fiction, shh). So it wasn't that I disliked any of it, but I was a wee bit underwhelmed by a few bits. But overall, I was definitely glad I read it.
Bottom Line: Not for the faint of heart, this historical fiction asks a lot of questions about who we are and what lengths we'd go to. Also, reminder that there's some really evil people, lest you forget.
Have you read any of these books? Plan to? Let us chat about them!