Here's the first batch (out of three) of January reviews! These were all… pretty okay. Not bad, certainly, but also not necessarily new faves. So read on for my thoughts on them!
Nameless Queen by Rebecca McLaughlin
The Heap by Sean Adams
The Last Witness by Claire McFall

---
Nameless Queen by Rebecca McLaughlin
Published by Crown Books for Young Readers on January 7, 2020
Pages: 352
Format:eARC
Source:Copy provided by publisher for review, via Netgalley


One girl must make a name for herself--or die trying --in this royal fantasy where an unknown peasant becomes the ultimate ruler. But how long can she keep the crown if everyone wants her dead? Perfect for fans of Furyborn, Red Queen, and Everless.

Everyone expected the king's daughter would inherit the throne. No one expected me.

It shouldn't even be possible. I'm Nameless, a class of citizens so disrespected, we don't even get names. Heck, dozens of us have been going missing for months and no one seems to care.

But there's no denying the tattoo emblazoned on my arm. I am queen. In a palace where the corridors are more dangerous the streets, though, how could I possibly rule? And what will become of the Nameless if I don't?

This was a good book. Easy to read, enjoyable characters, and a story that compelled me to keep going. What it wasn't, however, was particularly unique or memorable. And that is really my only negative of note: I found it a tad generic. BUT, like I said, I still enjoyed reading it and am glad I did, so let's talk about why!
The characters were fabulous. Honestly, that's the bread and butter of this story. The characters are just so completely endearing, so enjoyable, that I would fully recommend reading the book for them alone. It's one of those "we choose our own family" type of stories, which I adore. Coin, who's given herself a name as she's not "worthy" of having one, at first resists pretty much all people. But as the story progresses, she learns that not the whole world is garbage. And the people who care for her are just the best.
The "nameless" concept in general is clever. It's such a great approach to detail the ridiculous classist ways of the society in a way that readers will find enjoyable and easy to comprehend. There are absolutely relevant societal statements in this book, and I am here for every last one of them.
Even though there were many dark/bleak moments, the book had enough humor for a good balance. I find that this is incredibly important to me lately. I love a darker book, but I also love when the characters can throw a spark of humor, even in satire or sarcasm, during the book. This one was great at achieving that balance, which made it extra enjoyable to read.
Bottom Line: While it may not be permanently seared in my memory, this book was absolutely enjoyable and full of characters I loved reading about. Definitely one to read if you're a YA fantasy fan!
---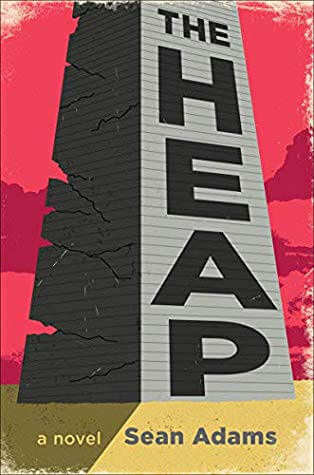 The Heap by Sean Adams
Published by William Morrow on January 7, 2020
Pages: 320
Format:eARC
Source:Copy provided by publisher for review, via Edelweiss


"As intellectually playful as the best of Thomas Pynchon and as sardonically warm as the best of Kurt Vonnegut, The Heap is both a hilarious send-up of life under late capitalism and a moving exploration of the peculiar loneliness of the early 21st century. A masterful and humane gem of a novel."

— Shaun Hamill, author of A Cosmology of Monsters

Blending the dark humor of Patrick deWitt and the jagged social and techno-satire of Black Mirror, an audacious, eerily prescient debut novel that chronicles the rise and fall of a massive high-rise housing complex, and the lives it affected before—and after—its demise.

Standing nearly five hundred stories tall, Los Verticalés once bustled with life and excitement. Now this marvel of modern architecture and nontraditional urban planning has collapsed into a pile of rubble known as the Heap. In exchange for digging gear, a rehabilitated bicycle, and a small living stipend, a vast community of Dig Hands removes debris, trash, and bodies from the building's mountainous remains, which span twenty acres of unincorporated desert land.

Orville Anders burrows into the bowels of the Heap to find his brother Bernard, the beloved radio DJ of Los Verticalés, who is alive and miraculously broadcasting somewhere under the massive rubble. For months, Orville has lived in a sea of campers that surrounds the Heap, working tirelessly to free Bernard—the only known survivor of the imploded city—whom he speaks to every evening, calling into his radio show.

The brothers' conversations are a ratings bonanza, and the station's parent company, Sundial Media, wants to boost its profits by having Orville slyly drop brand names into his nightly talks with Bernard. When Orville refuses, his access to Bernard is suddenly cut off, but strangely, he continues to hear his own voice over the airwaves, casually shilling products as "he" converses with Bernard.

What follows is an imaginative and darkly hilarious story of conspiracy, revenge, and the strange life and death of Los Verticalés that both captures the wonderful weirdness of community and the bonds that tie us together.

So, this book went in a very different direction that I assumed it would. To be fair, I don't necessarily always have any decent grasp on where I think things are headed, so we won't hold that against The Heap. But I feel like it's worth mentioning, anyway. I guess I assumed, based on the technical prowess of Los Verticalés, that we were going to be in some kind of future setting (and we can blame Goodreads for labeling it as both "science fiction" and "dystopian"). And I don't actually know if it isn't, which we'll get to. But anyway, let us chat about all the things!
What I Liked: 
The history of Los Verticalés was kind of awesome. There were chapters, written by those who had survived Los Verticalés (by not being home at the time basically), about the history of the building. Not just the physical details, but of how the people of the building pretty much formed their own society over time. It was endlessly fascinating, and I couldn't get enough!
The characters went through a lot of quiet development. There was a lot of introspection in the book, which is why I say "inward". They each were very… reserved about sharing emotions with anyone else, so the evolution they went through was a slower one of solitary exposition. Still, that made it feel incredibly honest, and authentic to the characters the author had developed. They would not have been the type to have evolved any other way.
There's some mystery elements at play, and some very left-field stuff that I did not see coming! I'll keep it vague, but I will say that I definitely didn't see where things were headed, like I said. It takes an incredibly different turn from "looking for survivors in rubble of bananas building" to… well, that's a thing you'll have to find out for yourself!
What I Didn't:
When is this happening!? Honestly guys your guess is as good as mine. There's a ton of talk about a radio (as the main character's brother is a radio host), and phone lines. But no one seems to have cell phones or the internet. So… could be dystopia! But could also be alternate universe altogether, really. Also, what's shakin' with the rest of the world? No idea either! That is really my biggest gripe here: Worldbuilding was non-existent outside of Los Verticalés. And that could have been the point, which is fine, except the characters do go beyond the rubble. So it became more confusing for me to not understand the outside world at all.
Bottom Line: It's definitely a unique book with plot points I never expected. It moves at a slower pace and is definitely character driven, so expect less on Los Verticalés itself, and more on the rescuers and such.
---
The Last Witness by Claire McFall
Published by Sourcebooks Fire on January 1, 2020
Pages: 272
Format:ARC
Source:Copy provided by publisher for review


A group of friends awaken a malevolent spirit bent on revenge in this haunting thriller from award-winning author Claire McFall

Heather agrees to a group camping holiday with Dougie and his friends because she's desperate to get closer to him. But when the two of them disturb a pagan burial site above the beach, she becomes certain that they have awoken a malevolent spirit. Something is alive out there in the pitch-black dark, and it is planning to seek deadly revenge.

One year later, Heather knows she was very lucky to escape Black Cairn Point, but she is still waiting for Dougie to wake up from his coma. If he doesn't, how will she prove her sanity—and her innocence?

Truth time, mystery/thrillers are so impossible to review, like how do I even!? I feel like anything I say is going to spoil stuff! There's even a book that I want to compare it to, but even that would be too much info. I think there's a discussion post in here somewhere, actually. I digress.
So, what kind of non-spoilery stuff can we talk about? Hm. Let's see.
The location is awesome. The author does a great job of setting the atmosphere for some creepy shenanigans, and Black Cairn Point is the perfect setting. It's secluded, and not within cell phone service range of course. And the group camping there is eerie from the start. When Dougie, Heather's friend and love interest, takes a burial artifact, things definitely feel ominous.
The characters were… oh gosh I don't even think I can talk about them because of the questions it brings up! But suffice it to say, I didn't always like them. But sometimes I did, especially Dougie, and I felt some empathy for Heather. We'll leave it at that.
The ending maybe was a little rushed? I had some questions, basically. Some things that I would have liked to know more about. But based on my vagueness, there were certainly twists and surprises in the book, so you can be prepared for those!
Bottom Line: Definitely a surprising book with a great setting and atmosphere that I would have just liked wrapped up a bit more. (Also if you read it, can we please talk about it? 'Kay thanks.)
Have you read any of these books? Plan to? Let us chat about them! And enter for your chance to win The Last Witness!!