Welcome to August's Monthly Minutes at Midnight!
 Here's the deal: I'll share the books I've obtained, posts of interest from others, giveaways I have happening, and just general random shenanigans. You know I love a shenanigan.  Also, covers all link to Goodreads, because I am awesome. 
The Books
For Review/From Publishers:
Huge thanks to Penguin and Page Street! 
eARCs:
Huge thanks to Simon & Schuster, Inkyard Press, MIRA, Del Ray, Ace, Harper Teen, and Disney!! 
Purchased:
I had to buy it because sale, okay? 🤷‍♀️
Won/Gifted/Traded: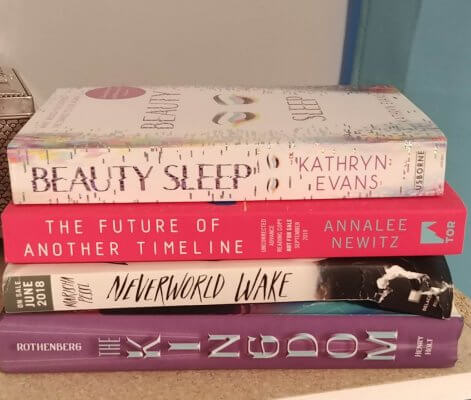 Huge thanks to Suzanne @ The Bookish Libra & Lauren @ ShootingStarsMag for Beauty Sleep, Penguin for The Future of Another Timeline, and Macmillan for The Kingdom! And thanks to the lovely person who traded me Neverworld Wake– the fault of the condition of this book rests with USPS, not the trader! 
---
Shenanigans Since Last Time:
I read 16 books this month. That's a pretty impressive number, especially for me!
This was a really good reading month, which is tough considering the sheer volume! I mean a few were a little meh, but for the most part, this was an outstanding group! A few new faves in here, even! 😀 
Giveaways: Click Here, or on Sidebar
---
Blogosphere Bulletin
Here are some of the loveliest/most entertaining/super helpful/just plain interesting posts I found this month!
---
Fancy & New Since Last I Saw You!
I love looking at pretty covers! So here are some new ones that I have fallen in love with since our last update!
This is very colorful (and in some cases, trippy) and I am not sorry.
---
Things we need to talk about at this juncture:
The 100 will end after Season 7 and of course I am not okay. Honestly I think a part of me will die when this show ends and I know that seems dramatic but come on, are you guys new here?  I am contemplating going to Unity Days (fine, I may already have booked a hotel, but shh) but Idk. Is it worth spending the money? Will I feel weird alone? Who knows.
And while we're on the subject, it's hiatus time and I am not okay. The season finale was good, left a ton of questions for Season 7, but like, I don't want it to go by fast this time because genuinely what will become of me?
My grandmother passed away and I am not handling it well. I was very close to both of my grandmothers (and one of my grandfathers!) forever. Like- not just as a kid, always. And I just can't wrap my head around them being gone. This particular grandma (her name is Janet) was kind of that vision of a family matriarch that we see/read about. She held her family together through so many ups and downs. But honestly, more than that? She was my best friend. When she was healthier, we used to take road trips all over the place, get into all kinds of shenanigans. Even as she got older, we went to dinner all the time, and chatted for hours about anything and everything. And I just can't cope with her loss. It's like- my grandparents were always the people who loved me both fiercely and unconditionally and now they're not here. I just miss her. I miss them all.

Me, my grandma, Lena when she was brand new, and my mom. 8 years ago ♥♥

I have a lot of stuff coming up that I could use some good vibes for. 

It's going to be an interesting month basically. When I was younger, I thought it'd be cool to testify in a court of law. Turns out it's not fun, it's scary as fuck, and 0/10 do not recommend. Especially when you're just trying to do right by your kids. 

Speaking of, Shattering Stigmas 5.0 is happening! 

And I am back! And looking for YOUR help!! (Please please I will beg if I must! 😀 ) 

The wee children started school, Sammy started kindergarten, and seriously no one asked for that I am not prepared isn't he still like, a newborn? 😭
Have a great September, loves!