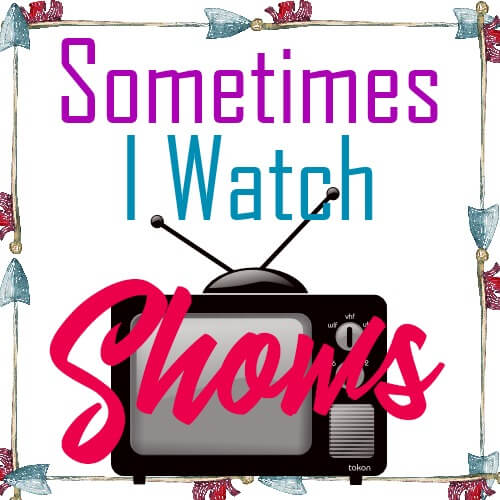 A few times,I told you about the shows I watched. And it was fun, so I am going to do it again! This batch seems less successful than the previous ones but that is okay! Some were still wins, and the ones that weren't…. well then I shall save you from them!
So, a list of the mostly good shows I've been watching since whenever the hell the last post posted was! 
Renewed for a second, two-part season. Which… okay? Sounds like four seasons, but you do you, Netflix 🤷‍♀️
Guys I did not love this. In fact, I did not finish it. So maybe it gets better, who knows. Tbh, I mostly cared because A) Sabrina, which I loved in the 90s. And B), Tati Gabrielle, who plays Gaia on The 100. I knew it was going to be a much darker reboot, which I was all for! I didn't need a second cheesy Sabrina, as much as I enjoyed the first cheesy one.  So dark, yay! The fact that I was mostly suuuuuper bored? Very, very nay. And like I said, maybe it got better! The episodes seem longer than they need to be, and I didn't really love the girl playing Sabrina, though I did enjoy some of the side characters? Also, apparently I am better at DNFing shows than I am books.
Tati was awesome though. Feel free to watch it for Tati.
Verdict: 👎
---

3 Seasons; Canceled by evil demons
I really liked Season 1. I loved Season 2. And I beyond epically loved Season 3. So of course it was canceled. The good news is, if you want to start it, it is somewhat wrapped up? Like when I saw how it ended, I was scared that it would be over. Because it is a decently closed ending. The bad news is, you will want more answers. And more of the characters you will undoubtedly fall in love with. And shit, you will be jonesing to see the future because come on. The whole concept is really well executed, but I won't lie, I am here for the characters and their stories and how they'll save the damn world.
Sorry Grace, I'll never let go 😭😭😭
Verdict: 👍👍
---

Miniseries
I…. genuinely have no idea what the hell happened here. None. Nada. I finished the series, hoping that by the end I'd have a huge "aha!" moment that would make me understand what all the fuss was about but wow nope no idea. It had a few moments that gave me some hope, and maybe that is also a reason I kept watching. And I sort of felt for the characters, though I wasn't even fully sure I was supposed to. I feel like a lot of drugs were consumed in the making of this show and that's all I've got.
I feel you, girl. Like me finishing this show.
Verdict: 👎
---

Renewed for 4th Season (coming soon!)
This show is goddamn everything. I am in love. I mean, the premise is awesome, of course. People living in space in the future- not getting along, because some things never change. And then all kinds of shenanigans ensue, and I am not telling you a thing because I promise you need to see it for yourself. I have heard (thanks, Beth!) that the books are even more incredible so I have the first one, hoping to get to it soon!
When I started the show, I was a little overwhelmed, but it was interesting enough to continue. And the characters are beyond phenomenal, once you get past the first couple episodes where you aren't sure who you actually care about. This show is epic. It basically quenched my thirst during The 100 hiatus and that is a tall freaking order.
Right, sorry ma'am. It is awesome. Watch it.
Verdict: 👍👍
---

One season; Canceled 
This is legitimately one of the most boring things I have ever encountered on television. And it sounds so freaking cool. But it just wasn't. I couldn't pay attention because everyone was so incredibly flat. And sure, maybe exciting stuff happened eventually, but after two episodes, I was officially out of fucks to give. Sorry, not sorry.
Sure are 🙄
Verdict: 👎
---
One Season; Renewal status unknown (cross ALL THE THINGS), some evidence of a Season 2 
Okay look. I might have just watched it because of Henry Ian Cusick from The 100 and a little Zach Morris action. BUT. Guys. Please do not sleep on this show, it is incredible. I mean, okay it's some kind of zombie-vampire hybrid apocalypse, yes. But it is so much more. Mark-Paul Gosselaar's character (Brad Wolgast) takes a little girl (Amy Bellafonte, played by an incredible Saniyya Sidney) under his wing and it is fucking magical. There's all kinds of other very worthwhile relationships to explore too, in the midst of this hellish situation. And it is a mess, let out by Ian's character (Dr. Jonas Lear) trying to save his wife from early-onset Alzheimer's. Ian's Lear is basically Marcus Kane meets Abby Griffin, and if you watch it for no other reason, watch it for that. But I promise you will find infinite other things to draw your interest.
And the end of Season One is so epic that I'd be remiss if I didn't tell you that it Blew. My. Mind. This is probably tied with 12 Monkeys for my second-favorite show of all time and if that doesn't get you to watch idk what will.
Verdict: 👍👍
What are some of your current favorite shows? Anything I must watch? Have you seen any of these? Also GET READY because The 100 is back in a little over 2 weeks, eep!