Top Ten Tuesday is a feature hosted by That Artsy Reader Girl. This week's theme is:  Bingeworthy TV Shows/Movies (The new fall TV season is starting up this month, so let's talk about what shows everyone should watch when they're not reading!)
I honestly considered just doing a post about The 100, because of course I did. But I have watched a ton of awesome shows lately (tbh, this is entirely thanks to Greg @ Book Haven because if left to my own devices, I'd just watch The 100 over and over) and I absolutely have recommendations! It wasn't easy to narrow it down- the top few were cake, but after that? I have watched a lot of enjoyable stuff!
Also I linked the posters to IMDb because that seemed like a nice thing to do, in case you want more info!
AMC/Channel 4/ Amazon Prime
3 Seasons (Renewal Status TBD) 
Do sentient AIs deserve the same rights as humans? Well, I think they probably do, but it's a scary concept all around, especially when said sentient AIs have superhuman strength and could probably kill everyone in a jiffy. Tbh, most of the AIs are more likable than the humans, so that probably doesn't say good things about us as a species. Definitely thought provoking! Prepare to have arguments about whether it's better to kill little AI boys versus old human men. (I was all for saving the little boy, just so everyone knows where I stand.)
Netflix
1 Season (Renewed for Season 2)
The entire premise of this show is apocalypse and bunkers. If you don't think my The 100-loving ass would be all over that, you're sorely mistaken. And don't misunderstand- this is not The 100 quality. But it's fun. The characters are entertaining. Rain can kill folks. Lots of betrayal. It's Scandinavian, and who isn't down for that?
Netflix
2 Seasons (Renewed for Season 3)
How did I never know that I desperately needed a Brazilian dystopian in my life? Turns out, I really do. The setting is awesome, as you can imagine- and there is a ton of cultural flair thrown in, as there should be. It's so very morally gray throughout- after two seasons, I am still not completely sure if there is a good side. The characters are also quite gray- there truly are no good guys. (Though, there might be a couple of actual bad guys, just saying.) Also, mayeb I will learn Portuguese by the end!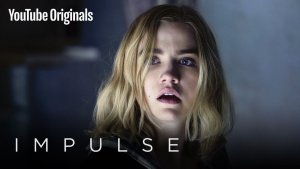 YouTube Red
1 Season (Renewed for Season 2)
I feel like "YouTube Red" sounds like a very NSFW site. But alas, it's just YouTube that you pay for. Which is pretty ridiculous in itself, hence the free trial you use to watch this show. I was skeptical, I won't lie. Because it's… YouTube for goodness sake. But hot damn did this show bring it! It deals with some tough topics, including sexual assault and its aftermath, very responsibly. And the plot is quite unique!
Hulu
2 Seasons (Renewed for Season 3)
I have heard Handmaid's Tale referred to as "misery porn" and… basically. I mean, the book is too, don't get me wrong. And it is incredibly powerful, too. It's just that real life is also misery porn at this point, so it's hard to watch more of it while trying to stay alive. But I daresay the show is more powerful than the book for the sheer fact that we get a much deeper look into so many more characters because of the television formatting. So it's hard to watch, yes, but it's also quite worth it. If for no other reason than an impetus to make all your friends and family vote.
Netflix
4 Seasons (Series Concluded)
This might have been even higher on my list, but the ending really pissed me off. It ends, don't worry. I just didn't love how. It's a very cool time travel premise, with yet again a lot of moral gray area. Also, it features half the damn cast of The 100, so you can watch it for Baby Richard Harmon (Murphy) alone. Stay for Tasya Teles (Echo), Terry Chen (Shumway, in an equally Shumway-ish role), Mike Dopud (Vinson), Ian Tracey (Maya's Dad), Luvia Peterson (Sienna), Alessandro Juliani (Sinclair, because who doesn't need a Sinclair fix?), Ty Olsson (Nyko, because who doesn't need a Nyko fix?). It's a setup for a pretty epic drinking game if you ask me.
BBC/Amazon Prime
5 Seasons (Series Concluded)
Tatiana Maslany is my hero, bow down to the queen. How can one woman play almost every character in the series so flawlessly that they seem like actual separate women?! I have no idea but wow, she does. And the few characters who aren't played by Tatiana are equally fabulous. It's a thriller/sci-fi/mystery/drama that hits it out of the park consistently. And you truly don't need any additional reason to watch other than this:
Netflix
1 Season (Renewed for Season 2)
I was kind of shocked by how much I loved this one. The premise is so twisted, the German town is so messed up, so atmospheric. And the twists were insane! There are family secrets galore, so many connections that I didn't expect. I think part of it is, I went in expecting "just another mystery" and got a whole, whole lot more. I won't say anymore, because you should go in as blind as I did for maximum entertainment.
MTV
32 Seasons (Season 32 Currently Airing)
One of these things is not like the other! Yes, in the midst of a whole host of deeply disturbing mindfuckery, we have a ridiculous reality competition show that has been around longer than some of you people. And I cannot stop watching it, will never stop watching it. I high key hope the cast is all old and with walkers and canes and shit trying to compete and of course, causing drama. Honestly, it's just good fun, and I have been watching since the beginning, and it's a good reprieve from all the bleakness I watch tbh.
NBC/Hulu
2 Seasons + Upcoming Finale Movie
My saltiness at the cancellation of this gem of a show knows no bounds. Honestly, this is such a wonderful and unique show with fabulous characters, loads of history, and a sense of humor despite high stakes. The first couple episodes were a little rough, but the show really got into its groove, and then was somehow saved from cancellation. Then, it was cancelled again. But at least there's a finale special? Especially because Season 2 ended on the biggest cliffhanger of all time. It would have been rude, tbh.
Syfy/Hulu
4 Seasons (Series Concluded) 
This series is pure freaking gold. It's full of high stakes time travel, and a cast that you seriously cannot help but adore. It ventures into the past, the present, and the future, in an attempt to save the world. Everything about this show is smart and witty, and it it has the rare distinction of ending on a phenomenal note. Honestly, 12 Monkeys is the show we all deserve.
The CW/Netflix
5 Seasons (Renewed for Season 6)
Um, no one is surprised here, right? I don't know how many times or in how many ways I can implore you to go watch this. All five seasons are currently on Netflix, so I truly don't know what you are waiting for. I. Am. In. Love. It just gets more and more epic, with the most amazing characters (and cast and crew, of course) that you could even imagine. The storylines are incredibly poignant, and the stakes are always so, so high. Also, apocalypses. Who doesn't love an apocalypse or three? Please. Just do the thing, yeah?
So! What shows do you love? Are you a fan of any of these? Let us chat!