Welcome to April's Monthly Minutes at Midnight! 
 Here's the deal: I'll share the books I've obtained, posts of interest from others, giveaways I have happening, and just general random shenanigans. You know I love a shenanigan.  Also, covers all link to Goodreads, because I am awesome. 
The Books
For Review/From Publishers:
Wow none this month! 
eARCs:
Huge thanks to Berkley, Random House, Harper, Page Street, Entangled, Flux, Tor, and Simon & Schuster! 
This… seems excessive, yes? But look, I was choosy, I swear! You know, pretty much. ?
Purchased: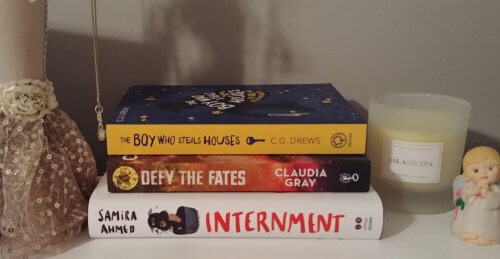 Look, when a new hardcover is $7 (Internment), you buy the thing. Obviously I had to pre-order The Boy Who Steals Houses (????) and then Defy the Fates because the UK edition is much prettier, not sorry. 
Also… a few Kindle deals oops?
Won/Gifted/Traded:
Hugest of thanks to YABC & Tor for The Tesla Legacy!
---
Shenanigans Since Last Time:
I read 13 books this month. Which is pretty damn good for me, not going to lie! 
This was a good reading month! The last three were only okay for me, but most of them were freaking amazing. Like 4 stars and up! Reviews for basically all of these are coming up in May, so stay tuned! 
Giveaways: Click Here, or on Sidebar
---
Blogosphere Bulletin
Here are some of the loveliest/most entertaining/super helpful/just plain interesting posts I found this month!
---
Fancy & New Since Last I Saw You!
I love looking at pretty covers! So here are some new ones that I have fallen in love with since our last update!
Not a ton this time, but quality over quantity, right?
---
Things we need to talk about at this juncture:
Bookish Games are back!! This game is based on Nevernight, which I have Neverread, so. I thought about it, but as quickly as I have been killed off lately, do I really need to spend days reading a huge ass book? Nah. Wish me luck! They start May 15, if you want to spectate! 
Welcome to Sanctum, bitches!! The 100 Season 6 will air today as you read this post, but you know I am going to be talking about it non-freaking-stop. And I am zero percent sorry. I also finally posted my seasons 1-5 wrap-up post, aren't you proud? Here, have the second trailer! I think it is way more bananas than the first one!


Speaking of The 100…. it was RENEWED for Season 7!! That is right, even before Season 6 aired, the powers that be blessed us with a seventh season (and no mention that it was the final season, which is promising!), so now we can all rest easy and enjoy Season 6 in all its glory!! 
Have a great May, loves!