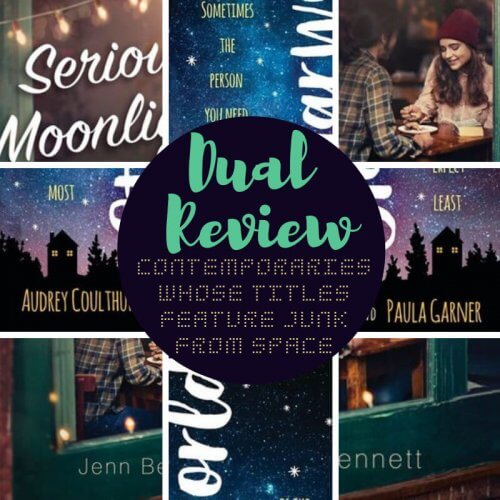 This is… oddly specific, no? I can live with it. Also, these are two good books, though one I fell in love with a bit more than the other. But hey, it's still a win and I'll take it! 
Starworld
by Audrey Coulthurst, Paula Garner
Published by Candlewick Press
on April 16, 2019
Pages: 352
Format:eARC
Source:Copy provided by publisher for review, via Netgalley

Sam Jones and Zoe Miller have one thing in common: they both want an escape from reality. Loner Sam flies under the radar at school and walks on eggshells at home to manage her mom's obsessive-compulsive disorder, wondering how she can ever leave to pursue her dream of studying aerospace engineering. Popular, people-pleasing Zoe puts up walls so no one can see her true self: the girl who was abandoned as an infant, whose adoptive mother has cancer, and whose disabled brother is being sent away to live in a facility. When an unexpected encounter results in the girls' exchanging phone numbers, they forge a connection through text messages that expands into a private universe they call Starworld. In Starworld, they find hilarious adventures, kindness and understanding, and the magic of being seen for who they really are. But when Sam's feelings for Zoe turn into something more, will the universe they've built survive the inevitable explosion?

In a novel in two voices, a popular teen and an artistic loner forge an unlikely bond — and create an entire universe — via texts. But how long before the real world invades Starworld?

Starworld is a really sweet book, told from the points of view of Sam and Zoe. (And incidentally, written by two authors whose work I rather enjoy.) There were definitely wins for me, with a few reservations, so I am just going to break it down as such!
The Wins:
Holy emphasis on family! This is beautiful, frankly. The times I felt the most emotion while reading is while these two young women were interacting with (or speaking about) their families. Having them be able to open up to each other about struggles they felt unable to share with anyone else was really sweet. And goodness, the sheer love that radiated from their respective family units had my heart melting over and over again. I found that they were all so relatable, as they had their own problems (some very severe) but tried desperately to work together to make things better.
The characters were quirky and adorable and seemed really relatable. They were both trying to come to terms with so, so much life upheaval. And not just your typical "growing up" stuff, though that was part of it for sure. Sam is dealing with an absent father, a mother with a mental illness, a best friend who's starting to move on a bit without her, and well, feelings for Zoe. Zoe has a whole host of family situations from a special needs brother who the family is no longer able to care for alone, a mom who's just gone through cancer treatment, and the fact that she's adopted. Not to mention, a boyfriend she doesn't seem so keen on, and friends who she has been distancing herself from. So when their worlds collide, it makes sense that they'd gravitate toward each other. Which leads to my next point…
Zoe and Sam leaning on each other was lovely. Really, it is incredible that they were able to find solace in this imaginary world they created. And that they could trust each other with this stuff that was both too big to handle alone, yet too hard to open up to anyone else about.
The Reservations:
The actual "Starworld" was a little hokey. Look, I am all for them having this cute little inside world. But I don't know that I needed to read all the texts about it? In role-play-speak no less? At first I thought it was a little cheesy, but after that wore off, I just was mostly bored and just skimmed those parts. 🤷‍♀️
I didn't really love the ending. I mean, I guess I hoped the story would go in a different direction? And maybe that's on me, but… my opinion stands. And I'll give you the least spoilery version possible, still under spoiler tags because I personally hate spoilers but… I feel like this one is kind of big for people who were hoping for certain things from the book, so. View Spoiler »If you are here for a f/f romance… look elsewhere. Sam loves Zoe, but, well. That's about the extent of that. And I feel like Zoe handles some stuff really poorly. « Hide Spoiler
Bottom Line: Super sweet in terms of family and friendships, but lacking in a couple areas as well. Overall though, I was glad I read it.
---
Serious Moonlight
by Jenn Bennett
Published by Simon Pulse
on April 16, 2019
Pages: 432
Format:eARC
Source:Copy provided by publisher for review, via Netgalley

After an awkward first encounter, Birdie and Daniel are forced to work together in a Seattle hotel where a famous author leads a mysterious and secluded life in this romantic contemporary novel from the author of Alex, Approximately.

Mystery-book aficionado Birdie Lindberg has an overactive imagination. Raised in isolation and homeschooled by strict grandparents, she's cultivated a whimsical fantasy life in which she plays the heroic detective and every stranger is a suspect. But her solitary world expands when she takes a job the summer before college, working the graveyard shift at a historic Seattle hotel.

In her new job, Birdie hopes to blossom from introverted dreamer to brave pioneer, and gregarious Daniel Aoki volunteers to be her guide. The hotel's charismatic young van driver shares the same nocturnal shift and patronizes the waterfront Moonlight Diner where she waits for the early morning ferry after work. Daniel also shares her appetite for intrigue, and he's stumbled upon a real-life mystery: a famous reclusive writer—never before seen in public—might be secretly meeting someone at the hotel.

To uncover the writer's puzzling identity, Birdie must come out of her shell…discovering that most confounding mystery of all may be her growing feelings for the elusive riddle that is Daniel.

Has Jenn Bennett been officially dubbed the Queen of Romance™ yet? And if not, why? And also if not, can we organize some sort of proper ceremony, perhaps a trophy is involved? Seriously, her books are always so freaking adorable all while still being heartfelt. And Serious Moonlight is no exception.
Birdie has had a hell of a life. Her young mother died suddenly, leaving her with her grandparents. Her overbearing yet caring grandmother passed away recently, leaving Birdie to lean on her mom's best friend Mona more than ever. She's navigating a new sort of relationship with her grandfather, who blessedly is finally cutting the cord a little and letting her get a job. I am telling you this because these people, Birdie's family (blood and otherwise) are freaking fabulous characters and such a strength in this book. They're well developed, and care so deeply for Birdie.
Birdie herself is quite a great character. She can be a little frustrating, but in a "well who isn't?" way, and not an annoying way. She regrets the day she had with Daniel Aoki months before, but who does she see upon starting her new job? Daniel Aoki, naturally.  Can we take a minute to appreciate the awesomeness that is Daniel? Where can I find a Daniel? No seriously Jenn, I'll wait while you obtain this information. He is one of the best love interests I have ever read, honestly. Not because he's "perfect"; he isn't. But because he treats Birdie (and everyone else) respectfully and he's kind and smart and funny and basically who wouldn't love that?
But before any sort of romantic shenanigans ensue, Birdie and Daniel set off to solve a mystery! And okay, sometimes it is a weeee bit over the top, but mostly it's pretty fun! I enjoyed that there was a whole side adventure for Birdie and Daniel, though I also loved their respective families and friendships.
Bottom Line: I'll read anything Jenn Bennett writes but also maybe her next pre-order campaign can include a personal Daniel? Cool thanks.

Do you enjoy contemporaries? Who is a contemporary author you can't get enough of?