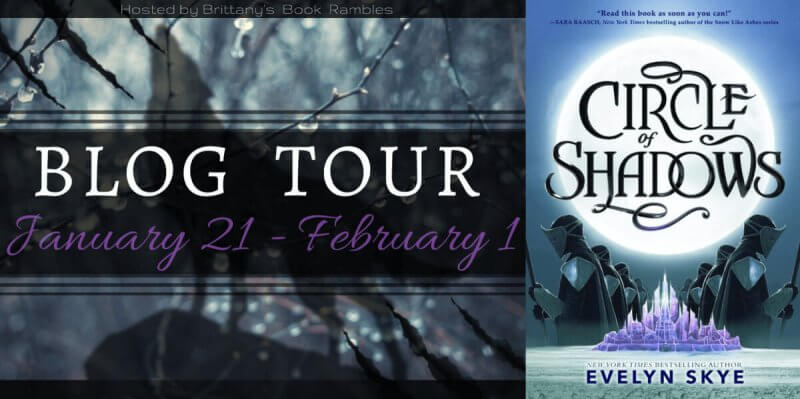 Welcome to my stop on the blog tour for Circle of Shadows by Evelyn Skye! Today I have a feature to share with you, as well as a really awesome giveaway! 
Circle of Shadows
by Evelyn Skye
Series: Circle of Shadows #1
Published by Balzer + Bray
on January 22, 2019
Pages: 464
Format:eARC
Source:Copy provided by publisher for review, via Edelweiss
Goodreads•
Amazon • Book Depository
A thrilling new fantasy series full of magic and betrayal—from Evelyn Skye, New York Times bestselling author of the Crown's Game series.

Sora can move as silently as a ghost and hurl throwing stars with lethal accuracy. Her gemina, Daemon, can win any physical fight blindfolded and with an arm tied around his back. They are apprentice warriors of the Society of Taigas—marked by the gods to be trained in magic and the fighting arts to protect the kingdom of Kichona.

As their graduation approaches, Sora and Daemon look forward to proving themselves worthy of belonging in the elite group—but in a kingdom free of violence since the Blood Rift Rebellion many years ago, it's been difficult to make their mark.

So when Sora and Daemon encounter a strange camp of mysterious soldiers while on a standard scouting mission, they decide the only thing to do to help their kingdom is to infiltrate the group. Taking this risk will change Sora's life forever—and lead her on a mission of deception that may fool everyone she's ever loved.


Love, spies, and adventure abound as Sora and Daemon unravel a complex web of magic and secrets that might tear them—and the entire kingdom—apart forever.

---
Gemina Feature
One of the biggest relationships in this book is the one that Sora has with her gemina, Daemon. Gemina are basically partners, who fight side by side, who have each other's backs through everything.
So I decided I'd feature some of my other favorite duos in books! You know, those twosomes who seem to have a next-level connection that allows them to do incredible things, slay incredible demons, overcome everything. So without further ado, here are my top 5! (Graphics link to more info on the thing!)
5. Ah, these guys had one hell of a bond! While this book wasn't my absolute favorite, their connection was pretty intense, and the reason for their connection blew my damn mind. Honestly, I will probably read the sequel just for those reasons. This trio feels everything that the others in the group do. And though they start as strangers, by the end they are as bonded as people can be, basically!

4. Vhalla and Aldrik are the only duo on the list who are a full-blown romantic pair. But that isn't why they made this list! No, they are Bonded with a capital B- this thing is serious! And even though yeah, there is a romance, that is very much not how their relationship starts. But time and time again, they save each other- and many others along the way.
3. Okay, I get that the obvious pair to put here would be Cole and Cassie. But Jennifer, she was so underappreciated. And the thing is, she always saved the day, no matter the time, no matter how far/long the gang was separated, Jennifer would find a way. She and Cole had such a bond because they were both so intertwined in the timeline, they're just the natural choice here.
2. No worries, I am still a staunch Peeta supporter, and do believe that Katniss ended up with who she was supposed to. But that doesn't negate her partnership with Gale. These two were able to hunt wordlessly, like the incredible team that they were, but it lead to fighting the Capitol wordlessly, when it mattered most. They each knew what the other was thinking, even when they didn't want to. They were so close, so connected, and their bond played an enormous role in the outcome of the rebellion.

1. Anyone shocked? Show of hands? Look, these two. They save goddamn worlds together. And yeah, they can survive on their own. But they're infinitely more powerful together. What one lacks, the other picks up the slack for. The heart and the head really need to work together for best results. It's been proven time and time again, everything's better when Bellarke is together.
---
One winner will receive a hardcover copy of Circle of Shadows and the book-inspired Tote Bag (INT)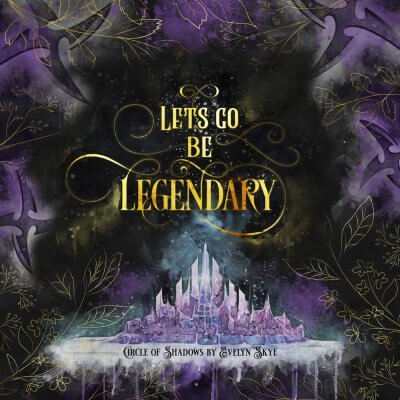 Who are some of your favorite dynamic duos? Do share!!