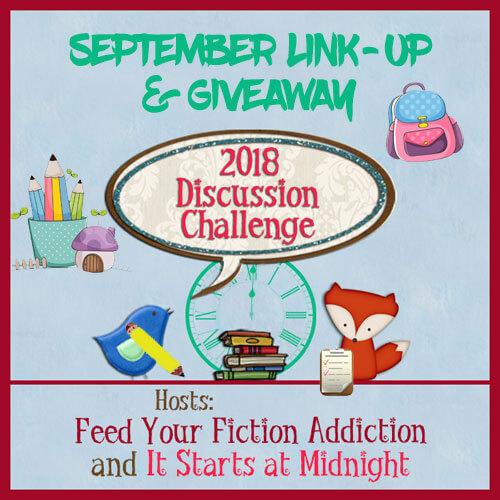 Welcome to the September monthly link-up for the 2018 Book Blog Discussion Challenge hosted by Nicole @ Feed Your Fiction Addiction and Shannon @ It Starts at Midnight!
It's back to school time here in the US, which means lots of bloggers are getting much busier (and a few of us have a lot more free time!). Don't let the back-to-school blues keep you away. Keep those discussion posts coming!
The winner of our July discussion challenge giveaway was Erica @ The Broken Spine. She chose Circe by Madeline Miller. Hope you love it, Erica!
If you don't know what this challenge is all about or haven't signed up yet (but want to), head on over to the challenge sign-up page to learn more!
Even if you'd rather not join, we hope you'll stop by occasionally to check out the MANY discussion posts that are being linked up here – there's lots of great discussions going on!
We're no longer giving discussion ideas each month (because not that many people seemed to need them), BUT you can check out our list of the topics we've suggested over the past two years if you need some inspiration. There are LOTS of ideas there, and I'm sure you'll find one you love!
Looking for even more inspiration, or want to see some discussion posts as an example? Check out the discussion posts on Feed Your Fiction Addiction or It Starts at Midnight!
Featured Blogger(s!)
This month's featured blogger (as chosen by Nicole & Random.org) is Suz @ Bookish Revelations. Suz is brand new to the challenge (she just joined us at the end of July!), but she's already posted a couple of great discussions!
(Commenting on any of Suz's discussions will give you extra entries in the giveaway, by the way—if you already commented on them when they went up originally, that counts too!)
Since Nicole is in a back-to-school mood, this month's giveaway is a book that features a school in any way. As always, the giveaway is open to anyone that The Book Depository ships to (or, if TBD doesn't ship to you, you could choose an ebook!) up to $17 value.
a Rafflecopter giveaway

Make sure to link up all of your September discussion posts here. This linky and the September giveaway will be open until October 7th (to give people a little extra time to link up – just in case you're disorganized like we are). If, by some chance, you forget to link up a post this month, you can add it to next month's linky (but no duplicates, please).
Go forth and discuss!
Credits for elements used in original button: Clever Monkey Graphics, B2N2 Scraps, Sweet Digi Scraps, Harper Finch