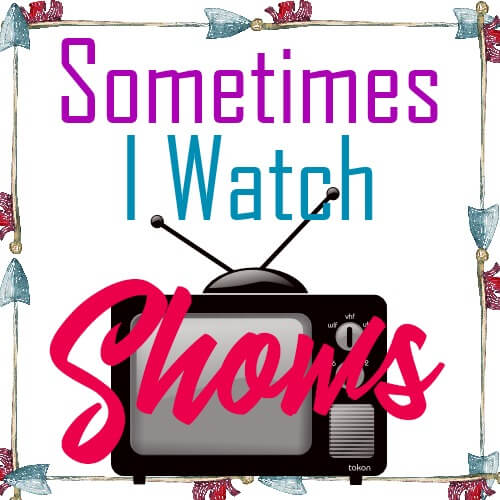 One time, I told you about the shows I watched. And it was fun, so I am going to do it again! The 100 hiatus was long and I watched many shows. I actually didn't even spend the whole time rewatching The 100, because wow, there were some good ones this time (and like, almost all of them would not have been so much as blips on my radar if not for Greg @ Book Haven, who should really get all the credit, because left to my own devices, I really would have just rewatched The 100, why lie?)
So, a list of the mostly good shows I've been watching since whenever the hell the last post posted was! 
Season 4 Airing Sundays on AMC
Man, when I first started this post, I was sure this was a show I'd be gushing over. And then Season 4 started. I feel like the new showrunners did me dirty, you know? Like what did I do to you, friends? But anyway, there are definitely lots of things I loved about it!
Alycia Debnam-Carey. Need a Lexa fix? Great, one is on a screen near you! Honestly one of the most fascinating things for me is how non-Lexa Alycia plays the role of Alicia Clark. Especially because they have similarities in general. But no, it's pretty impressive. Honestly you should just watch for that reason alone.

It had such a huge focus on family. When the series starts, we're basically following a few families through the beginning of the zombie apocalypse. And watching them deal with tragedy and adversity was so oddly refreshing. Somehow, the way family dynamics both change and stay the same during such an event is freaking fascinating. And, I really really cared about the characters, which made the stakes feel higher.
The BOAT. There's a lot of time on a boat and look, you wouldn't think a boat plus zombie apocalypse would equal awesome, but it does. It really does.
It had some really lighthearted moments in the midst of the terrible. Obviously this is not a "fun" show by definition, but some of the stuff actually had some dark humor to it. Which is another way the characters were endearing.

Notice that all of this is in past tense? Yeah, good luck with Season 4. I don't even dislike the newer characters or anything, but the show just doesn't feel the same, you know? There are weird flashback decisions and just… okay fine, crappy decisions all around. I mean, maybe it will get better again, but my expectations are basically… well, this:
–Me, watching the mid-season finale. 
---

Season 9 Filming
Oh, this freaking show. Of course I had to watch TWD after I watched (and loved) Fear. And I was warned (by several people actually) that it gets mighty shitty after awhile. So I knew what I was in for, but… I also didn't. I really enjoyed it when I started- not as much as Fear but still quite a bit. The characters were fun, and of course I wanted to see what all the fuss was about.
And for at least 4 or 5 seasons, I was really into it. But as promised, it started to decline. At first it was tolerable: a slow-moving storyline being dragged out unnecessarily, focus on a super minor character's backstory. Nothing unforgivable, just not as good as the beginning.
It really isn't Carl, but here we are.
Then things just got plain crappy. Between unnecessary deaths (and awful violence that is kind of bordering on TOO much),  the perma-villain (seriously, like 4 seasons and counting or something insane that I lost track of), random characters getting entire episodes of boringness, and the really weird crap like the king with a tiger, it became tough to watch.
I won't lie, I kind of like the King? But I have no idea how or why he is in this story. ?‍♀️
The worst part? I still do care about some of the characters enough to force myself to watch this crap. Like okay, fine, I just want to see Carol and Daryl get together, and as long as that hope is still alive, I guess I'll keep watching? Apparently I am a glutton for goddamn punishment.
---

Renewed for Season 2
Guys. If this show's description even slightly interests you, give it a try. Because wow, it was fabulous. One of my favorites on this list, certainly!  It all starts off with a missing kid, a shit ton of secrets, and reminders of another kid who went missing 33 years prior. What is connected? Who is connected? There are so many amazing questions with equally epic answers, and I am not planning to spoil any of them frankly.
It is delightfully messed up, and as the title suggests, dark. And the best part is, I had (and in some cases, have) no idea where they are going with so much of it, so it's addicting to watch!
---

Renewed for Season 2
Bunkers. ✔
Radiation Suits ✔
Basically Praimfaya I guess Idk. ✔
This is why I wanted to watch this show, let's be real. It's about people who have to go live in a bunker for years because of some environmental bullshit and fine, it reminded me of Praimfaya and so here we are. Look, this is no The 100, so we won't pretend it is. There are plot holes abound, and some questionable decisions. But it is highly entertaining, easy to watch, and has a lot of really fun characters.
Namely, this band of misfits, among others. 
And it's a pretty quick watch, sets up Season 2 pretty well, and I mean… have you really got anything better to do?
---

Season 2 Completed; Renewal Status Pending
Have they renewed this yet? I am not even asking if they cancelled it because I will sob, as Season 2 ended on a pretty epic cliffhanger. Sure, it has some flaws, but Timeless is just entertaining as hell. You get to go back in time (shocking, right?) to all kinds of fun historical events with some of the most genuinely awesome characters on TV.
Timless, more than anything, has a lot of heart. You can tell that the people behind the scenes are passionate about what they do because it translates to the screen. It's emotional while still being fun. There's romance and danger, and a fun history lesson attached to every episode.
Sorry, trying to keep it spoiler-free!
And so maybe they could just renew it so I can see what happens to my babies, and see who ends up with who, etc. And then I wouldn't have to check in dread every day. Do the thing, NBC.
---

I think this is just a one season thing?
Oh, The Chalet. So I liked this- though I am pretty awesome and guessed most of the twist. Like, from very early on, and I don't actually know if it was me being amazing or just easy to figure out? Anyway, there's some wedding guests stuck in what is absolutely THE most gorgeous scenery in all of television, in this little French town. How are they stuck, you ask?
The only bridge in and out, folks. 
And it soon becomes clear that some sinister bullshit is going down. Because a lot of the people who are from this town are basically garbage. And there are secrets abound, as only a small town can manage. That's all I will say about this, because… I don't want you to guess any of the crap like I did! OH but the one thing this show is really missing? A damn epilogue. I need an epilogue!
---

Renewed for Season 2
This was surprisingly delightful! I mean- it was messed up and everyone sucked, but still, a good time. The gist is that a dead girl can be seen… but only by a small handful of other people. There are questions, namely why these particular people? And the whole series kind of works around that. Parts of it are heartbreaking, as you watch her family deal with her loss.
Mom wasn't invited to the exclusive party, I'm afraid. 
And obviously, our girl wants to find out who killed her and why, because of course she does. And you know that there is shadiness at every corner, because I think shows like this would fall apart without the creepiest townspeople ever?
---

I don't think this needs a season 2?
Ah, this show. It starts off kind of slow, honestly. And then introduces you to a veritable who's who of human crap. But don't be discouraged! For the human crap is the best part!! Who doesn't like watching about hot messes, right? At times I was sure the main character herself was a damn villain.
It's Dad, personal care worker who Mom is guilting into having sex with her, Mom, and a brother-in-law thrown in for shits and giggles. YEP you read all that right. 
Meanwhile, Mie, the MC, has a husband who I didn't trust as far as I could throw him, some hardcore memory loss, a stint in an inpatient psychiatric facility, an investigator questioning her about a man's disappearance, and the creepiest kid I have ever seen.
It alternates between several months prior, and the present. So we see Mie at home with her family, and then we see Mie in her facility with the doctors, fellow patients, and the good ol' investigator. She doesn't know if she could be responsible for the disappearance because she forgets everything, nor does she have any idea who could be trusted.
One of like, two characters who I didn't completely loathe. 
I thought I guessed the twist- and I had, but it was only the first twist, I had no idea what the bigger twists would be and they kind of did blow my mind. The series wrapped up well, and I was glad that there was a good, solid ending.
---

I have no idea. 
Is it awful that I don't remember a ton about this? I remember some sheep, I think they died, and then some side characters who I really shipped. The atmosphere I remember being really on point too. So yeah, I didn't dislike it at all, but nor was it super memorable?
The main character's coat is my favorite part of this series. 
---

Season 5 Airs Tuesdays on The CW
And obviously, we need to talk about how Season 5 of The 100 is killing it and is the best show on TV forever and ever goodbye.
---
What are some of your current favorite shows? Anything I must watch? Have you seen any of these?