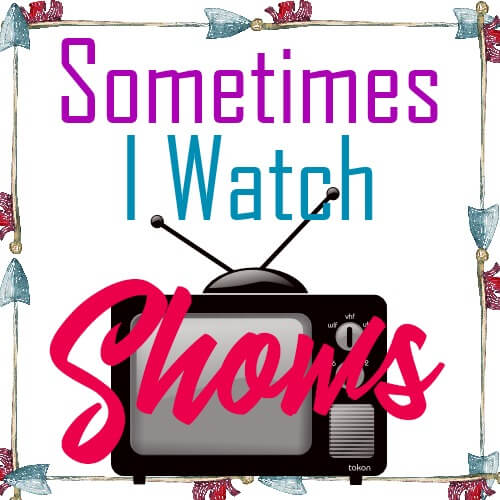 Sometimes, I watch shows. Shockingly, every so often it's something other than The 100. And I have actually had a pretty decent run of binges during The 100's hiatus! Due to everyone telling me I should, plus my own desire to talk about them, I am going to share what I have been watching since June!
Fun fact: If left to my own devices, I probably would have just watched The 100 over and over until it came back, or until the actual apocalypse came (and at this rate, I don't know which will be first, tbh). So I have pretty much turned my choice of shows over to others. Most of these were chosen by Greg @ Book Haven, whose opinion on shows I trust fully now, more than my own frankly. I feel like maybe there's a missed career opportunity there… 🤔
Anyway. Let's start where it all began: The summer, and Orphan Black.

2013-2017 ♦ BBC America/Amazon Prime
First thoughts: Well, I don't know why this emo British lass is being shifty in a subway station. This… may not go great. Oh, but it did, it did. So here's the gist: Sarah, the aforementioned emo girl, spots an eerily similar looking young woman jump to her demise on a subway platform. It's awful. Anyway, this girl has the same face. So Sarah starts to investigate. Finds out she's a clone. Shenanigans ensue.
Really, this show's characters are its bread and butter, and somehow Tatiana Maslany portrays at least half of them. It's incredible to watch her bring so many unique personalities to life, and that in itself would be enough to watch. But then you've got romance and family dynamics and mystery and creepy science. So how could you not love it basically? And the best part is, in the midst of going through some really serious crap, it somehow managed to have fun and heart.
If this doesn't make you want to watch, then I don't know, maybe you're hopeless?
The final season has aired, and it really ended quite nicely, even if I'd have liked just a few more questions answered. But on the whole I fell in love with the characters, and was sad to part ways with them. Good news is, you can binge this now since it's ended, woo!
---

2012-2015 ♦ Showcase (Canada)/Syfy/Netflix
Will I lie and tell you that Richard Harmon (among other The 100 cast members) isn't the biggest reason that I wanted to watch this? No, no I won't. To be honest, Richard Harmon is a fabulous reason to watch literally anything, and you'd do well to remember that. Who else from The 100 is in this time-travel nightmare with Murphy? Well, we've got Shumway, Zoran's Mom Sienna, Sinclair, Maya's Dad, Nyko, Gustus, Echo,  and that dude who was the Commander of Becca's ill-fated Polaris crew.
But look, that's not the point. It was good on it's own! So good, in fact, that I now call Zoran's mom Garza instead of "Zoran's Mom" OR Sienna. It's certainly a thought provoking, smart show with a shitton of morally gray questions, which I love. The time travel is complicated, but in a mostly good way- it does get a little twisted, but not so much that you can't unravel it. Basically, a bunch of criminals end up sending themselves back in time to prevent the government from becoming… well, what it has become. But oopsie, this pretty lady cop was sent along with them. Or was it an oopsie? So many secrets to uncover!
The only downside? The series was canceled, and though they did get to film a final season, it was abbreviated. And basically, that left the ending a little… lacking, let's say. I mean, it ended, and a lot of questions were answered, just not in a way that made me very happy? It wasn't the worst ending ever, but it wasn't the strongest either.
Me, to whoever decided certain things. 
---

Season 4 Premieres Spring 2018
Guys. This is my second-favorite show of ever, I think. Like obviously after The 100, but still, I feel like that's saying a lot. 12 Monkeys is based off the 1995 movie of the same name. Here's the main idea: A really awful global pandemic has basically eradicated the human population. A few survived, but the world is decimated. One scientist, determined to save her daughter, enlists the help of some ragtag scavengers, sends one of them back in time in an effort to stop the plague from starting.
Only… that never works, otherwise the show would have been like two episodes long. There's so much more to this story than meets the eye, but damn it is dark. The characters are incredible, they all have personal horses in this race along with saving humanity. Of course, their personal interests and saving the world don't always coexist nicely, and there is all kinds of stuff that befalls them. This world is gritty and awful and so well done and I wish the last season wasn't coming up because this show is fucking phenomenal.
–My feelings on this being the last season 
---

Season 2 Resumes in January 2018
So, I think most people know about this one. It's currently airing on The CW, and it's based off of the Archie Comics, which I know nearly nothing about, save for an episode for Friends in which Chandler tries to write for them (The One That Could Have Been). It's quite different from the shows on this post, because it's kind of a garbage show, but I mean that in a loving way. Like, it's not going to make you think, nor will it make you consider moral implications of major decisions. It's just fun and sometimes we need that!
It's like Dawson's Creek for the new millennium- less stereotping, less unncessary angst. Yet more murder, lots more murder. I just like how the women aren't automatically pitted against each other, how they aren't these shrinking damsels fighting over two ridiculous dudes. I mean, there are two women being silly over two ridiculous dudes, don't get me wrong. But in a more feminist way. But we still have all the elements of Dawson's that your inner 90s girl still craves: Female teacher sexing up male students, rich NYC import, gay best friend, kid from "wrong side of the tracks", philandering parents, oh yes. It's all there. Just in a more entertaining and vaguely less offensive way.
---

Season 2 Premieres Spring 2018
This is the hardest damn show to watch, I don't even have any words. It's also the only one I actively chose myself. I don't really know what this says about me, but nothing sane I assure you. Here's the thing: When I can watch it, it's totally worth it. This show is so high quality and incredibly well executed across the board. Thing is, if you'd asked me 13 months ago, I'd have said "very cool, a horrific dystopian cautionary nightmare, sign me up!" but today I'm thinking "oh wow, Margaret Atwood actually has prophetic powers" and it is scary.
This started alarmingly, with smaller injustices toward women. Birth control and abortion bans, anyone? I mean- you can literally see this same thing happening, and that makes the show both necessary and impossible to watch. But I will keep watching. Just… always have some old Friends episodes or something equally lighthearted on hand for after you're done and find yourself wishing for the apocalypse as opposed to living in the society of The Handmaid's Tale.
---

Season 5 Premieres Sometime in 2018 but The CW won't tell us when because they're evil.
And don't worry- I still rewatch The 100 over and over and over again. I don't even know how many times I have watched it, I just keep on going. And frankly, I'd be remiss if I didn't mention it in a show-related post? I feel like you'd be secretly disappointed in me too? Or maybe the word I am looking for is "relieved", who can be sure? Seriously though, if you haven't, you should! 😀
What are some of your current favorite shows? Anything I must watch?
(Kidding, heh.)