Welcome to May's Monthly Minutes at Midnight! 
 Here's the deal: I'll share the books I've obtained, posts of interest from others, giveaways I have happening, and just general random shenanigans. You know I love a shenanigan.  
The Books
For Review/From Publishers: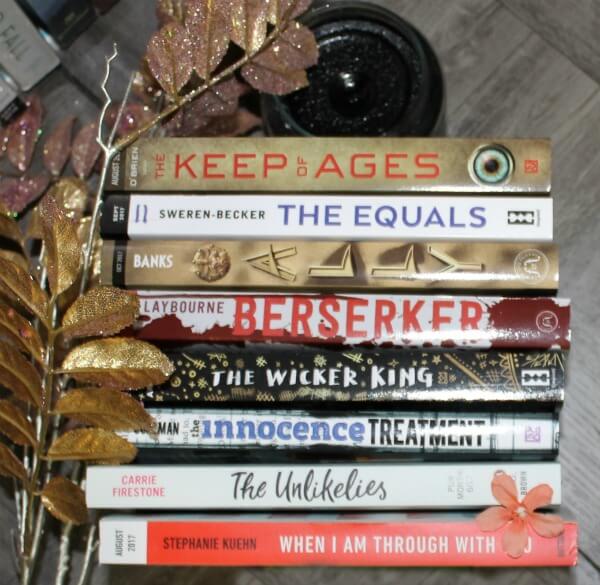 The Keep of Ages by Caragh M. O'Brien
The Equals by Daniel Sweren-Becker
The Innocence Treatment by Ari Goelman
The Unlikelies by Carrie Firestone
When I Am Through with You by Stephanie Kuehn
Thanks to Macmillan, Little Brown, and Penguin!!
eARCs:
via Edelweiss, thanks to HarperTeen & Sky Pony Press!
Purchased:
These were all pre-orders, and all but one was bought with gift cards, so I feel much less bad 😉 
Traded/Won: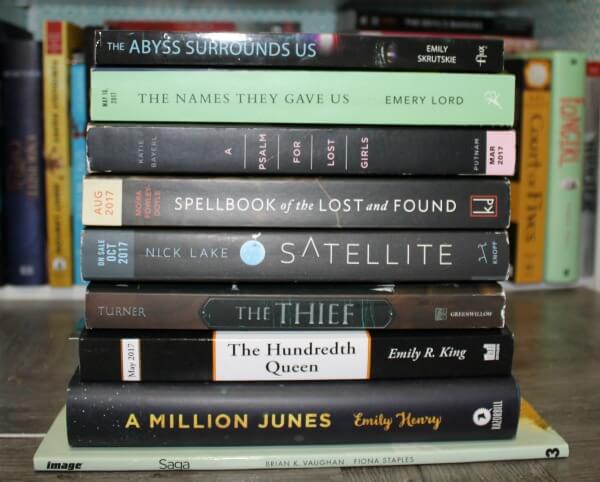 Thanks to all the lovely humans who traded/gave these to meeee! I'd list you all, but tbh, I am tired. So know I appreciate it! I also forgot a few because I did, and I am wayyy too lazy to take new pictures, so next montH! 
---
Shenanigans Since Last Time:
I only read 12 books this month. But to be fair, I read ACOMAF and ACOWAR which were like 700 pages each so. 
So, this was an interesting mix. Some were good, like I expected (Always & Forever, Lara Jean, The Long Way to a Small Angry Planet, Words in Deep Blue), some surprised me by how much I liked them (Seeker, Coming Up For Air), and some were kind of disappointing (ACOWAR, The Gauntlet). And sadly, no 5 star reads. But no 1 stars either, so I guess it's a win! 
Giveaways: Click Here, or on Sidebar
---
Blogosphere Bulletin
Here are some of the loveliest/most entertaining/super helpful/just plain interesting posts I found this month! 
---
Random Musings:
Why do I feel like I did mostly nothing again this month? Tbh, I was kind of obsessed with The 100, especially toward the end. I mean, it was an epic finale. I kind of feel like June is going to be really busy though, so I guess it's good that May wasn't!
Fancy & New Since Last I Saw You!
I love looking at pretty covers! So here are some new ones that I have fallen in love with since our last update!
Lots of pretty ones this month!! 😀 
Things we need to talk about at this juncture:
The 100 has ended. I won't say much in case people still want to watch it (this season will be on Netflix on June 1st!) but… my heart also feels like the end of the world. I ummm also may have already started rewatching it? (And yes, I am aware this has turned slightly obsessive.) 
Shattering Stigmas Part THREE is going to be taking place in September this year! 

Because people said that would work better, and I am happy to accommodate 😀 Anyone who is interested in participating, hit me up! I'll also probably post some kind of form or something soon.

Going to Chicago for ALA on June 24! Then, taking Holly home to Michigan, because it saves her bus fare, and I won't have to drive home late at night! Win-win! (Also, bonus, because I have never been to Western Michigan before, and I love going to new places! She could have had the decency to live in a state I have never been to, but alas 😉 ) Let me know if you'll be around!!
Happy June, loves!