Seeker
by Veronica Rossi
Series: Riders #2
Published by Tor Teen
on May 16th 2017
Pages: 352

New York Times and USA Today bestselling author Veronica Rossi's new fantasy adventure in the Rider series—Seeker .

When Daryn claimed she was seeing visions during her sophomore year of high school, no one believed the truth. She wasn't losing her mind, she was gaining the Sight the ability to see the future. If she just paid attention to the visions, they'd provide her with clues and show her how she could help people. Really help them. Daryn embraced her role as a Seeker. The work she did was important. She saved lives.

Until Sebastian.

Sebastian was her first and worst mistake.

Since the moment she inadvertently sealed him in a dark dimension with Samrael the last surviving demon in the Kindred guilt has plagued her. Daryn knows Sebastian is alive and waiting for help. It's up to her to rescue him. But now that she needs the Sight more than ever to guide her, the visions have stopped.

Daryn must rely on her instincts, her intelligence, and on blind faith to lead the riders who are counting on her in search of Sebastian. As they delve into a shadowy realm where nothing is as it seems and where Samrael is steadily amassing power, Daryn faces the ultimate test. Will she have to become evil to destroy evil? The very fate of humankind rests in the answer.

Well, first and foremost I think reviewing sequels is hard because you don't want to give much away about the first book. You don't want to be too vague though, and have your review sound like a lot of rambling incoherency. Okay, so, I liked Riders, but I didn't love it. I definitely was invested enough to want to continue the series, though. And I am so glad I did! It definitely paid off, I really enjoyed this sequel.
First, I think that Riders had to have a lot of world building, and because of it I felt a bit disconnected from the characters. But in Seeker, I felt like the characters were much more fleshed out and I found myself caring about all of them. Especially Daryn, who was my favorite character in Riders, and gets her own POV in Seeker. I loved her even more in this book, and found her character so complex and intriguing. The romance was still not the forefront of the story, but a nice, slow burning additional plot point. And the secondary characters  (the rest of the horsemen, and even some new characters) were fabulous too.
The plot moved along much smoother in this one too, with me definitely not knowing how it would end, and being excited to keep turning the pages. It was compulsively readable, which absolutely confirmed my love for Veronica Rossi's writing. There were one or two things that I did find a tad unbelievable, but they didn't really impact my enjoyment of the book overall.
Bottom Line: If you were waiting to see if the sequel was good… it is. If you read book one and liked it at all, definitely grab this one- it's a sequel done right!

One paperback or Kindle copy of Riders (INT) and one Seeker bracelet (as seen below, thanks to Tor Teen for providing the bracelet prize!) (US/CAN only) If an international winner wins the book, I will pick a second US/CAN bracelet winner 😀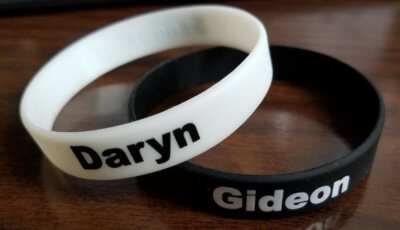 So, have you read Riders yet? What's the last series you read where the sequel was even better than the first book? Let's chat!