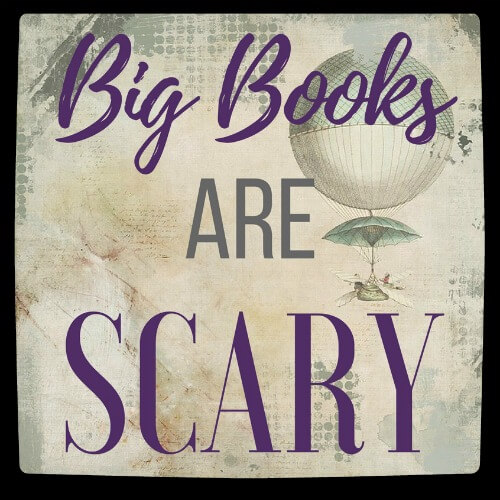 I have realized that I avoid big books. Not even subconsciously anymore. I think I used to not realize I did it, but now I low key look at Goodreads for a page count before starting a book. Even a book that I am looking forward to. A beloved series sequel, an anticipated debut, I do not discriminate with my terror when faced with anything over 400 pages. Some people get giddy excited when they hear that the next book in a series, or a new one from a favorite author, has a large number of pages. I am over here wondering if I ever really cared about that shit to begin with.
So I also realized, there is a process. I don't just not read the book, of course. No, I go through some kind of nonsense before I actually give in and read it… but there are quite a few still on my shelves, of course 😉
Step 1: Avoidance
A long book usually spends a lot of time collecting dust on my bookshelf before being read. There are a few exceptions but this is mostly true. If I see a book I am super excited about but it's also really long, and a book I am only "meh" about that is really short… the "meh" one wins almost every time. This is a ridiculous way to choose books, and I do not recommend.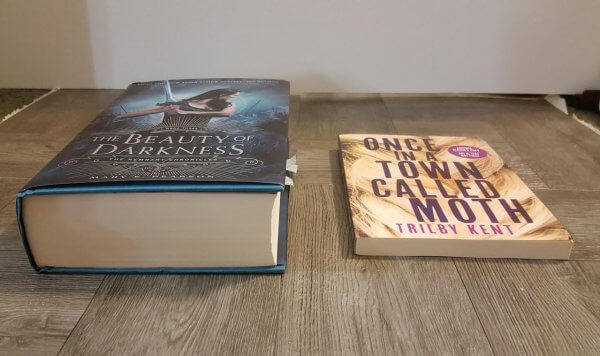 Step 2: Negotiations
"Okay", I will say to myself. "I will definitely read X book next. Just… let me read this shorter one really quickly." Which then leads to "Hm, but now I do have those review books to read so… it might have to wait. Sad. Next time, for sure."
Step 3: Denial
This works as follows:
"Eh, the book isn't even that good probably. Bet it suffers from sequel syndrome. Probably shouldn't put that kind of time into it."
"Well sure, everyone and their mom loved it, but that is what makes the 'hype monster' so insufferable, yes? Best to avoid. I'll let Cynthia read it first, she's my book twin."
"Really, it's just too many pages to read to end up being a black sheep. I heard a rumor it has bird people anyway."
Step 4: Irrational Thoughts and Comparisons
I will remind myself of times that I did actually read a lot of pages and hated the book. Which of course also happens with small books, but that is why these are irrational thoughts.  For example, if a series finale is really long, the narrative in my head goes something along the lines of hearing a whisper yammering on about how City of Heavenly Fire wasted entirely too much of my time. Or how I keep reading the Throne of Glass series and yet I never am fully happy that I have read the books. 
But then I neglect to remind myself of the amazing long books that I have loved. Like The Host. Or The Beauty of Darkness. Or the entirely of the Chaos Walking series. When I look at my favorites shelf, there's a pretty solid mix of long, short, and everywhere in between, but for some reason, I let this weird hangup stop me all the time.
Step 5: Disdain
This is when the book taunts me from my shelf. Everyone I know has read it, and I am on high alert because I don't want to be spoiled just because I cannot seem to get my act together. I have also likely pre-ordered said book, and am mad at myself that it's been on my shelf for months/years/decades. And I am also salty that everyone else knows what happened, even though of course I have only myself to blame. But it's easier to get mad at an inanimate object instead, of course.
Step 6: Acceptance… or back to Step 1
Eventually, I acquiesce and read the damn thing. Usually this happens when enough people have peer pressured me, and/or I am significantly ahead on my Goodreads Challenge. Of course, there are those books just sitting on the shelves, patiently waiting for me to cycle through this all over again. I assume they feel like rescue animals, hoping that one day I will take them from their cages and love them. Actually, using that narrative, I may actually read them faster… 🤔
Now, in case you were not sure if you were actually afraid of big books for realsies, here's a quiz!
Let's talk! Do you like big books? Or are you scared and ridiculous like me?
What are some of your favorite big books? Or conversely, some you kind of feel you wasted your time on?