Welcome to 's Monthly Minutes at Midnight! 
Clearly, I did not listen to my own talk about not doing a recap, so here we are! Here's the deal: I'll share the books I've obtained, posts of interest from others, giveaways I have happening, and just general random shenanigans. You know I love a shenanigan.  
The Books
For Review:
The Last Harvest by Kim Liggett
Thanks to author K.M. Walton, Tor Teen, and Big Honcho Media/Disney!!
eARCs:
 Top row via Netgalley, thanks to Entangled, Disney, and Random House; bottom row via Edelweiss, thanks to HarperCollins!
Purchased: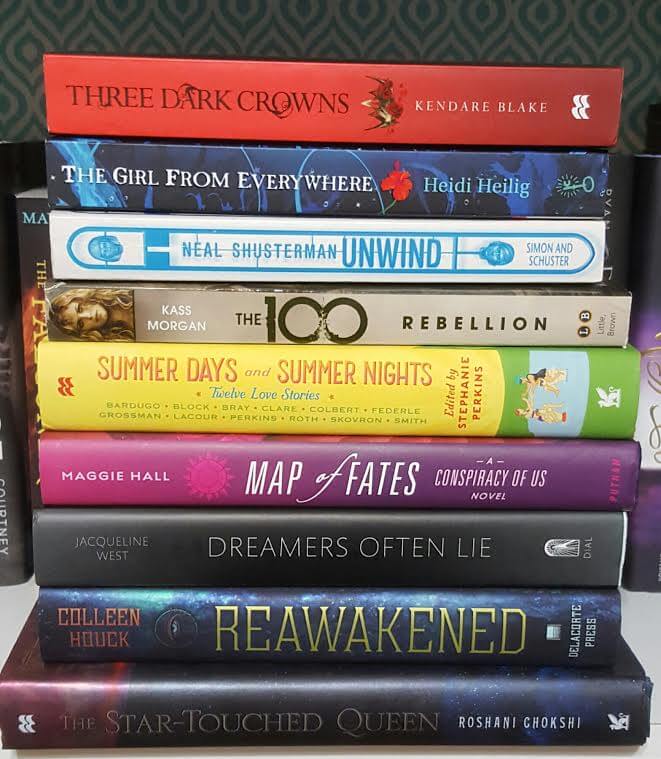 The bottom five are from my Book Outlet Black Friday haul- the top three are UK editions, and Rebellion is the lesser of the two damaged copies Amazon sent me. Grr, Amazon. You can't maul Clarke's face like that and think it's okay! (But the worse one had damage to Bellamy, which NO. Plus I will use glue and fix Clarke.)
From the Scholastic warehouse sale!!
Kindle Books:
Won/Gifted: 
Because CHRISTMAS, yayyyy! Thanks, fam!
And DENTON!
Author Lance Rubin is the BEST, guys. He offered this up for #KidLitForAleppo, because he is generous and wonderful. And thanks to the event, I now know ways to donate to help-  so if you want to, check out the hashtag or this post. The authors who did this are so amazing!
---
Shenanigans Since Last Time:
I read 9 books… 3 of which were re-reads, my 11th time reading The Hunger Games! I also linked, because I am awesome. A couple link to my reviews, where applicable.
 

This was actually a pretty great reading month! I mean, obviously I knew I'd love 3 of them 😉 But Exist Once More and Under a Painted Sky also made my end-of-year favorites! And not a one was less than 3 stars, so… yay!
Giveaways: Click Here, or on Sidebar
---
Blogosphere Bulletin
Here are some of the loveliest/most entertaining/super helpful/just plain interesting posts I found this month! 
---
Random Musings:
So, 2016 is over! I feel both relieved, and scared. Because… let's be real, it is a scary time. But I also feel like maybe we're a little more prepared, eyes are open? Like, I don't know about you all, but the shitshow of 2016 blindsided the hell out of me, so maybe if we know what we're up against… well, you get the idea. Also, lots of good books in 2017, so we can at least have a bit of happiness to look forward to? Sure! Hope you all had lovely holidays, if you celebrated any! Here's a picture for you!
Fancy & New Since Last I Saw You!
I love looking at pretty covers! So here are some new ones that I have fallen in love with since our last update!
This was a slowww cover month. Which means some of these may not be new. And some of them may have been released today, as I type this post. #Cheating
Things we need to talk about at this juncture:
The 100 Season 4. 25 Days. This is not a drill. 

Also, let me know if you want to join Holly, Erica and me in some kind of… celebration! (We don't even know what, but we are excited! Are you?)
ALAMW! This is happening so soon! In about 2 weeks, I will be with a whole bunch of my besties in Atlanta, where it will not be 4 degrees. This makes me happy on so many levels! Also, things will be a bit quiet that weekend/week around here 😀 Are any of you going?

I let random.org choose my Goodreads Goal. How many books do you hope to read this year? Random decided I shall read 139. I was really saving myself from… well, myself. Because I would have tried to beat my last year number of 151 and would have driven myself batty because of it.

Because… that is a good way to decide stuff.
Happy January, loves!